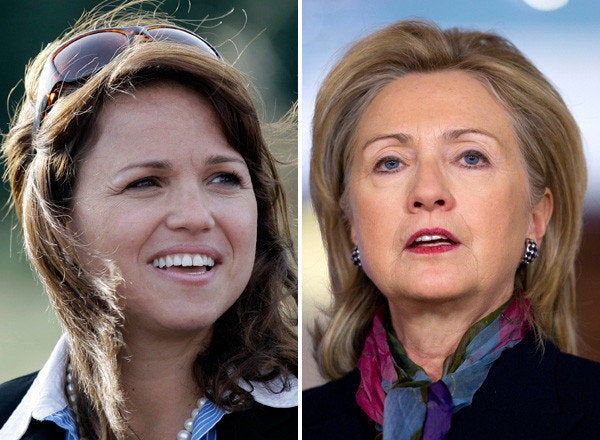 Failed Delaware Republican Senate candidate Christine O'Donnell reinserted herself into political discussion Tuesday, taking the opportunity on ABC's "Good Morning America" to stoke the coals of a seemingly unsquelchable rumor that Secretary of State Hillary Clinton may provide a primary challenge to President Obama.
"I hope she runs for president," O'Donnell said of the repeatedly denied whispers of what would surely be an epic Democratic struggle in the lead up to 2012. "I would love to see her take out Obama in the primary, I would even be tempted to change my registration so that I could vote for her in the Democratic primary."
It's just the latest in an ongoing and apparently one-sided exaltation that O'Donnell has repeatedly expressed toward Clinton.
Early in her campaign, O'Donnell announced that she would "love Hillary Clinton's endorsement," and that she admired her political legacy.
During a debate with Democrat Chris Coons in October, O'Donnell appeared unable to name a single Democratic senator with whom she could cooperate, and instead decided to say Hillary Clinton, despite her knowledge that she was no longer a senator.
And on Monday over Twitter, O'Donnell applauded the Secretary of State's handling of the latest Wikileaks dump by giving her a "You Go Girl!"
Suprisingly, however, O'Donnell later explained on GMA that she wouldn't hesitate to support Clinton in part because she wasn't really interested in any particular candidate in the Republican field, meaning that she would potentially prefer to cast a vote against Obama on the Democratic side rather than for her "mama grizzly" Sarah Palin on the Republican side.
Though she then appeared to defend Palin against her fellow guest, D.L. Hughley, O'Donnell has previously appeared unenthusiastic about giving an outright endorsement of Palin's presidential qualifications.
WATCH (comments start just before the 4 minute mark):
REAL LIFE. REAL NEWS. REAL VOICES.
Help us tell more of the stories that matter from voices that too often remain unheard.