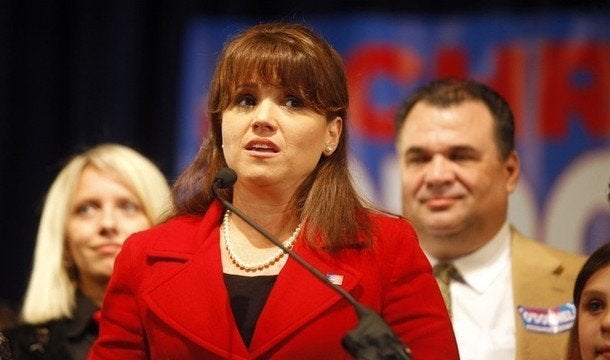 WASHINGTON -- Failed U.S. Senate candidate Christine O'Donnell is out with her new book "Troublemaker," which she describes in the introduction as "a political memoir slash campaign diary slash position paper slash rallying cry, with an emphasis on the slash." In an email to supporters, she promised the book would offer "the real, raw story of my life."
But the e-version of her book says she's making it all up.
The copyright page of her book in both the Kindle and iTunes versions state that O'Donnell's memoir is, in fact, a novel.
"This is a work of fiction," reads the disclaimer. "All of the characters, organizations and events portrayed in this novel are either products of the author's imagination or are used fictitiously."
The print version of "Troublemaker" does not have the fiction disclaimer.
O'Donnell's audiobook publicist, Esther Bochner of Macmillan Audio, said she was not aware of the disclaimer until The Huffington Post alerted her to its existence. She said it was a "clerical error in the ebook edition" and was "in the process of being corrected."
"It's certainly not a work of fiction," she added.
Matthew Shear at St. Martin's Press, which published "Troublemaker," also said it was clearly a mistake. The book "is a work of non-fiction, NOT fiction," he wrote in an email.
Michelle Richter at St. Martin's said that a corrected e-version, without the fiction disclaimer, will be available to new buyers by 8:00 p.m. on Tuesday.
"It will not automatically push to consumers who've already purchased the ebook because doing so would remove any notes, highlights or bookmarks that they may have made to their purchase," aid Richter. "However, it will be supplied to any consumers who request it from Kindle customer support. Any new buyers will receive the corrected ebook."
O'Donnell defeated former Delaware Rep. Mike Castle in the GOP Senate primary in 2010. A darling of the Tea Party, she became famous for having once dabbled in witchcraft. She eventually lost the general election to Democrat Chris Coons.
O'Donnell's book has already made some trouble, with a Republican strategist accusing her of embellishing a story about Mississippi Gov. Haley Barbour (R) giving her a shout-out at a fundraising dinner in the 2008 election cycle.
O'Donnell also claims in the book that former Delaware GOP chairman Tom Ross snubbed her at that same event by mentioning all the candidates in attendance except her when introducing Barbour. Ross has said he was not present at the fundraiser, and a recording of the event shows Castle introducing Barbour.
CORRECTION: This article was updated with comment from O'Donnell's publisher. A previous version said that Mike Castle was a Delaware senator, when he was actually a member of the House of Representatives. The error has been corrected.
Calling all HuffPost superfans!
Sign up for membership to become a founding member and help shape HuffPost's next chapter