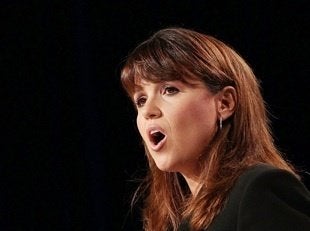 Tea Party-backed U.S. Senate candidate Christine O'Donnell said in an interview published online this week that God is guiding the trajectory for her campaign.
"God continued to strengthen and empower us when, you know, his strength is perfected in our weakness," explained the Senate hopeful to Jennifer Wishon at the Christian Broadcasting Network. "Because you see that if it weren't for faith, when all logic said it's time to quit, we pursued, we marched on, because we knew God was not releasing us to quit."
O'Donnell, who is facing off against Democrat Chris Coons in Delaware's general election, called the spiritual phenomenon "exciting."
The remarks bare resemblance to comments made by Nevada GOP Senate candidate Sharron Angle earlier this year. During an interview that took place in July she said, "I believe that God has been in this from the beginning and because of that when he has a plan and a purpose for your life and you fit into that, what he calls you to he always equipped you for."
Angle told CBN over the summer that her crusade to unseat Senate Majority Leader Harry Reid is "her calling." The suggestion sparked backlash from within the religious community.
At the time, President of the Interfaith Alliance, Rev. Dr. C. Welton Gaddy, issued a statement contending:
Candidates for public office are free to talk about how their faith informs their thinking, but should not imply that policy positions will be based on scripture rather than the Constitution. It has been my experience that when candidates intentionally insert faith into politics, the purpose is rarely to protect religion; rather it is done to enhance a political position.
Like O'Donnell, Angle has developed a reputation for being media shy. The one-on-one with Delaware candidate was conducted before she recently vowed to stop doing interviews about her campaign with national news outlets. (See video below.)
WATCH: (skip to 18:00 for O'Donnell interview)
Calling all HuffPost superfans!
Sign up for membership to become a founding member and help shape HuffPost's next chapter