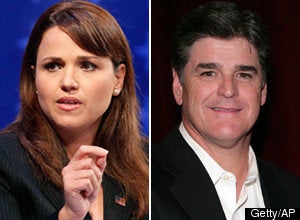 WASHINGTON -- Christine O'Donnell may not be a witch, but she knows how to use scare tactics to raise money, top Republican strategists and officials here tell me.
They say the Delaware Republican is loudly complaining about how they won't support her -- and they are not -- as a way to generate angry, send-them-a-message donations from her Tea Party base.
Specifically, according to two top GOP insiders, she said at a strategy meeting with DC types last week: "I've got Sean Hannity in my back pocket, and I can go on his show and raise money by attacking you guys."
And that was precisely what she was doing on the radio today. On Hannity's popular afternoon drive-time show, the Tea Party-inspired Senate contender acidly criticized the party, specifically the National Republican Senatorial Committee, for not funneling any serious cash (beyond a pro forma $43,000) into her race against Democrat Chris Coons.
(The O'Donnell campaign did not respond to a request for comment.)
Hannity, who earlier in the show warned GOP officials not to criticize Tea Party leader Sen. Jim DeMint, expressed sympathy with O'Donnell's fiscal plight and gave a glowing review of her performance in last night's televised debate with Coons. Hannity criticized party insiders for not backing her with cash or endorsements.
It's not just the official party that is staying away. O'Donnell -- who trails by 19 points in the latest polls -- isn't getting support from independent-spending groups such as Karl Rove's American Crossroads. Hannity's rave review notwithstanding, Rove has not changed his mind about her or her chances.
The national party hasn't ignored her altogether. Officials sent advisers to Delaware, and her media consultants are well regarded -- at least they were before they launched her ad campaign with the now-infamous and much-lampooned "I am not a witch" spot.
Party insiders shake their heads at the O'Donnell woe-is-me campaign strategy. "Why would you tell the world that no one in the party likes you?" asked one.
But the answer is: the strategy is a way of making the best out of a bad situation -- and it seems to be working, to some extent, on the financial end. "Within a week of winning the primary, she raised 10 times the amount of cash that Coons had on hand," one party official marveled.
If she can raise enough money by attacking the Bigs with Hannity's help, perhaps she can close the gap in the polls -- and then the DC folks will fork over. Nobody here thinks that this scenario is realistic, but nobody here thought she'd get this far. We'll know -- appropriately enough -- by Halloween .
Popular in the Community