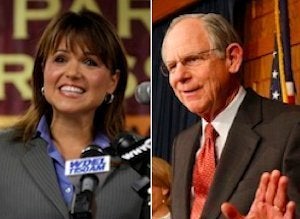 With Delaware's Republican Senate primary just days away, Tea Party-backed contender Christine O'Donnell is impugning the masculinity of GOP rival U.S. Rep. Mike Castle.
In an interview with conservative radio host Mark Levin, O'Donnell called on her opponent "get your man-pants on" in the contentious election fight.
The comment came in response to news that the state Republican party of Delaware -- a firm supporter of Castle's campaign -- filed a complaint with the Federal Election Commission accusing O'Donnell of breaking the law in coordinating her political operation with the Tea Party Express.
O'Donnell blasted the legal action as "cheap, underhanded," and "unmanly." She added, however, that she would expect no less from "Obama's favorite Republican -- Mike Castle."
The conservative Senate candidate concluded: "Mike this is not a bake-off. Get your man-pants on."
O'Donnell began the interview by expressing her delight over securing Sarah Palin's endorsement earlier this week. The underdog candidate said that the former Alaska Governor's nod came as "an infusion of fresh energy" to her campaign.
Popular in the Community