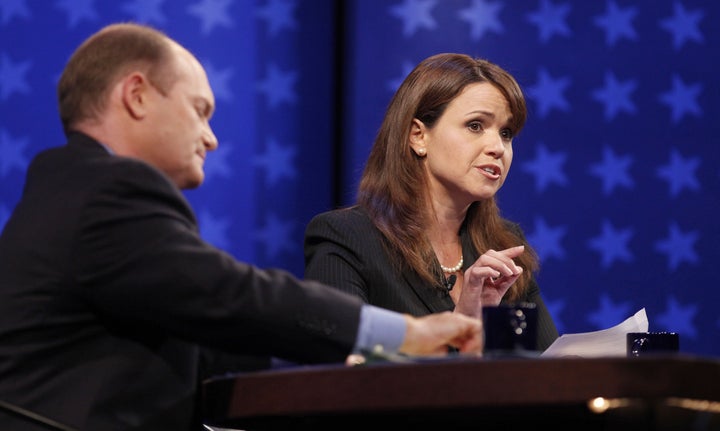 WASHINGTON — Failed U.S. Senate candidate Christine O'Donnell said Thursday that accusations she misspent campaign funds are politically motivated and stoked by disgruntled former campaign workers.
The Delaware Republican appeared on several network morning shows to defend herself a day after The Associated Press reported federal authorities have launched a criminal probe to determine whether she broke the law by using campaign money to pay personal expenses.
"There's been no impermissible use of campaign funds whatsoever," O'Donnell told ABC's "Good Morning America."
O'Donnell, the tea party favorite who scored a surprise primary victory before losing in the general election, suggested the accusations are driven by political establishments on the right and left, including Joe Biden. He represented Delaware in the Senate for decades before he became vice president.
"You have to look at this whole thug-politic tactic for what it is," she said Thursday.
O'Donnell said she found it suspicious that she, her campaign staff and her lawyer have not been informed of a federal investigation.
A person familiar with the investigation confirmed it to The AP, speaking on condition of anonymity to protect the identity of a client who has been questioned as part of the probe. The case, which has been assigned to two federal prosecutors and two FBI agents in Delaware, has not been brought before a grand jury.
O'Donnell, who set a state record by raising more than $7.3 million in a tea party-fueled campaign this year, has been dogged by questions about her personal and campaign finances.
At least two former campaign workers have alleged that she routinely used political contributions to pay personal expenses including her rent as she ran for the Senate. She has run three consecutive times, starting in 2006.
O'Donnell has acknowledged paying part of her rent with campaign money, arguing that her house doubled as a campaign headquarters.
On Thursday, she told NBC's "Today Show" that people making the spending allegations include a fired former staff member and a former volunteer, both of whom she described as disgruntled. She says many other workers who spent longer with her campaigns have defended her.
Her contention that the accusations were politically motivated echoed a written statement she released the day before, which singled out Biden.
"Given that the king of the Delaware political establishment just so happens to be the vice president of the most liberal presidential administration in U.S. history, it is no surprise that misuse and abuse of the FBI would not be off the table," she said.
The vice president's office declined to comment.
O'Donnell's campaign also has criticized the nonpartisan watchdog group, Citizens for Responsibility and Ethics in Washington, which filed a complaint about O'Donnell's campaign spending this fall and asked Delaware's federal prosecutor to investigate.
O'Donnell says the group is part of a liberal effort to kill her career, noting that the organization is run by Washington attorney Melanie Sloan, who worked under Biden as a lawyer for the Senate Judiciary Committee in the early 1990s.
Sloan dismissed the criticism Thursday, emphasizing that the allegations originated with conservatives who worked for O'Donnell.
"I don't see how anybody can say that those people are part of the liberal machine," Sloan said. "What CREW did was look at what they were saying and say, 'Wait a minute, that's against the law.'"
The U.S. Attorney's office in Delaware has confirmed it is reviewing CREW's complaint. But officials in the office and the FBI declined to say whether a criminal investigation was under way.
Federal law prohibits candidates from spending campaign money for personal benefit. FEC rules state that this prohibition applies to the use of campaign money for a candidate's mortgage or rent "even if part of the residence is being used by the campaign," although O'Donnell's campaign has maintained that it was told otherwise by someone at the agency.
O'Donnell drew national attention in September when she upset U.S. Rep. Mike Castle for the GOP Senate nomination. She was handily defeated in November by Democrat Chris Coons following a campaign that focused largely on past controversial statements, including that she'd "dabbled into witchcraft" when she was young.
One former O'Donnell staffer, Kristin Murray, recorded an automated phone call for the Delaware Republican Party just before the primary, accusing O'Donnell of "living on campaign donations – using them for rent and personal expenses, while leaving her workers unpaid and piling up thousands in debt."
O'Donnell told NBC that Murray was fired from her 2008 campaign after less than two weeks because of incompetence.
Another former aide, David Keegan, said he became concerned about O'Donnell's 2008 campaign finances as she fell behind on bills and had no apparent source of income besides political contributions. He submitted an affidavit to CREW alleging that she used campaign money to cover meals, gas, a bowling outing and rent.
In a message sent last week to AP, Keegan said he had not been questioned as part of a criminal investigation, and that he considers himself only a "catalyst" in a case in which several people must be questioned to scrutinize O'Donnell's accounting practices and alleged misuse of campaign funds.
O'Donnell has run through numerous treasurers over her three campaigns, many of whom left abruptly after brief stints. At one point O'Donnell was acting as her own treasurer, and her current treasurer is former campaign manager Matt Moran.
O'Donnell, who announced just after Election Day that she had signed a book deal, hasn't held a full-time job in years and has struggled to explain how she makes a living.
Associated Press writers Matthew Barakat in McLean, Va., Ben Nuckols in Baltimore and Randall Chase in Dover, Del., contributed to this story.
Popular in the Community