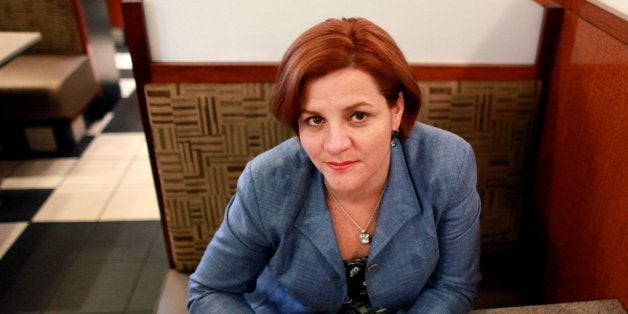 NEW YORK -- Christine Quinn is the sole woman running for mayor of New York, but it wasn't until this week that her historic quest to be the city's first female and openly gay leader turned into a thorny issue.
The Democratic speaker of the New York City Council partially created the drama herself with an unexpected call to make emergency birth control available to girls as young as 11. But she also came under attack for being a childless woman who supposedly doesn't relate to average New Yorkers.
On Tuesday, while accepting Planned Parenthood of New York City's endorsement, Quinn said she would consider providing access to emergency contraception to students in middle schools.
"This is a really important option we need to make accessible," Quinn said, according to the New York Post.
Two of the other candidates for the Democratic nomination -- NYC Comptroller John Liu and former City Councilman Sal Albanese -- told the Daily News that they would consider distributing emergency contraception in middle schools. NYC Public Advocate Bill de Blasio, former NYC Comptroller Bill Thompson and former U.S. Rep. Anthony Weiner all ducked the question of where they stood.
Quinn didn't plan to introduce the headline-making topic, a campaign aide told HuffPost, but voiced her opinion in response to a question at the event.
Her stance on emergency contraception in schools was defended by the president of the National Organization for Women, which, along with NARAL Pro-Choice New York, has endorsed Quinn.
"That's exactly the right position to take," NOW President Terry O'Neill told HuffPost. "Emergency contraception should be on the shelf without restriction to age. It's right there next to the condoms and pregnancy tests. It's safe and effective. The question is, can a person read the instructions and follow the instructions."
O'Neill said her national organization took the unusual step of endorsing a candidate in a local race partially because of Quinn's staunch defense of reproductive services.
Over her years in the City Council, Quinn has accrued praise from women's and LGBT groups for helping pass laws that banned protesters from obstructing the entrance to reproductive health clinics and for advocating in favor of same-sex marriage. On the campaign trail, she has vowed to combat domestic violence, reduce teen pregnancy and even improve the free condoms given out by the city.
The chink in her progressive armor was her opposition to a bill mandating five days of paid sick leave for employees in many companies. Although the law applies to both men and women, it was seen as a key protection for single mothers. Unrelenting political pressure ultimately forced Quinn to change course and help override NYC Mayor Michael Bloomberg's veto of the bill.
Quinn is not, however, the undisputed champion of women's rights in the Democratic mayoral primary. The men have strong records on these issues too.
The Brooklyn and Queens chapter of NOW endorsed Liu for mayor in June. "Comptroller Liu has a history of fighting for women. He continues to be in the forefront of the struggle against sexual trafficking," Brooklyn-Queens NOW President Shirley Ranz said at the time. "As comptroller he demonstrated the need for Pay Equity legislation. We are confident that he will be a mayor that the women of New York can rely on."
As the city's public advocate, de Blasio was a vocal proponent of the paid sick leave bill. Thompson has drawn attention to the startlingly high rates of breast cancer among black New Yorkers.
"Other candidates in the race are quite good on women's issues," O'Neill acknowledged.
The other gender-related kerfuffle arose this week when de Blasio's wife, Chirlane McCray, criticized the childless Quinn to The New York Times' Maureen Dowd.
"I don't see her speaking to the concerns of women who have to take care of children at a young age or send them to school and after school, paid sick days, workplace. She is not speaking to any of those issues," argued McCray. (Dowd made problems for herself by originally misquoting McCray in her column, but that's another story.)
At Wednesday's debate among the Democratic candidates, Quinn denounced McCray's comments as a cheap shot. "Raising someone's family [as an issue] ... should have never happened, and it was very hurtful," said Quinn.
Women account for 54 percent of registered city voters, according to the most recent NBC/Wall Street Journal/Marist poll. The same survey showed Quinn actually polled slightly better with men than with women: She was the favored candidate of 26 percent of men and 22 percent of women.
The poll was taken before Dowd misquoted McCray and before Quinn commented about giving out birth control in middle school.
New York-based political consultant Lupe Todd, who is not working with any of the mayoral candidates, predicted that Quinn's outspoken position on women's issues won't propel voters to the polls, especially outside liberal sections of Manhattan.
"I don't see them [voters] jumping up and down about women's issues, not because there's a lack of care, but it's not the issue driving the campaign this season," Todd told HuffPost. "Stop-and-frisk, affordable housing, education ... it's a lot of the Bloomberg-era issues that Democrats would like to see changed."

BEFORE YOU GO
PHOTO GALLERY
2013 NYC Mayoral Candidates