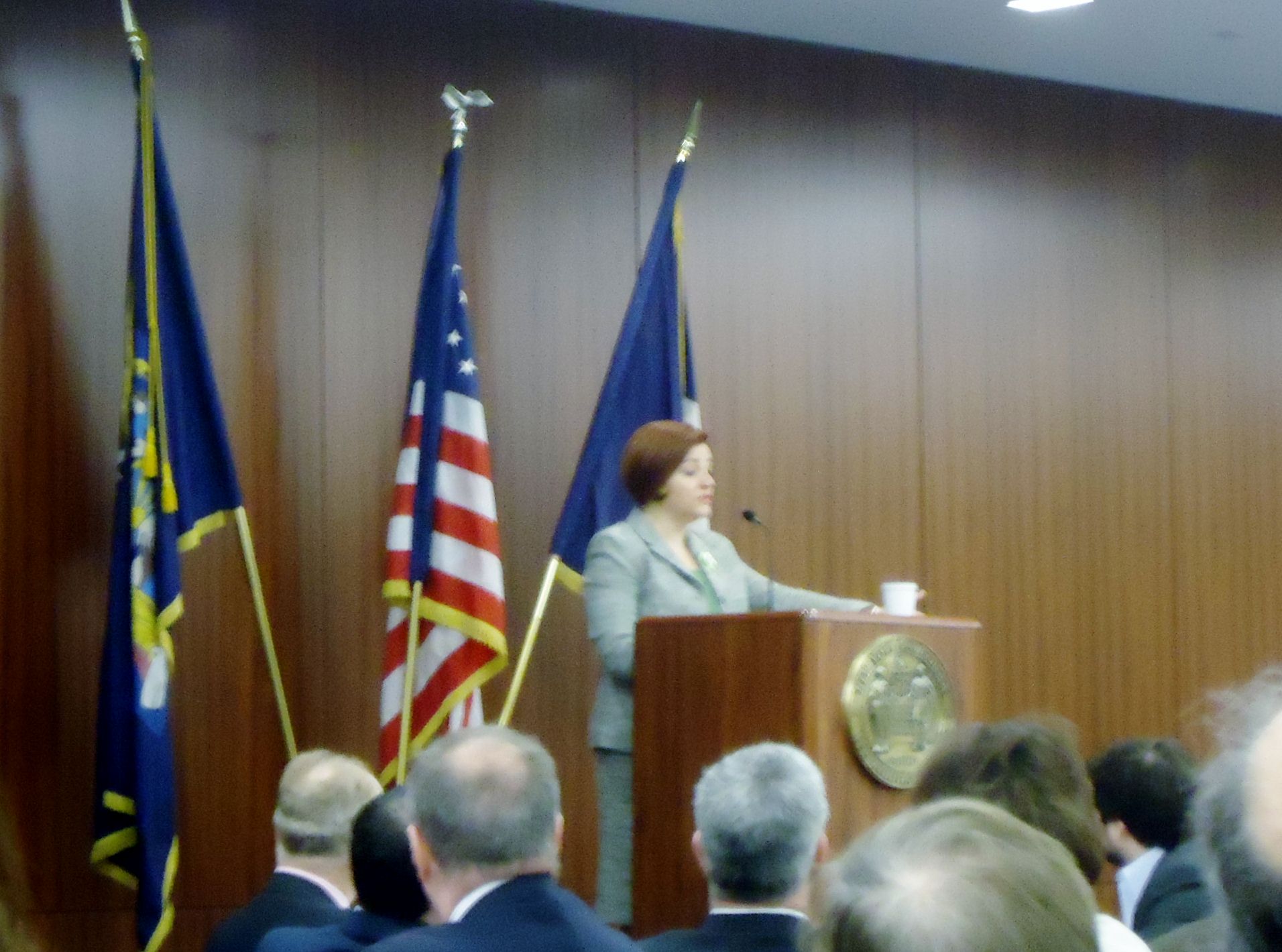 New York City Council Speaker Christine Quinn is ahead in a recent poll (NY1-Marist) by three to one against her nearest challengers for the mayoralty of New York City. She held her spot at a Friday breakfast speech at the New York Law School Forum (see my photo above). Here is a link to a video of her speech and the lengthy question period.
She is from my neighborhood, Chelsea, so she has a favorite-daughter position around here. She is ahead, by a convincing 37 percent to 13 percent, over former NYC Comptroller Bill Thompson, whose base has been Brooklyn but now lives in Manhattan. Some of my good friends are backing Mr. Thompson and are counting on a runoff between him and Quinn that he might win. Thompson did surprisingly well in the last election against Mayor Bloomberg, but analysts interpret this as more of a vote against a third term for the Mayor than as deep support for Mr. Thompson. Also, Public Advocate Bill de Blasio is only one percentage point (12 percent) behind Thompson in the poll and de Blasio has the advantage of incumbency.
On the Republican side, Joe Lhota, who worked for Mayor Rudy Giuliani and has more recently been running the MTA, is the favorite. In a lopsidedly Democratic city, it's a long shot for him -- the poll shows him losing to Quinn 64 percent to 18 percent. More worrisome perhaps for him is that only 20 percent of respondents supported him -- most respondents didn't know enough about the GOP candidates to make any choice at all. He can count on getting enough campaign finance support to run a significant challenge. But money is not usually enough to win in New York City as many hugely wealthy also-rans will testify. Mayor Bloomberg got his foot in the door because of 9/11, after which people were properly concerned about the future of New York City as a business engine, and Bloomberg's business acumen was a big asset.
Those concerned about LAM -- Life After Mike -- assembled at the breakfast forum to build up their dossiers on Ms. Quinn, who would be the first female mayor of New York City and the first openly gay mayor. The event attracted more than 250 people by my count. Ross Sandler, a NY Law School professor, is the breakfast host. His breakfast event is the closest thing to a successor to the long-lamented City Club of New York, which played a significant role in the City of New York for more than 100 years, including in the fiscal crisis and then the mayoralty of the late Ed Koch. A moment of respectful silence for the loss of a great mayor... and another for the demise of the City Club.
The New York Law School's location near the NYC courts makes it convenient for students who may want to get a law degree at night. Its location makes it easy to find faculty to teach part-time. My great-aunt Inez Milholland's brother (Harvard College 1912) got his law degree there. She was the woman who rode her horse at the head of the march down Pennsylvania Avenue on the eve of President Wilson's inauguration -- a march that set the stage for passage of the 19th Amendment giving women the vote. (The New York Times on March 4, 1913 led off with several paragraphs about Miss Milholland.) The 100th anniversary of this march is in two weeks.
Chris Quinn gave a speech with a focus on housing, economic development in Brooklyn, and Hurricane Sandy. She took questions with a combination of respect and firmness, and lightened up the atmosphere with believable stories about her Irish grandfather and mother. When the question of a hex came up, she was reminded of her mother's saying:
If you take down the Christmas tree before Three Kings Day, it will be a curse on you for the rest of the year.
She listened to questions from Charlie Komanoff, Roger Herz and Azi Paybarah about congestion pricing (she supported it, but "no chance it will happen soon"), or Commissioner Ray Kelly (doesn't always agree with him, for example on stop-and-frisk procedures, but supports his continuation as Commissioner) or sound cannons ("I will look into it").
In an environment where a candidate walks a narrow path between cannons to the left and cavalry to the right, with minefields in the middle, Chris Quinn got to the other side with a sure step and no mishap. To my mind, that was the test of the day. No Marco Rubio water-bottle problem here.
It's still "early times" for the 2013 Democratic Primary on September 10. Good politicians focus earnestly on the next election, not so much the one(s) that may occur soon after -- because, as the late Howard Samuels once discovered, there is no point in worrying about the later election if you lose the earlier one. Based on her performance at the NY Law School breakfast, I would say that Speaker Quinn will continue to lead the pack come September 10.
Popular in the Community