 A prominent New York official is joining New York University students in calling for Chick-fil-A to be removed from the school's Manhattan campus, the fast food restaurant's only location in the city.
New York City Council Speaker Christine Quinn, an out lesbian, wrote a letter to NYU President John Sexton on July 28, calling for the university to take action against Chick-fil-A after recent controversial comments against LGBT rights were made by company president Dan Cathy.
"Let me be clear ‐‐ I do not want establishments in my city that hold such discriminatory views," Quinn wrote. "We are a city that believes our diversity is our greatest strength and we will fight anything and anyone that runs counter to that."
Quinn also launched an online petition demanding Cathy apologize for his remarks. This joins another one started by Hillary Dworkoski, a student at NYU, which has received more than 15,000 signatures urging NYU to remove Chick-fil-A from its campus.
Chick-fil-A has spent millions through its charitable arm WinShape to support anti-gay organizations. But Cathy added fuel to the fire in July when he said in an interview "I think we are inviting God's judgment on our nation when we shake our fist at Him and say, 'We know better than you as to what constitutes a marriage.' And I pray God's mercy on our generation that has such a prideful, arrogant attitude to think that we have the audacity to try to redefine what marriage is about."
"The recent remarks by Chick-fil-A President Dan Cathy about gay marriage are way out of step with the views of the NYU community on this matter, and with our practices," John Beckman, NYU spokesman, said in a statement. "The University, as Speaker Quinn notes, is well known for its strong and long-standing support for the LGBT community, and NYU voluntarily provided partner benefits long before it was legally required."
Quinn did note NYU is considered a great campus for LGBT-friendliness. The Princeton Review typically ranks the university near the top of its ranking for best colleges for LGBT students.
Beckamn said the NYU administration is asking the University Senate, which is comprised of faculty, student, dean, and administrator representatives, to take up the matter when they return in the fall.
An NYU statement noted this past spring the Student Senator's Council ultimately did not seek such a resolution from the full University Senate, explaining in a statement "to ban any entity from campus for ideological reasons is, in most every case, to limit freedom of expression."
NYU said they contacted Chick-fil-A when Cathy's comments ignited a controversy this month, they reached out to the company about them. Chick-fil-A said the quotes were in some way incorrect, NYU asked them to clarify, but they have not heard back from the company.
Recently, mayors in major cities like Boston, Philadelphia and Washington, D.C. have spoken out against Chick-fil-A, attempting to keep the company from locating in their municipalities. NYC Mayor Michael Bloomberg, typically an advocate for LGBT rights, said it isn't the government's business to thwart a franchise from locating in their jurisdiction because of political or social views. However, the Atlantic Wire notes Quinn's request is a little more plausible:
Law professors have pointed out that denying them the right to build within their city violates their First Amendment right, but Quinn's request is different. NYU is a private university with a huge population of gay students. It might be easier (and legal) for them to get out of their contract, or simply not renew it once their current deal is up, than a government body not allowing them to build.
Quinn also asked Sexton to be sure if Chick-fil-A closes that NYU find a place for the employees of the fast food chicken joint.
"The employees of the Chick-fil‐A should not suffer because of the shortsightedness and homophobia of the President of the corporation that employs them," Quinn said.
The backlash against Chick-fil-A's college locations isn't isolated to New York, where same-sex marriages are legal. In states considered to be more conservative like Texas and Kentucky, students are also protesting against the fast food chain.
Read Christine Quinn's letter to John Sexton:
Related
Before You Go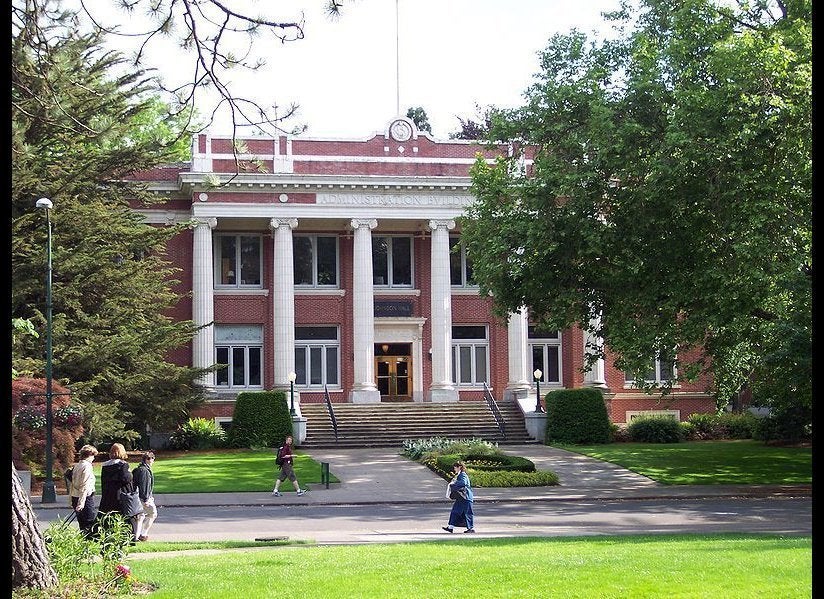 The Five-Star Rated Colleges By Campus Pride
Popular in the Community