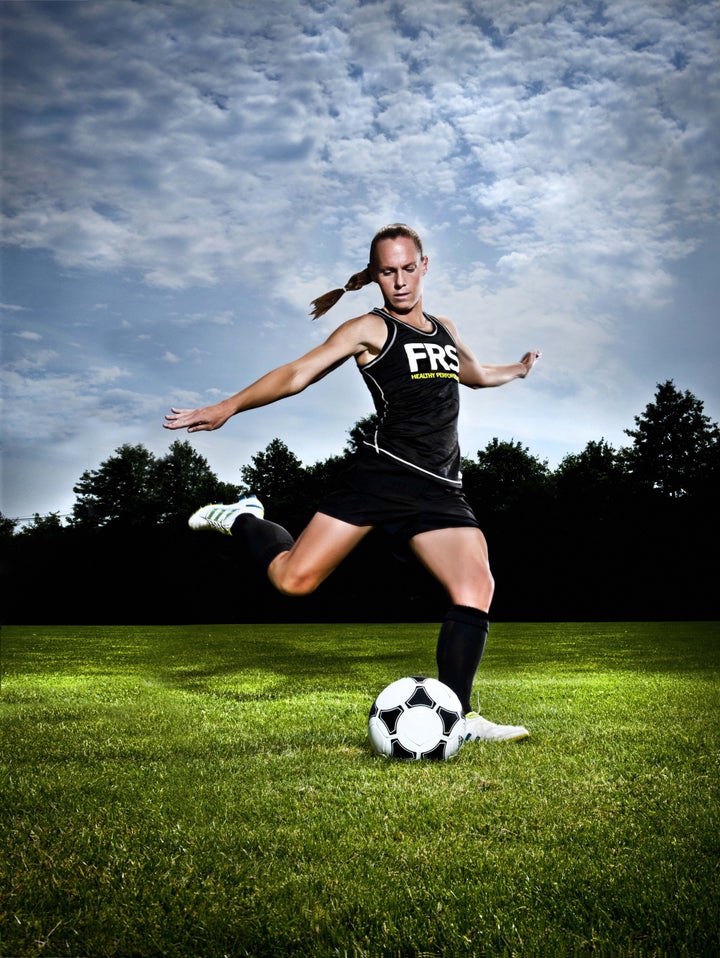 Welcome to our "Like An Olympian" series. During the 2012 London Olympics, HuffPost Healthy Living will take a look at lifestyle and fitness lessons from competitors, coaches and former Olympians alike. We recently had the opportunity to speak with Olympic soccer player Christine Rampone, who is playing with the U.S. Women's National Team in London.
How does your diet change when you are training? What are the major considerations you have in terms of balancing protein, fat and carb intake?
We have a strength coach/nutritionist that organizes our meals with the various hotels around the world. As a team, our diet consists of salad bar, fruits, a lot of protein and carbohydrates. Chicken, fish, red meat, pasta and sweet potatoes are all common. We are together year round, so this is a normal routine for us.
While traveling, I try to order as many veggies and side salads as possible with my meals and lean meat for protein. I also always eat breakfast! This is usually easier said than done in the whirlwind of travel, but breakfast helps prime your system and prepares you for a full day of activities. I choose a high fiber and protein meal, such as whole grain toast with peanut butter and always have FRS Healthy Energy or some FRS chews on-hand to keep my energy levels up.
What's your favorite pre-training snack?
Taking in the right kind of fuel before you work-out or before a competition, such as Greek Yogurt or an FRS Healthy Energy drink, will help you get the most out of your performance. I also love fruit, granola bars (I love KIND miniature bars), trail mix, popcorn (100 calorie bags are easy and convenient!), and yogurt-covered raisins to help fuel my performance.
What are your top tips for sleeping well during training and during competition?
After a long day, I usually sleep best when I have had time to unwind by relaxing on the couch with my family, reading a book and watching TV. I enjoy watching Parenthood, Dancing with the Stars, Glee, Grey's Anatomy and others. I also find that stretching after a long day helps my muscles recover and relaxes my whole body so I'm able to sleep better.
I try to be realistic, listen to my body and know when to slow down. By not over doing it, I feel good enough most of the time and it allows me to enjoy the kids.
How do you calm your nerves?
By being prepared! I attempt to address any issues immediately so they do not become over whelming. And prioritize the more difficult tasks, staying on top of the important things that can affect the team. Nerves are also directly related to what you take in to your body -- so I minimize eating and drinking things with lots of caffeine and sugar that can make me jittery. Relying on whole foods and things like an energy drink and fruit, help me keep my energy levels up without the negative effects of caffeine and sugar.
What tricks from your training do you think could apply to a non-athlete?
Start slow, don't jump right in. Make a schedule for yourself with a definitive time and you will have more success moving forward. Once you become consistent make sure to change your workout routines/exercises to keep your body and mind fresh, eliminating getting bored and or hitting a plateau. You want to get results!

If you could only do one workout for the rest of your life, what would it be?
For more from our "Like An Olympian" series, click here.