Today is Patriots' Day, a joyous occasion for everyone in Boston and across New England.
While the sorrow of the Boston Marathon bombing in 2013 remains scarred in our memories, the history behind this holiday -- it commemorates the start of the Revolutionary War in 1775 -- reminds us that the good guys always prevail.
And, today, I'd like to shine this spotlight on a very special group of good guys.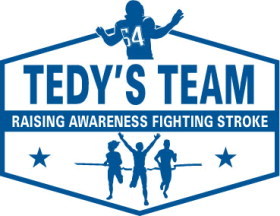 They go by the name of Tedy's Team, and this is their 10th year of running the Boston Marathon.
Tedy is former New England Patriots star Tedy Bruschi, whose NFL career was interrupted by a stroke in 2005. He was 31 and a few weeks removed from being crowned a Super Bowl champion.
Upon his recovery, Bruschi worked with the American Stroke Association to fight our nation's No. 5 killer. His team has raised more than $3.5 million, funding research and increasing awareness both of the warning signs and of the fact stroke is beatable, treatable and largely preventable.
Joining Tedy's Team takes more than signing up or making a donation. It involves an application and a key requirement: Being a stroke survivor or having a loved one who is. Spots on the team are cherished, mainly because they come with a unique kinship.
"It is the best thing that's ever happened to me on so many levels," said Christine Duval, who is preparing for her third Boston Marathon as part of the squad. "It's the first time I've been surrounded by people who get it. They know what stroke does to people, what survivors and their families had to go through to get where they are."
Sadly, Duval knows it all too well.
On Oct. 7, 1997, Duval was a junior in high school when her dad, Joseph, suffered a massive stroke.
On Nov. 27, 2003, she was in her second year of nursing school when her mother, Beverly, suffered a massive stroke.
Each lived, yet neither would ever be the same. The strokes robbed their personalities, leaving both unable to communicate.
"I look at my mom in the nursing home and I don't see my mom anymore. I look at my dad and I don't see my dad anymore," Christine said. "Both of my parents are shadows of who they were -- you can see the outlines, but you can't see their faces. I think that's what makes it even harder."
Christine grew up fast after her dad's stroke, faster still when she was thrust into being the sole caregiver to two parents at age 23.
She left college in Denver and moved back to Fitchburg, Massachusetts. Once things stabilized, she began working at her aunt and uncle's sporting goods store; a few years later, she bought it. She lives with her father; Mom is a short drive away.
"I've yet to meet anybody locked in my shoes, with both parents going through this," she said. "I hope that I'm a 1-in-a-bajillion case."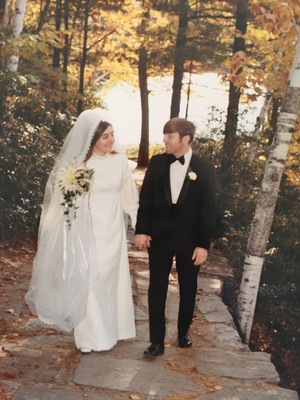 Joseph Duval was fighting in Vietnam when his father started Greenville Hardware Store in Greenville, New Hampshire. He took over upon returning home in 1969, then married Beverly in 1971. Christine arrived in 1980.
Joseph and Beverly were a happy, hard-working couple. She was gregarious, quick to befriend strangers; he was more shy, quiet... sometimes even grumpy. An active lifestyle kept them fit, and they were always in good health; neither smoked nor drank.
They were always together, working in the store Monday through Saturday, then spending Sundays tinkering with projects at home.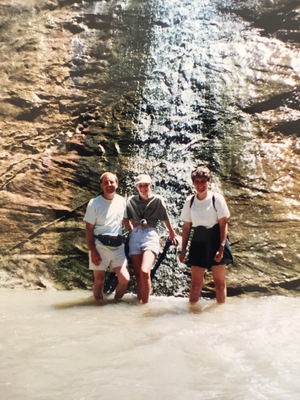 In warmer months, they enjoyed their swimming pool. A few times every summer, they'd pile into their motor home and spend a weekend in Hancock, New Hampshire, or perhaps Maine. During winters, Beverly and Christine enjoyed skiing.
Christine traded all her extracurricular activities for a single one: visiting Dad in the hospital. She also supported her mom ("We were a team; we had to be") as Beverly pursued every therapy possible to help Joseph recover.
"He became pretty independent -- he can bathe himself, go to the bathroom by himself, feed himself," Christine said. "But nothing, nothing, nothing brought his speech back."
As Joseph improved, Christine went to an arts college in Boston, then moved to Colorado. She worked for a year, then began studying nursing, inspired by those who'd cared for her father.
Her parents visited for Thanksgiving, and the next day they all went to The Home Depot to buy liners for her kitchen drawers. Beverly had just finished joking with an employee when the cart she was pushing rolled away and she fell. What looked like a seizure turned out to be another devastating stroke.
"My dad was crying; he couldn't understand what was going on," Christine said. "I was more scared than I've ever been in life."
An aneurysm ruptured in Beverly's brain. She underwent a procedure to clamp the damage, and one overly optimistic doctor suggested she'd be running a marathon in a few months.
Instead, she spent a month in a coma. It took five years before she even fed herself.
"My mom saw everything my dad went through and how hard he worked to get where he was," Christine said. "My theory is, deep down she knew how hard it was going to be and that she still wouldn't be herself at the end."
Thrust into a life she'd never expected, Christine hardly had time to think about herself.
Then one day she was fitting ski boots for a nice young couple with two adorable kids.
The husband mentioned that he ran on Tedy's Team and she asked about what that was. When he explained the stroke connection, "my jaw dropped," Christine said. She was even more stunned to learn that the cute little girl running around had a stroke in utero that wasn't diagnosed until she was a few months old.
"Seeing this little girl run around totally normal gave me hope that somebody can have a stroke and a normal life," she said. "I sent an email, filled out the application and that October I got the call that I was on the team. My life changed instantaneously."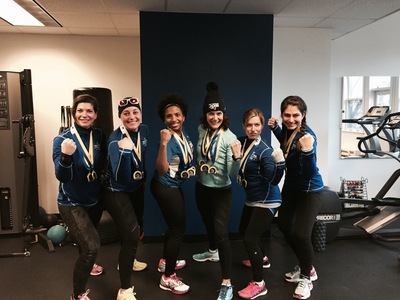 Christine found the support group she didn't know she needed.
"I can't imagine my life without them now and I can't imagine what I did before them," she said. "When things get tough with my dad or don't go right with Mom, they're the first people I contact. When I'm scared or hurting, they respond instantaneously."
The support extends to running, such as in last year's marathon, when Christine and two teammates suffered dehydration around the famous Heartbreak Hill. They encouraged each other to reach the finish line. (In her first marathon with Tedy's Team, Christine was less than a mile from the finish when the bombs went off. She didn't hear it, but to this day hearing a helicopter reminds her of all the choppers that surrounded the finish line.)
Joseph spends most days at home, with Christine usually checking in around lunchtime. When the weather is good, he sits outside and waves at everyone who passes by. The stroke turned him into a bit of an extrovert; "He has more friends in the neighborhood than I do," Christine said, laughing.
Beverly uses a wheelchair. The inactivity, plus the medicines she takes, have caused her to gain a lot of weight. Her personality also has reversed, her fire for life somewhat extinguished.
For each of them, the best part of their week is being together.
"She just glows when he's around," Christine said. "She'll hum to him and he'll mumble stuff back. They somehow have this conversation. It's completely crazy, but they know what each other is saying."
As for Christine, her boyfriend, Tim Pelletier; her dog, Deco; her pals on Tedy's Team; her other friends and her family all keep her going.
She obviously has a family history of stroke to worry about, and she does -- every headache leaves her "petrified that something's going to happen." But she refuses to be consumed by it.
"I love life," she said. "I'm not going to let something that may never happen stop me. Stroke is going to haunt me forever, but I'm going to let it get me down."