Christmas is an exciting time of year for many of us, but it is celebrated differently all over the world. From The Netherlands to Australia, InterNations employees have shared their Christmas experiences and traditions from their native countries. With more than 2.4 million members in 390 cities around the world, InterNations is the largest global network and information site for people who live and work abroad. Currently more than 100 people from 33 countries work at InterNations in Munich and five of them are sharing their personal Christmas stories as part of a holiday series here.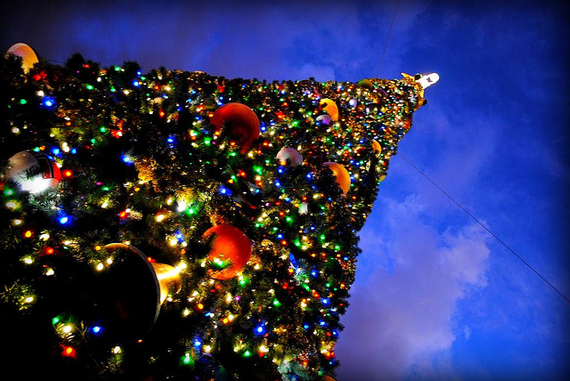 Image credit: tcwmatt/CC BY-ND 2.0
Like the majority of Vietnamese people, I don't have childhood memories of longing for the night that Santa Claus would come down the chimney and put a present in each hanging sock, or of white snow brightening up every single piece of land, and trees and houses covered with twinkling lights. As adults, we don't go to gorgeous Christmas markets to drink glühwein and eat warm roasted nuts to beat the cold, or gather the family around a table of good food in a cozy home to give each other best wishes and presents.
Living in Germany, I am one of the lucky Vietnamese people who had chance to experience most of those things last Christmas. It was almost perfect -- but no snow! I have to say, it's one of the best memories of my whole life. The experience was even more interesting because I could see and do the things that were so different compared to what we have back home.
In the past, Vietnam did not really celebrate Christmas except for the country's Catholic minority population. December 25th was just like any other day in the year. Nowadays, Christmas is still not a public holiday, however, people are excited when the time comes, and try to do more to make it special. Here is what Christmas is all about in my home, Hanoi.
The weather
The closer it is to Christmas, the colder it gets here in Europe, but it's definitely not cold in Vietnam by this time -- all you need is a light jacket.
What people wear
Forget about dark-colored clothes -- it's time for white, red, green, yellow or many other colors, I'm sure one of the best things to do is people-watch! In fact, I need to mention here that Santa suits are super popular. A Vietnamese Santa could be staff working in a big mall, a parking attendant at a restaurant, or you might also see two skinny Santas squeezed on to a motorbike with presents acting as a seasonal delivery service. I bet European kids would be confused seeing so many Santas if they found themselves in Hanoi!
Decorations
We do not have a Christmas tree in each house, but there are many on the streets and in stores -- the malls have the biggest ones of all. Hang Ma, a street in the Old Quarter which sells all kinds of ever-changing holiday decorations, is packed with drive-by buyers on motorbikes and young people busy taking selfies or pictures for their Christmas photo albums.
From the beginning of December or even earlier, the whole of Hanoi has a festive vibe with fairy lights, fake snow, and electric Santas playing saxophones -- the Vietnamese love Christmas, they really do. The traffic is still crazy, maybe even more so, but there is less honking and screaming from angry people because of slow drivers or blocked streets. People tend to slow down, relax and enjoy the atmosphere by watching the lights as well as listening Christmas songs -- it's Christmas magic!

What people do on Christmas Eve?
Instead of staying home and spending time with family, local Vietnamese seem to be keen on heading out to the downtown area to celebrate Christmas. Families have dinner out at a nice restaurant, while young people like to hang out with their friends and have a drink, or walk around the Old Quarter and watch some artists that they randomly pass playing street music. Some dating couples go to the cinema to watch movies. It is usually crazily crowded in this area this time -- it's absolutely not recommended for people who cannot stand being skin-to-skin with others. I used to spend time sightseeing a few days before, then stay home or visit my best friend on Christmas Eve -- we make each other Christmas cards.
As much as I love the authentic atmosphere of Christmas in Bavaria, I do miss everything we do back home a lot.