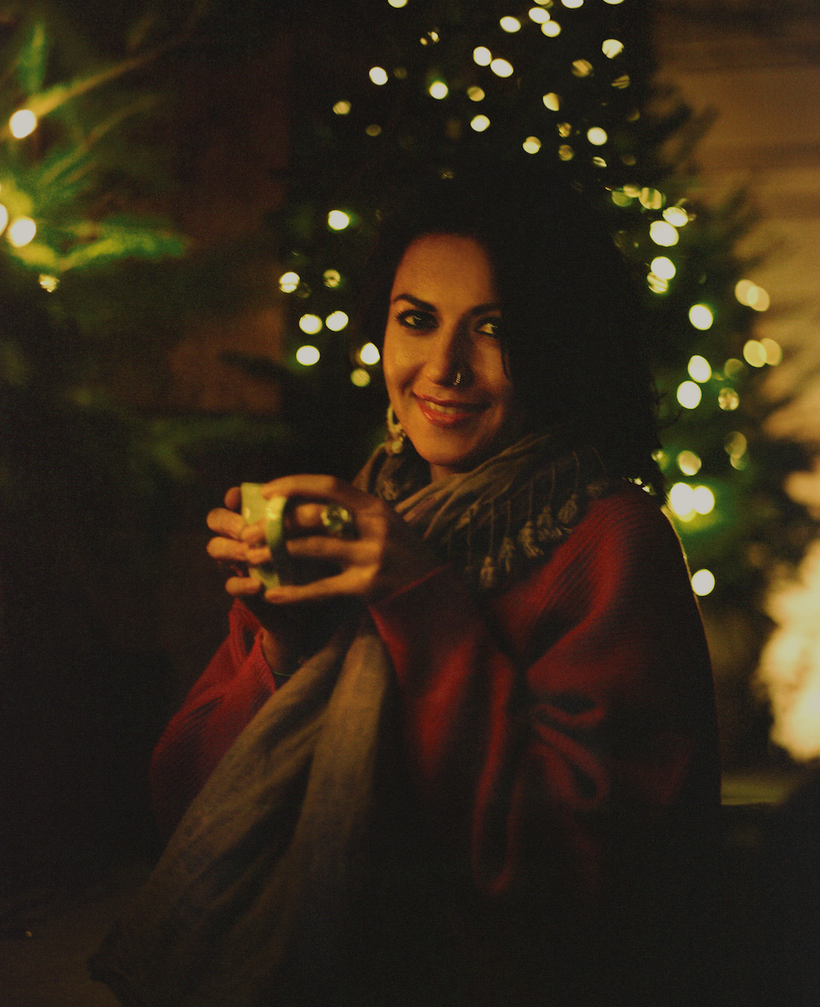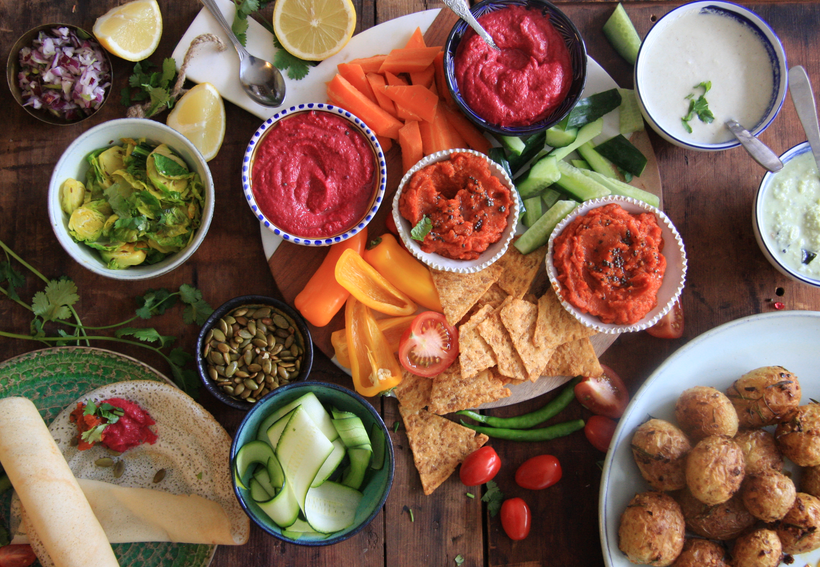 I love a feast and I love making a good looking feast with plenty of everything, a real rainbow of colours and garnishings galore. You need a little of each dish but lots of variety – obviously it all depends on how many people you're serving! Here, I've given the recipes for two of the dips shown on the photograph as well as the crisp chilli roast potatoes. You'll find more dips and chutneys in my cookbook Saffron Soul – the avocado chutney on page 57 is quite a winner! So here's a few creative feasting ideas and recipes.
CHOPPED VEGGIES I've only got a few here, cucumbers, carrots and peppers, but there's so much more you can add, from green beans and chicory leaves to chopped celery sticks and even lightly steamed broccoli.
QUICK SALAD ADDITIONS This can be anything but I've added a quick mix of quinoa, coriander, cherry tomatoes and lemon. I've also made a quick and simple Brussels sprouts stir fry – literally just cumin seeds, a little grated garlic, sliced brussels sprouts and some salt.
CRISPY BITS These are my favourite nachos from a brand called Riceworks but you can add anything – Ryvita thins, crisps perhaps? Anything that just adds a little crunch and flavour (the millet thins or khakhra from my book are another one I use a lot as a crunchy healthy snack addition on the table)
Roast red pepper and carrot dip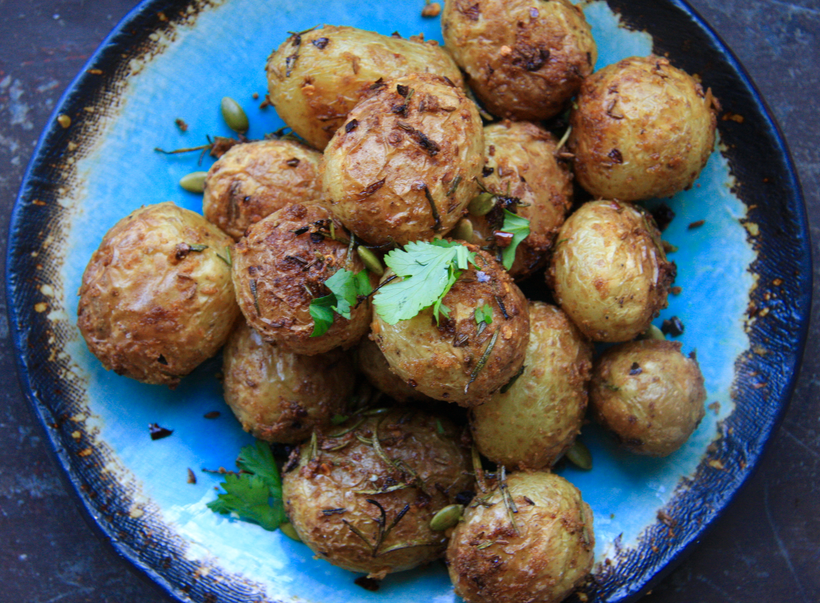 CRISP & CHILLI ROAST POTATOES
Serves 4-6 as part of a feast
Aren't roasted rosemary potatoes just the easiest thing when you're having a feast at home. They're substantial and they're delicious and best of all super easy to make! Here, I've taken a fantastic little tippy tip from Nigella and added just a sprinkle and shake of semolina which gets them extra crisp! And of course a hint of chilli, cumin and all the rest, to make it flavourful but not overpowering. It's actually quite a simple recipe.
1 stalk fresh rosemary, handful
1 tablespoon coconut oil (or can use butter)
Preheat the oven to Gas Mark 6. Wash the potatoes. Boil the potatoes in hot water for around 10 minutes, then drain the water and sprinkle over the semolina. Mix together well. In a small pan, heat the cumin seeds in the oil and add the rosemary leaves, chilli flakes and salt. Pour this over the potatoes and mix well. Place in the oven for around 40 minutes until cooked. Check with a fork to see if they're cooked.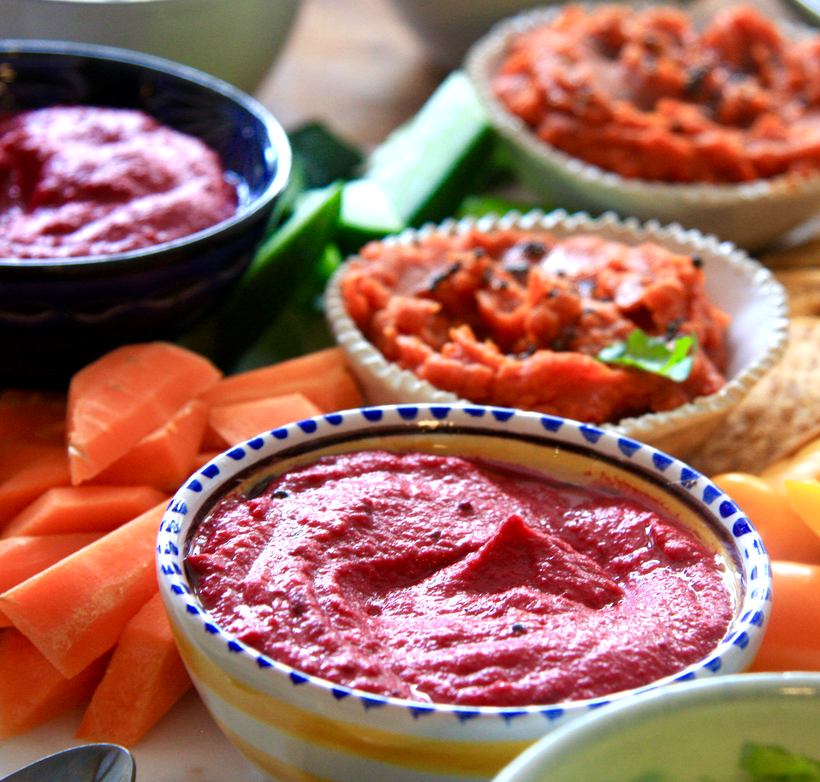 Preheat the oven to gas mark 6, 400F. Peel and discard the beetroot skin, then wrap each beetroot in aluminium foil (just enough to fully cover the beet) and place them in the oven with the peeled garlic clove (these don't need to be wrapped in foil) for around 45 minutes until soft and cooked. In a small pan, toast the cumin seeds for a couple of minutes until they turn a darker shade of brown and you smell the aroma. Leave aside. When cooked, chop the beetroot into chunks so it's easier to blend, and place with all other ingredients including the toasted cumin seeds in a high speed blender. Blend until smooth. Taste for salt and lime, and add more if required.
Roasted carrot & red pepper dip
2 carrots, roughly chopped
1 red pepper, roughly chopped
3-4 tablespoons white kidney beans
Preheat oven to gas mark 6, 400F. Chop the carrots into small chunks and boil them for 10 minutes, then place in the oven with the chopped red pepper and garlic clove. Let them cook in the oven for around 40 minutes until soft, then place into a blender with the cumin seeds (lightly toast the cumin seeds on a small pan for a minute or two until you can smell the aroma), white kidney beans, water, salt and lime and blend in until smooth. Taste and add more salt or lemon if required. You can also make it thinner by adding a little more water.
Paprika tossed pumpkin seeds
This is a really quick and simple recipe to give the pumpkin seeds a little flavour and crunch. Toss a few tablespoons of pumpkin seeds in a small pan on low to medium heat for a few minutes with just a sprinkle of salt and a sprinkle of paprika. Remove from heat and they will become crisp as they cool.
For other feasting and recipe ideas, check my blog. Here's a few recommendations:
Masala sweet potato & kale salad https://miramanek.com/recipes/spiced-sweet-potato-kale-salad-with-tandoori-spices/ butternut squash and chickpea masala with tamarind https://miramanek.com/recipes/butternut-squash-chickpea-masala-with-tamarind-and-coconut/ and a vegan all spice Christmas cake https://miramanek.com/recipes/all-spice-christmas-cake/
REAL LIFE. REAL NEWS. REAL VOICES.
Help us tell more of the stories that matter from voices that too often remain unheard.
This post was published on the now-closed HuffPost Contributor platform. Contributors control their own work and posted freely to our site. If you need to flag this entry as abusive,
send us an email
.