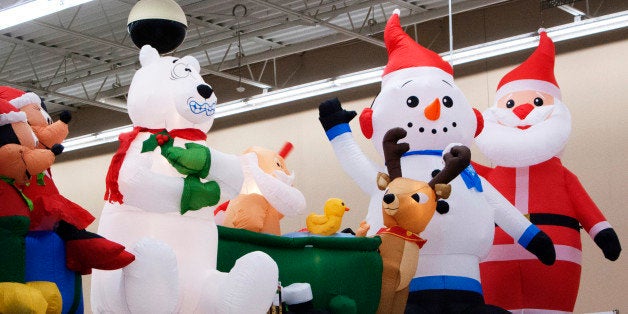 War on Christmas? The American Family Association is on the front lines, naming companies "Naughty or Nice" based on how "Christmas-friendly" they are with their advertising.
They are specifically calling out companies that opt for inclusive language, which often makes reference to the holiday season or winter season in lieu of Christmas. Their website states, "If a company has items associated with Christmas, but did not use the word 'Christmas,' then the company is considered as censoring 'Christmas.'"
"We've become a society that is overly concerned that something we say, even when true or right, might offend someone," said AFA President Tim Wildmon, according to the Christian Post. "The truth is that America was built on Christian principles and our nation has enjoyed much of our economic success because of the tenets of our founding fathers. When stores try to be politically correct by pushing Christ out of Christmas, it's time to shop somewhere else."
"Christmas-friendly" rankings range in color from blue to red, with a "Blue" rated company defined as "An AFA "5-Star" rated company that promotes and celebrates Christmas on an exceptional basis," whereas a "Red" retailers is a "Company [that] may use 'Christmas' sparingly in a single or unique product description, but as a company, does not recognize it."
They are still updating their list, but as of publication, Lowe's, Wal-mart, Sears, Hobby Lobby, Belk, and the American Family Foundation's own store are the only blue-rated retailers. On the red list of "Companies Against Christmas," at least according to the AFA, is Barnes & Noble, Family Dollar, Foot Locker, Office Depot, Pet Smart, Radio Shack, Victoria's Secret, Staples, and a few others.
AFA says they use up to four areas to determine a company's friendliness to Christmas, including print media, broadcast media, website, and personal visits to the store.
When asked why AFA publishes the list each year, director of issue analysis Bryan Fischer said the association believes there is a "culture war" over the Judeo-Christian tradition taking place in America.
Fischer told the Christian Post that the AFA believes that there is a "culture war" involving the fate of the Judeo-Christian tradition in America. "We believe that people who oppose Christmas do so because of the first six letters in that word," he said. "This is really not a war on Christmas. It's a war on Christ."
In addition to a war on Christmas, the American Family Foundation also believes that there is a "homosexual agenda" at work in American society. The AFA vehemently opposes same-sex marriage, and has previously organized boycotts of companies that support marriage equality.
For those concerned about Christmas censorship, the AFA has a hotline set up for complaints and a memo about "rights of seasonal expression at Christmas."

REAL LIFE. REAL NEWS. REAL VOICES.
Help us tell more of the stories that matter from voices that too often remain unheard.
BEFORE YOU GO
PHOTO GALLERY
The World's 50 Most Unusual Churches