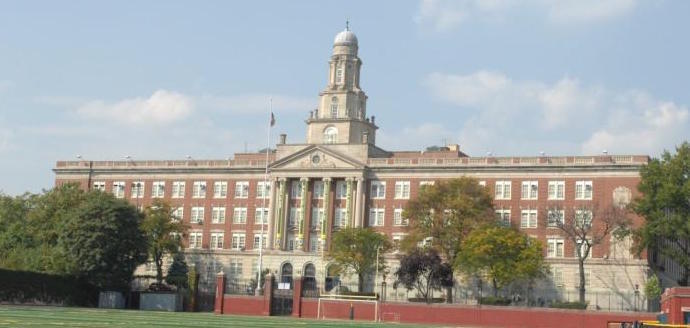 I am approaching my 68th birthday and I have been a teacher since 1971. I plan to keep teaching for a number more years. One reason is because of the gifts I receive from students. In this post I share three emailed "gifts," the kind of gifts that sustain teachers when we wonder if our daily struggles with young people, amidst sustained political attacks against our profession and sometimes oppressive micro-management, are worth our effort. On rare occasions, we learn about the impact we have had on young people and through them the world. These three emails are Christmas gifts to teachers everywhere. Keep up the good work!
From a Doctor: I was a student at Franklin K Lane High School from 1980-1984. I had you as my social studies teacher and I wanted to thank you for believing in me. I was an honor student and I believe that you served as a guidance counselor to me. I remember meeting with you and you asked me what I wanted to become in the future and I remembered telling you I wanted to be a medical assistant. You asked me if I ever considered being a doctor since I was smart. No one ever discussed with me what careers were opened to me and being first generation Puerto Rican I never thought of careers like lawyer or doctor. Because of your belief in me and your willingness to help me, I applied and went on to obtain my Pre Med education and BA in Biology at Columbia University in 1988 and then my MD degree from the Albert Einstein College of Medicine in 1992. I have been practicing internal medicine in NY for over 22 years. Thank you for all that you did for me; you changed my life, helped me care for my parents and allowed me to serve as a role model to my daughter who is now a sophomore at Fordham University. When people ask me why I became a doctor I always tell people that a teacher saw in me what I did not see. Thank you for opening and broadening my vision. From a Chemist: I was a student in your social studies class at Franklin K. Lane High School between 1988 and 1990. I am sure that you don't remember me. You got me a job (working in the kitchen) at your wife's daycare center in East New York on New Lots Avenue at the end of my senior year in high school. You were very kind to me and I will forever remember such kindness. I am writing to let you know that you were a positive influence on me when I was a young high school student. Therefore, I made it my mission to find you in order to let you know how much I appreciate you, then and now. I was not the smartest student in high school or the most outgoing and popular but I worked hard. I recall you staying after school in order to tutor me in social studies as I requested your help. Based on my recollection, you were always willing to help. After high school, I went on to earn a B.S. degree in chemistry and a Ph.D. in the same field. I am currently a research scientist where my main focus is developing new fuel additives and lubricant technologies.
From a Defender of Human Rights: I just came across an article of yours on the Huff Post, and was reminded of how influential you were for me as a high school student at E.R. Murrow. I'm not sure if you remember me, but I attended one of your Social Studies classes in 1993. That year (Junior year) was a very trying time for me personally and academically, and I even came close to flunking out. Your class, however, inspired me tremendously and ignited the progressive chords that my parents had instilled in me since birth. I specifically recall filming a rap version of the old folk tune, '16 tons' with a fellow classmate. Despite my poor performance that year, I excelled in your class, and received a very positive college recommendation letter from you, which I'm confident made a difference in my selection to go to a small liberal arts college near Boston, called Bradford College. After getting my act together after junior year, I received straight A's my senior year, which I'm sure helped as well. I have since, received an MPA in International Management with a focus on security and conflict from the Monterey Institute of International Studies, and am currently working for a UN monitoring group, investigating violations of Security Council Sanctions on Darfur. I am happy to see that you are still in the fray, and continuing to inspire. I for one am thankful to you for recognizing my abilities and dedicating your energies to me at such a critical time in my development.
I would love to get more emails like these. I am sure every teacher would. Stories like these sustain us.
Calling all HuffPost superfans!
Sign up for membership to become a founding member and help shape HuffPost's next chapter
This post was published on the now-closed HuffPost Contributor platform. Contributors control their own work and posted freely to our site. If you need to flag this entry as abusive,
send us an email
.