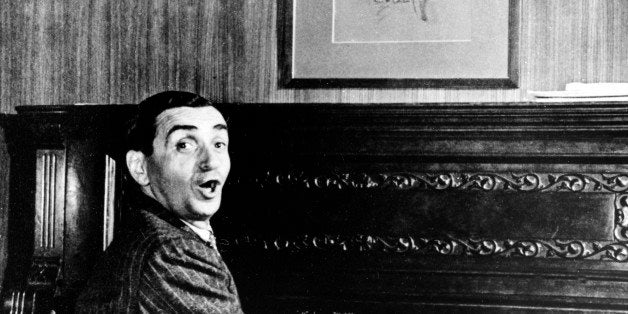 (RNS) Christians don't seem to mind that so many beloved Christmas songs were written by Jews, and Jews tend to reel off the list with pride.
White Christmas. Let It Snow. Santa Baby. I'll Be Home for Christmas. Chestnuts Roasting on an Open Fire. Silver Bells. Rudolph the Red-Nosed Reindeer.
Those not mentioned here could fill an album.
But why didn't the Jews write any similarly iconic songs for their holiday that falls around Christmastime: Hanukkah, the Jewish Festival of Lights?
"I Have a Little Dreidl"? Great song … if you're 4.
There are reasons that Jews are good at Christmas songs and why so many of these songs became so popular. And there are reasons why Jews didn't write similarly catchy tunes for Hanukkah — or any other Jewish holiday.
But first, a little music history.
In the first half of the 20th century, Jews flocked to the music industry. It was one business where they didn't face overwhelming anti-Semitism, said Michael Feinstein, the Emmy Award-winning interpreter of American musical standards.
"White Christmas," written by Jewish lyricist Irving Berlin, topped the charts in 1942 and launched popular Christmas music, encouraging many others — Jews and non-Jews — to write more odes to the holiday.
And although celebrating the birth of Christ was not something these Jewish songwriters would want to do, they could feel comfortable composing more secular Christmas singles.
"The Christmas songs that are popular are not about Jesus, but they're about sleigh bells and Santa and the trappings of Christmas," Feinstein said. "They're not religious songs."
In their music and lyrics, Jews captured Christmas not only as a wonderful, wintry time for family gatherings, but also as an American holiday. What they drew on, said Rabbi Kenneth Kanter, an expert on Jews and popular culture at Hebrew Union College-Jewish Institute of Religion in Cincinnati, was their background as the children of European-born Jews, or as immigrants themselves, in the case of Russian-born Berlin and others.
Jewish songwriters' own successful assimilation and gratitude to America pervades their midcentury Christmas and other songs, and appealed to a country that wanted to feel brave and united as it fought World War II.
"These songs made Christmas a kind of national celebration, almost a patriotic celebration," Kanter said.
The irreligious nature of these Christmas songs may not sit well with pious Christians, said Feinstein, who is Jewish and who cut "A Michael Feinstein Christmas," among many other albums. But they are now part of the fabric of our larger culture, he said, and "any singer who is a singer of the American songbook will sing Christmas songs," said Feinstein. "We all sing them."
Feinstein is in good Jewish company. Barbra Streisand made "A Christmas Album." Neil Diamond cut not only "A Christmas Album," but also "A Christmas Album, Volume II," and then a "Cherry, Cherry Christmas." This year, Idina Menzel, who started out singing at bar mitzvahs and is best-known as the strong, melodic voice in the hit movie "Frozen," just came out with the very Christmas-y "Holiday Wishes." This list is far from exhaustive.
And how about Hanukkah songs?
First, singers want an audience, and with Jews making up less than 2 percent of the U.S. population, and Christians nearly 80 percent, the natural market for Hanukkah tunes is relatively tiny. Though the story of Hanukkah is about religious freedom, a theme Americans can relate to, few know the tale of the ancient Maccabees — how they threw off their Hellenistic oppressors, and the drop of oil which miraculously lit their lamp for eight days.
Feinstein, who was raised in a Conservative synagogue in Columbus, Ohio, said many people have tried to get him to lend his voice to a Hanukkah song, but he's just not that interested.
"They usually are in a minor key," he said. "And there isn't as much imagery that one can put into a Hanukkah song compared to Christmas."
There are still plenty of tuneful and moving Hanukkah songs, some of them in major keys — the rousing "Al Hanisim," for example. But many are written in languages other than English — Hebrew, Yiddish and Ladino — and aren't going to get much airplay in the U.S.
But a growing body of Hanukkah music aims to break through the subdued and somber stereotype.
In 1982, for example, the folk trio Peter, Paul and Mary first performed "Light One Candle," a social action song that invokes the Maccabees' struggle.
The Jewish reggae star Matisyahu came out with "Miracle" in 2011. And the Maccabeats, an a capella group based at Yeshiva University, remade the pop song "Dynamite" into a 2010 Hanukkah hit called "Candlelight."
And then there's Kenny Ellis, the cantor at Temple Beth Ami in Santa Clarita, Calif., who is on a mission to convince Jews and non-Jews alike that Hanukkah songs can be a zippy part of the national songbook. Each Hanukkah, Ellis sings from his 2005 album, "Hanukkah Swings," a big-band take on some of the most well-known Hanukkah songs, starting with "Swingin' Dreidel."
To Ellis' delight, Feinstein once sang "Swingin' Dreidel" in his New York nightclub. It wouldn't hurt if more Jewish singers tried a Hanukkah song or two, Ellis said. Maybe a whole album.
"I love all the Jewish performers that do Christmas albums," Ellis said. "But what's the big deal about doing a Hanukkah album? Does anyone think that if Barbra Streisand did a Hanukkah album, that her career would be finished?"
Related
Before You Go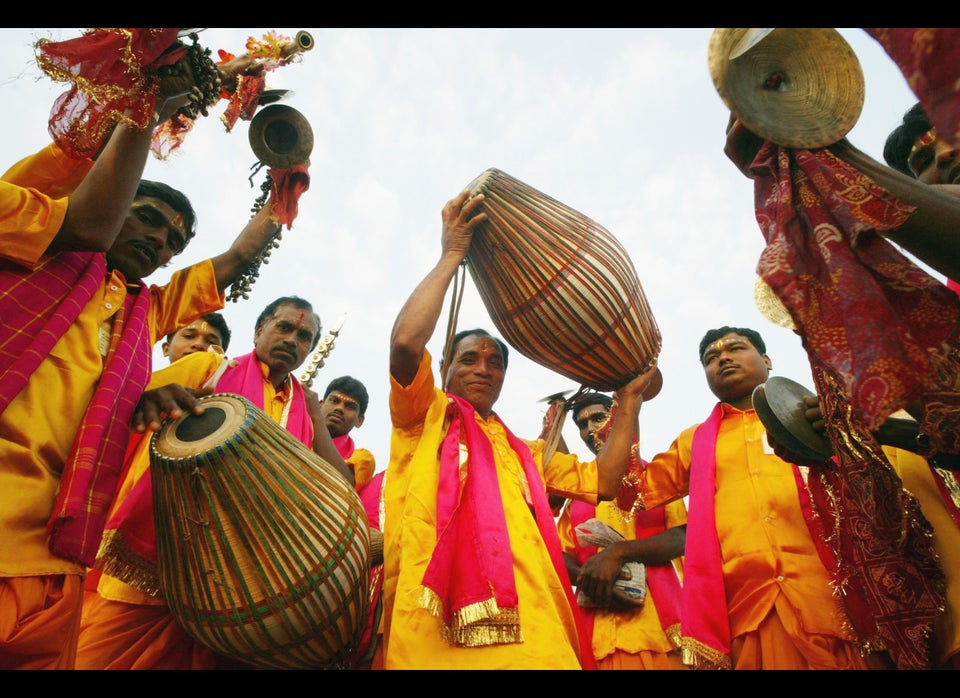 Sacred Music Traditions of the World
Popular in the Community