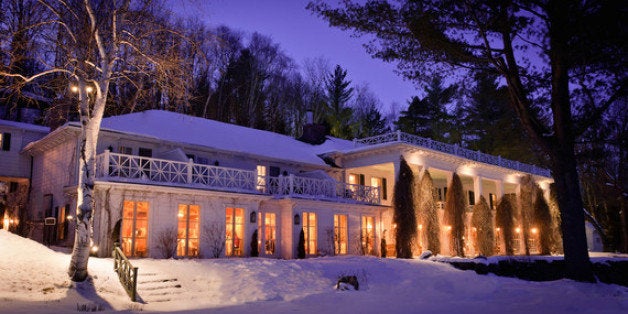 About an hour east of Montréal, around Granby, the flat land and power lines give way to slopes of trees--pines and red oak, yellow birch and spruce. Mallards and grackles, chickadees and gannets, peregrine falcons and golden eagles spot the skies. Lakes lie within reed-like rich valleys. French names like Saint-Benôit-du-lac and Saint-Étienne-de-Bolton vie with those of English and First Nations townships, like Georgeville, Ogden, Magog and North Hatley.
This last, on the northern tip of Lake Massawippi, has been a tourist draw since the late 19th century, after a railway line was put through the region. North Hatley (below) and its neighbor Hatley drew immigrants a century earlier, and many grew rich from agriculture, wood harvesting, and potash (to make soap). One curiosity of seasonal emigration was the influx of Americans from the South, who bypassed New England in preference to Canada in search of grand summer residences.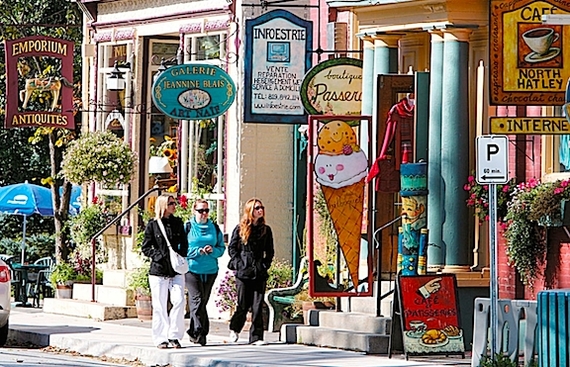 Some of their mansions were later transformed into deluxe inns, while in the little town of North Hatley, bed-and-breakfasts popped up like wildflowers among art galleries and cafés. Since 1982, the Festival du Lac Massawippi has centered around music recitals held in the Sainte-Élizabeth Church and in the springtime al fresco on grounds of Dreamland Park. For the more daring visitor, try the Velo Volant, a suspended recumbent bike on a zip line on which you can peddle above a forest canopy, 100 feet high.
Of course, much of the region's attractiveness is in spring, summer and fall, when hiking in Parc de la Gorge de Coaticook, fishing and hunting are most popular. But in winter these are replaced by skiing (there are five ski resorts in the Eastern Townships), snowmobiling, skating, and ice fishing on the lakes, whose ice thickness can grow to several meters.
Year-round, the Abbey of Saint-Benôit-du-Lac is a Benedictine monastery--you can still listen to their Gregorian chants in the evening--and there are a dozen wineries in the region.
There is still a good deal of agriculture in the area, and one of the genial pleasures is to visit one or two of the many cheese makers, like the 163-hectare organic La Station de Compton (below), which has four generations of family experience maintaining a herd of 50 Holstein dairy cows. They make an array of five excellent cheeses with names like Alfred, Hatley and Comtomme, all sold in the little boutique here, along with their own maple syrup.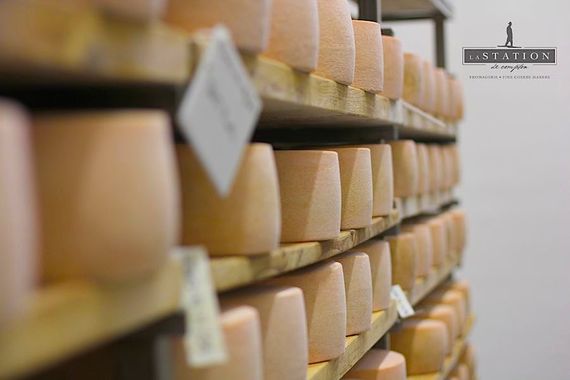 On a recent visit to the region, I stayed at the magnificent Manoir Hovey, sequestered in timberland outside of North Hadley. The structure was originally a summer home built in 1899 by Henry Atkinson, owner of Georgia Power. The design was inspired by George Washington's home at Mount Vernon. After changing hands several times, it became an inn in 1950, then, in 1979, Kathryn and Stephen Stafford bought and renovated it. Their son, Jason, is now managing director of this Relais & Châteaux property of 30 rooms with seven suites, five individual cottages and one chalet for up to ten people, all surrounded by gardens and set on the shore of the lakefront. (All prices in this article are in Canadian dollars.)
The greeting by the entire staff is as warm as the roaring fireplace in a Library Room (below) that for me would be the perfect "Man Cave," a space with thousands of books, sofas, blankets, and access to good spirits from the bar next door, which leads to Le Hatley restaurant. The dining room is very beautiful, done with the local environment in mind, with birch-like wall coverings, French windows overlooking the lake, a big fireplace with its logs crackling. Tables are luxuriously set and chandeliers glow, and candles light the tables, but there is no sense of enforced formality here. The wine list is exceptional, not just for its breadth and depth but for the number of increasingly fine Canadian wines offered. (There is also a Tap Room Pub a few steps away for more casual fare.)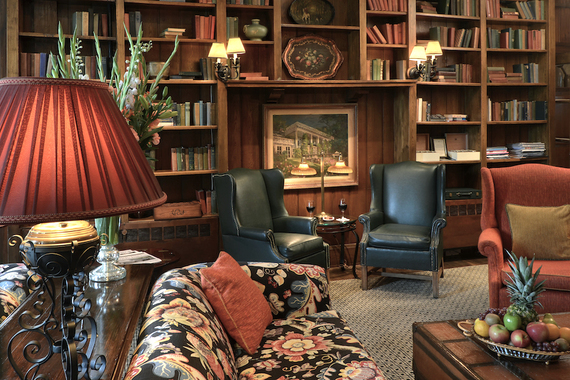 The kitchen at Manoir Hovey is overseen by Executive Chef Roland Menards, here for three decades now, and Chef de Cuisine Francis Wolf, who has worked at Alain Déclassé, Daniel and Aureole in New York. As much as possible, Canadian ingredients are used, not least dozens of unusual herbs, spices, flowers and foraged mushrooms incorporated into the cuisine, which has strong French underpinnings.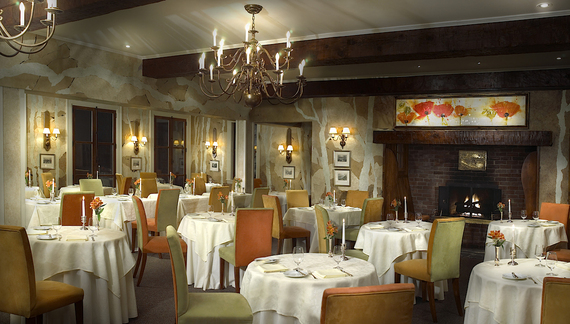 Although I found several dishes very fussy in presentation, with a daunting number of ingredients arrayed around the plate to little effect, the heartiness of the autumn menu was manifest in dishes like an acorn squash soup with Canadian foie gras flan, kohlrabi, parsnip, beans and leeks. Canadian beef of full flavor came pan-seared, with potatoes Anna, sautéed mushrooms with shallots, and a red wine sauce, and I was delighted to see grilled guinea fowl with parsnip puree, barley, smoked lardoons and a dried grape sauce. One of the justifiably popular items at Le Hatley is the sweetbreads with artichoke foam, kohlrabi, heirloom squash and a hazelnut emulsion (though I don't see why there should be a $5 supplement on $70 for inexpensive offal).
I recommend you try a sampling of local cheeses (an $8 supplement), wonderfully displayed on a cart and explained by the captain. For dessert, I liked the dark chocolate custard cream meringue with bitter orange puree ($5 supplement).
After a glass of Canadian ice wine, picking a book from the shelves of the library, climbing the stairs to my bedroom and getting under the covers, with embers hissing in the fireplace, and a silvery half moon over the reflecting lake, I had a feeling of true, quiet contentment and a sense of being much farther from Montréal than I was.
Time seemed to lengthen out, a weak sunrise came on slowly, the lake glistened with glass-like ice, and the cold air cleared my head. Actually, the only thought I had in my head was to go down for a good breakfast of eggs and bacon, coffee and croissants, and to let the day roll through me. I was on Canadian time.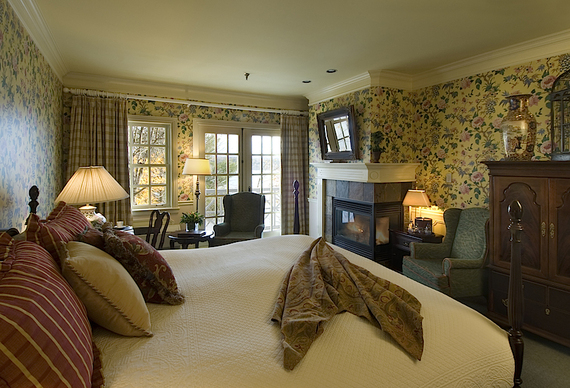 Manoir Hovey is at 575 Rue Hovey, North Hatley, Quebec, one hour's drive from Montreal, 20 minutes from the Vermont border, 4 hours from Boston, 6 hours from NYC; 800-661-2421 or 819-842-2421. Le Hatley Restaurant is open for breakfast, lunch and dinner daily; table d'hôte $70.
Rooms start at $95 (lodging only) or $160 (MAP breakfast, dinner, gratuities); Suites start at $230 (lodging only) or $295 (MAP - breakfast, dinner, gratuities)