Summer is a tough time for St. Vincent de Paul, a leading charity fighting hunger in Cincinnati, Ohio. Hunger rates are high where St. Vincent de Paul-Cincinnati operates, well above the national and state averages according to Feeding America.
But donations go down during the summer compared to the holiday giving season. With schools closed, many needy children lose access to the free lunches they get during the academic year. Impoverished families need even more help during the summer months.
While St. Vincent de Paul-Cincinnati has been struggling with this summer crisis, outside the city a different problem has been taking place at Burwinkel Farms of Ross, Ohio. They are growing too much corn! Now this is better than the alternative when a farm produces too little. But it created the sad prospect that the extra corn might be wasted.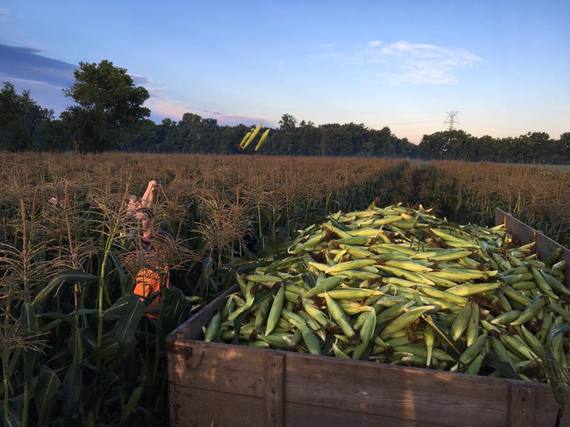 Burwinkel Farms sweet corn being gathered from the field on a typical summer morning. (Burwinkel Farms photo)
Karen Burwinkel, the manager of the Farm, explains that the massive influx of corn was due to two weather events timed just perfectly. First, it's the hot weather that has gripped the Cincinnati area this summer. There have been many summer days over 90 degrees or high 80s. When coupled with earlier rainy spells during the planting season, this led to huge amounts of corn being produced in July.
Burwinkels is famous for its yummy corn and sells a lot of it every day. But this was much more corn than even they could sell in its normal market distribution.
Karen was determined not to let the corn go to waste. So she started calling around Cincinnati on July 18th trying to find someone who would take it. This had to happen quickly because it is a perishable food. A local author, who frequents the Burwinkels stand in Delhi Township, gave a tip to call St. Vincent de Paul.
The connection was made. And it worked. The next morning a truck arrived at the Burwinkel headquarters in Ross and picked up over 8,000 ears of corn!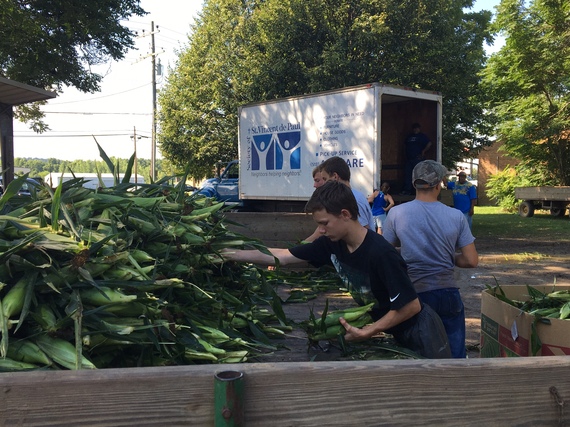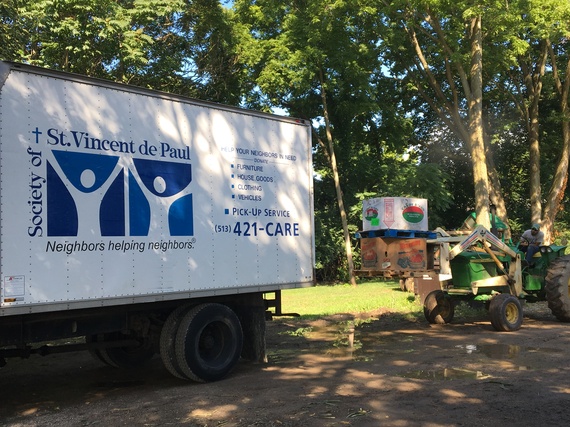 St. Vincent de Paul-Cincinnati picking up corn from Burwinkel Farms in Ross, Ohio. (photo credit Kate Burwinkel)
Right away the corn was transported by St. Vincent de Paul to its system of pantries and church partners throughout Cincinnati.
Getting such a huge food donation was like Christmas in July. Burwinkel Farms played the role of Santa Claus very well. A second donation followed bringing the total to over 10,000 ears of corn so far in July.
The look on the faces of St. Vincent de Paul's clients tell the story. To get such nutritious, fresh food is not easy for a pantry. But it was here. And it was awesome.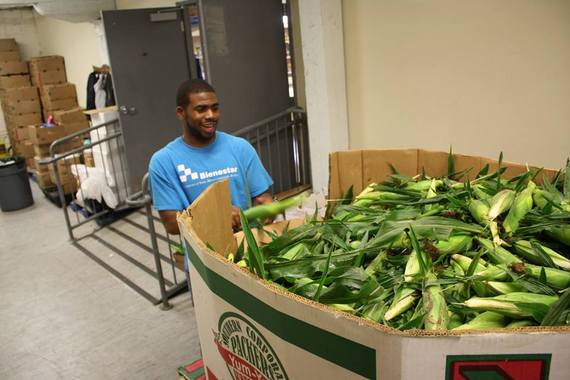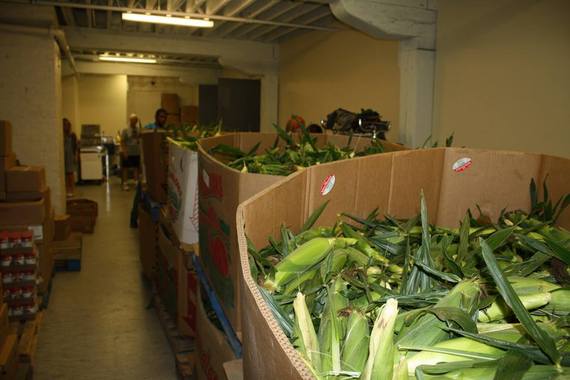 The Burwinkel Farms corn donation arriving at the St. Vincent de Paul distribution center. (photo courtesy of Patricia Huelseman/St. Vincent de Paul - Cincinnati)
Larry Shields, the community relations director at St. Vincent de Paul, says, "Receiving nearly 8,000 ears of corn is truly a blessing and a treat for our neighbors in need. We always struggle to provide fresh fruit and vegetables year round so receiving this much corn not only feeds our neighbors, it also lifts their spirits."
Shields adds that people were smiling "ear to ear." Burwinkels plans to get more food to St. Vincent De Paul in the future when possible.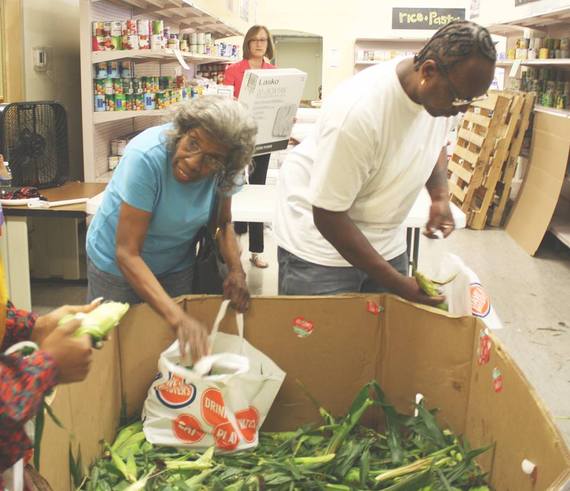 St. Vincent de Paul provides food to neighbors in need through nine parish-based food pantries, including the Edyth and Carl Lindner Choice food pantry at the Liz Carter Outreach Center and many neighborhood food closets. In this photo Burwinkels corn is featured at the food pantry where people can shop like they are in a grocery store, except there is no check out counter and the food is free. It's a helping hand made possible by donations from the community. (courtesy of Patricia Huelseman/St. Vincent de Paul - Cincinnati)
Burwinkel Farms also donates weekly to the Holy Family Pantry in Price Hill. The pantry, a member of the Freestore Foodbank network in Cincinnnati, receives corn and other food. Karen Burwinkel, who was featured by the Food Tank last year, also gave away corn to local police and fire stations and businesses who have helped host their stands.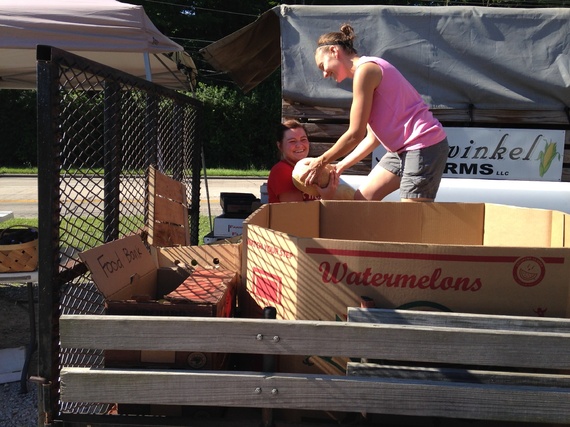 Karen Burwinkel (right) unloading produce to her assistant Kelly for donation to the Holy Family Food Pantry in Price Hill. (author photo)
So much can be done to fight hunger by members of the community. Burwinkel Farms is emerging as a leader in the struggle.
The key is first to be aware of the problem of hunger and then be opportunistic and responsive in finding ways to help. That is what Burwinkels has done this summer.
St. Vincent de Paul responded quickly with pickup and distribution of the corn. It is a terrific example of fighting hunger in the community.
Related
Popular in the Community