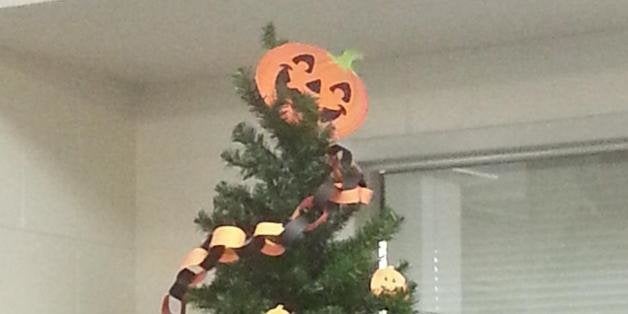 If you thought 12 days of Christmas was a little much, you don't even want to know what's happening in October.
America's retailers seem to be on a mission to bring the start of the holiday season closer to the start of fall every year, despite the fact that there are two major holidays before Christmas that used to be important: Halloween and Thanksgiving.
By the looks of retailer shelves, Halloween has arrived only to find that Christmas has already set up shop. In some instances, Halloween decorations are really just Christmas decorations in disguise. There are even Christmas-themed Halloween costumes! Scroll down for a loose timeline of photos that prove Christmas creeping into October (and even September) despite the fact that no one seems to want this.
September 12: K-Mart releases its "This Is Not A Christmas Commercial" Christmas Commercial
JASON: In fairness, this K-Mart ad actually isn't a Christmas ad, it's a "you guys are probably really doing bad in this economy and should consider layaway" ad.
KATLA: That's sad. K-Mart just made Christmas sad.
Christmas beers go on sale the last week of September.
JASON: I like how you have a choice between four "merry" beers or three "real" beers. Like, the "merry" beers are for sharing, but the "real" ones are for when you're drinking alone and sobbing, or something
KATLA: I thought this time of year was reserved for pumpkin-flavored beer. This would be like if Starbucks went STRAIGHT to the peppermint latte.
Christmas doesn't even wait until October to start straight-up pushing Halloween around.
JASON: Keep in mind that this is all happening at "Halloween Headquarters." That's how bad this is getting.
KATLA: That must be the most poorly guarded headquarters in the world. Christmas just waltzed right in without proper credentials.
By the end of September, as one Imgur user writes: "My work just put up the scariest Halloween decorations ever ... Christmas shit."
JASON: Hey are those Elves On A Shelf ... or, Elf On A Shelfs ... what is the plural of Elf On A Shelf, anyway?
KATLA: No matter what you call them, they are downright creepy. Especially a full month before Halloween.
The first week of October is no longer a rare time to see these two products in the same aisle.
KATLA: It life were like "Toy Story," I bet the two sides of this aisle would battle it out after hours.
JASON: It's like the plastic jack-o-lanterns are the last line of defense before Christmas takes over completely.
It gets worse: Katla spotted this disturbing set of displays in a K-Mart on Oct. 7.
KATLA: One week into October, the Christmas decorations are in and "Harvest" decorations are 25 percent off. Also, what is "Harvest" decor, like a secular version of Autumn?
JASON: Marketed exclusively to people in urban areas that have never "harvested" anything in their lives.
And Jason spotted this one at a Crate & Barrell on Oct. 12.
JASON: I actually suggested to my wife that we just give up and go out and get a Christmas tree for our apartment.
KATLA: Don't do it, Jason! At least wait until after Thanksgiving. Stay strong. STAY STRONG!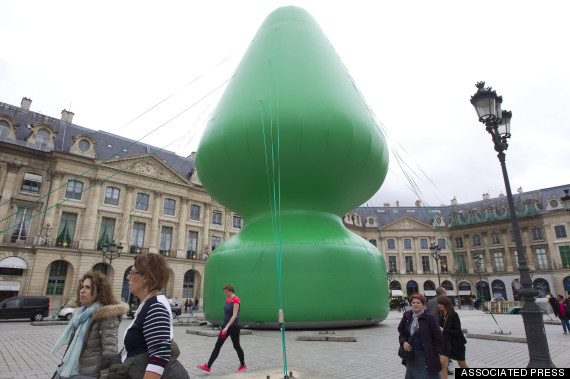 Photo: AP/Jacques Brinon
JASON: I would have made sure that people thought it was a butt plug in any event.
And these shots of Grafton St. in Dublin from mid-October is further proof that this is a worldwide problem.
KATLA: And here I was, thinking Americans were the only people who jumped the gun on Christmas.
JASON: The funny thing about these decorations going up in Dublin is that Bono just thinks they are all for him.
Hallmark just can't wait to break out the Christmas decorations in the second week of October
JASON: Well besides the fact that it's way too early to be "debuting ornaments," these ornaments look like they were all made by pre-schoolers, or prisoners.
KATLA: To me it looks like, "This is where we'd debut the ornaments ... If we actually had them yet. We're just so excited that we had to put something up now!"
This Christmas tree display was posted on Oct. 15 with the appropriate caption, "It's way too early for this shit."
KATLA:: If they ever made a movie about this, that should be the title.
JASON: And it would somehow be the prequel to "The Hunger Games."
Let's face it. It's starting to look like Halloween doesn't stand a chance.
JASON: I guess in our dystopian future the Christmas #brand becomes the content distribution platform for all other holidays.
KATLA: All hail, Hallowmas!
Before You Go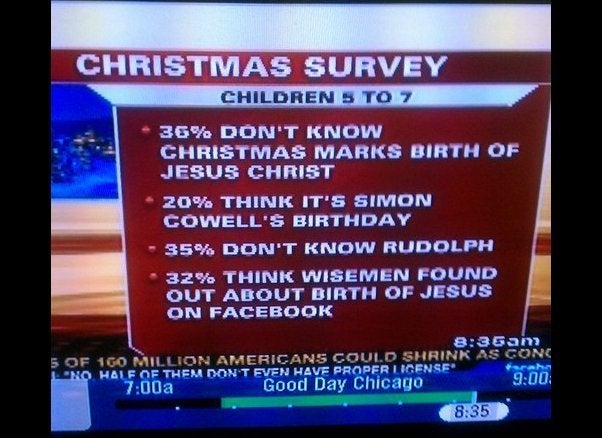 Christmas FAIL Photos
Popular in the Community