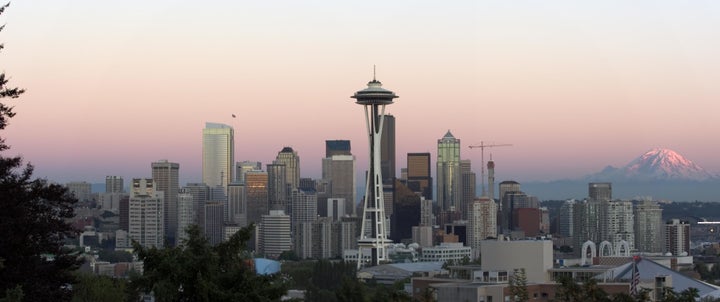 With the exception of the homeless man who flipped us the bird, the pedestrians walking the streets or lining up for transit during this cool Seattle evening rush hour seemed amused, if not delighted, with our loud cheers of "Happy Holidays," as we cruised past during our Ride the Ducks Holiday Tour.
Sleigh bells in hand, my partner and I joined about 20 others for the tour, which includes a 40-minute ride on a DUKW, an amphibious landing craft developed by the United States Army during the Second World War, to deliver cargo from ships at sea directly to the shore. Now fondly known as the "Ducks," depending on the time of year, today the vehicles are used to transfer tourists and locals on a variety of tours. This being just weeks from Christmas we climbed on board for the holiday version, which saw us checking out the colorful light displays at Westlake Center, Toyland Village at Pier 57, Pioneer Square, Pike Place Market and the downtown shopping district, singing Christmas carols at the top of our lungs, accompanied by a tour guide dressed like a deranged elf.
We caught the Duck just steps away from our hotel, the Mayflower Park, conveniently located downtown on Olive Street and more importantly, right across the road from Macy's on one side and Nordstrom and Nordstrom Rack on the other. In fact the Mayflower is so central, once we arrived at the hotel we left our vehicle parked for the entire three days of our visit.
Here's where I admit that despite Seattle's easy access from Vancouver, I've never actually visited the city before. I've previously flown out of Sea Tac Airport but never stayed downtown.
Now I know what I've been missing.
We were within easy walking distance of Pike Place Market, an iconic Seattle landmark I've seen on TV numerous times but never witnessed first-hand. So I was delighted to arrive just as the fish mongers went into their now famous routine, tossing fresh fish and seafood to each other while shouting out to the crowd of shoppers strolling by. Speaking of shopping, at the market I was able to pick up several unique, hand-crafted and affordable gifts, which I can't mention here because they're Christmas presents. I also chatted with several artists and enjoyed samples of fresh fruit supplied by produce vendors, all the while listening to some of the best live music I've ever heard from a busker.
A little closer to the water from Pike Place Market is a new addition to the Seattle skyline. The Seattle Great Wheel, which launched in June, looks similar to the London Eye. Standing at 175 feet tall, the Ferris wheel has 42 fully-enclosed gondolas, which in total can hold 300 passengers at a time. The wheel extends 40 feet beyond the pier over Elliott Bay. That waterfront section of the city is worth the walk and boasts restaurants with sweeping views and galleries featuring West Coast art.
Besides being famous for its coffee, Seattle is also a serious foodie mecca. We were overwhelmed with the number of great choices of places to eat and drink, but walking back from Pike Place Market to our hotel we discovered RN74 wine bar, which has a modern French menu based on fresh West Coast ingredients. My shopping-weary partner and I decided the best way to check out the menu was to share several appetizers, including the fresh oysters with Champagne mignonette, the ahi tuna tartar and, my favorite, the homemade tomato soup that served as a fondue with squares of grilled cheese sandwiches for dipping.
Meanwhile, I was heartbroken to miss the opening of the Broadway production of my favorite Christmas movie Elf by just one week, but then again that could serve as a good excuse for a return trip to Seattle before the holidays end.