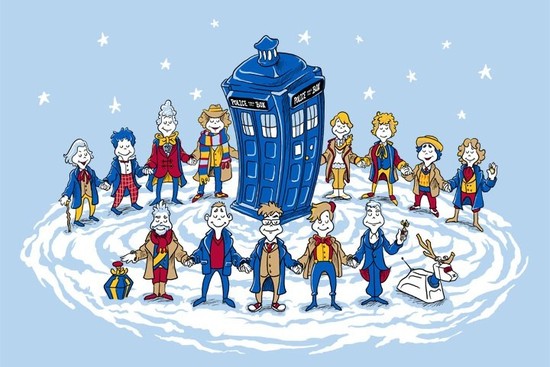 Santa Claus is a Time Lord. Like the ancient race of Gallifreyans from the 51-year-old British sci-fi series Doctor Who, St. Nick can manipulate time and space, uses "bigger on the inside" tech with his bag of toys, loves candy (maybe even Jelly Babies), and generally encourages a sense of optimism and wonder around his companions of choice: humans.
Santa as a Time Lord is not a new concept; actually it kind of was when I suggested it last year with my first Christmas in Who-ville Gift Guide. But what began as a nerdy theory for last year's 50th anniversary of the long-running show feels even more like a reality now that Santa Claus is teaming up with the Doctor in the annual Doctor Who Christmas Special, "Last Christmas," airing stateside at 9 p.m. on Dec. 25.
Over the past nine years, the Christmas specials have become a modern holiday tradition for fans, but showrunner Steven Moffat said in a recent interview the connection between the Saint and the Doctor runs deeper. Like the holiday season, he said the show is something that brings families together.
"Doctor Who isn't like other sci-fi shows because it's kind of more magical than that," Moffat added. "It's a sort of a magic man in a magic box all like dressed up in sci-fi language ... and it features at its core this improbable man with a time machine who does feel like the science fiction equivalent of Santa Claus."
Aside from a comic strip featuring the first incarnation of the Doctor (played by William Hartnell), "Last Christmas" is the first time the two will square off. And if the teasers are any indication, sparks between the two guardians of humanity will fly.
To celebrate this meeting of two larger-than-life characters, I present my second Huffington Post Christmas in Who-ville Gift Guide. Whether you're buying for yourself or your favorite companion, what follows are perfect goodies for Whovians. And although the shopping days until the 25th are dwindling, remember that time is never really an issue for Time Lords and Ladies.
Expert Who-ligans
Artist Ian Leino's "Doctor Who-ville" Seussian tee (above, $20) was a perfect blend of holiday joy and sci-fi nerdiness when it first debuted. It featured 11 generations of the Doctor, and K-9, singing a Time Lord carol around the TARDIS. But this year Leino has updated the design to include not only the War Doctor but Twelfth Doctor Peter Capaldi and The Moment device. The image is ccreenprinted on American Apparel 100% soft jersey cotton shirts. And while you're at it, check out Josiah Bancroft's Who-liday poem on Leino's site.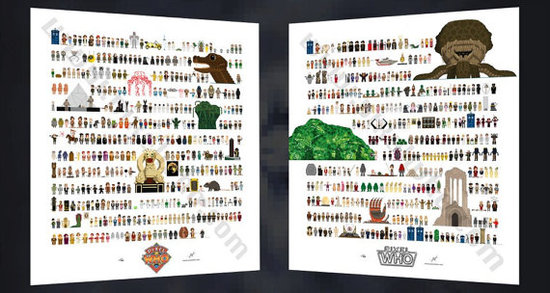 Another fan whose work is right at home in Who-ville is Nathan Skreslet and his Pixel Who art. Combining 8-bit pixels with an insane amount of knowledge about the show, Skreslet has created some of the most detailed Who designs out there. The prints are essentially character line-ups from the show, largely focusing on various incarnations of the Doctor. Even for an expert Whovian, the level of minutia he fits into the prints is staggering. Check out the two-part Fourth Doctor set ($57) as an example - and let it serve as a warning never to challenge Nathan in Doctor Who trivia.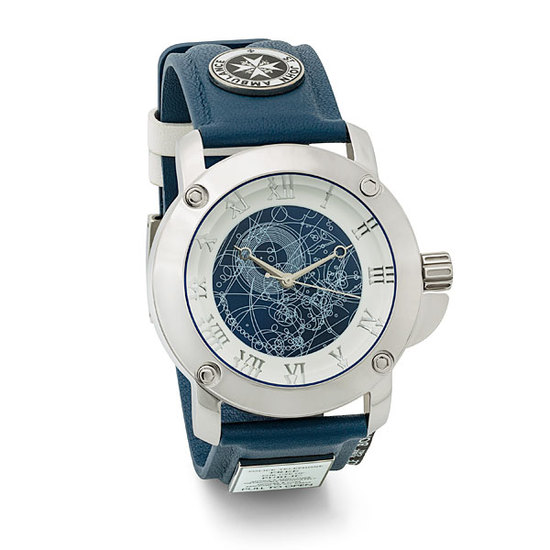 Timeless style
Not to borrow from a different sci-fi franchise but you can't help but look at this collector's watch and think, "Shiny!" A fantastic item with stainless steel bezel and leather strap, the TARDIS watch ($180) features elements from the iconic blue police call box. With Gallifreyan script and Roman numerals on the face, this would easily be appreciated as a designer timepiece if seen by the non-Whovian (though they might wonder about your affiliation with the St. John Ambulance Association). But when spotted by a true believer, you'll receive a nod of approval. This is a gift for the discerning fan who wants to live like a Time Lord every day. Meanwhile, the "Spin Doctor" from Paul Michael Design is a gorgeous Doctor Who-inspired pendant ($295+) available in sterling silver, 14 karat white and yellow gold as well as platinum. It can also be customized in an enameled version, or with diamonds and sapphires and created gems. Take it for a spin on the town or through the galaxy.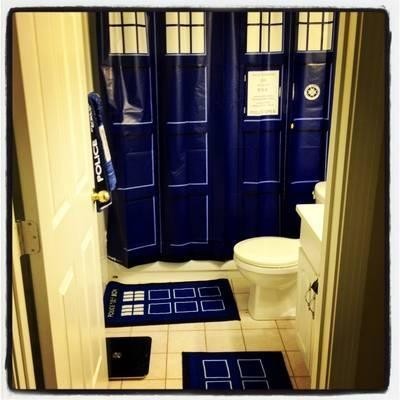 Bath Time Lord
Do you wish you had more time to enjoy the shower? Incorporate a little Doctor Who into your bathroom, and you might start to feel like you have all the time in the universe to enjoy your morning routine. It can feel like you're stepping inside a TARDIS when you hang the blue police box shower curtain in your loo ($20), but you should make your cleaning space feel bigger on the inside with the Who shower rack ($30). On the outside, step onto a soft blue box with the TARDIS bath mat (also great for living spaces), and dry off with the plush 100 percent cotton three-piece TARDIS towel set tastefully designed with police call box images ($50). To round out your morning, spend some time in the Fourth Doctor robe ($70). Brown like Tom Baker's coat, with a multi-colored collar resembling his scarf, this is the perfect wardrobe to spend a luxurious day (or seven seasons) in.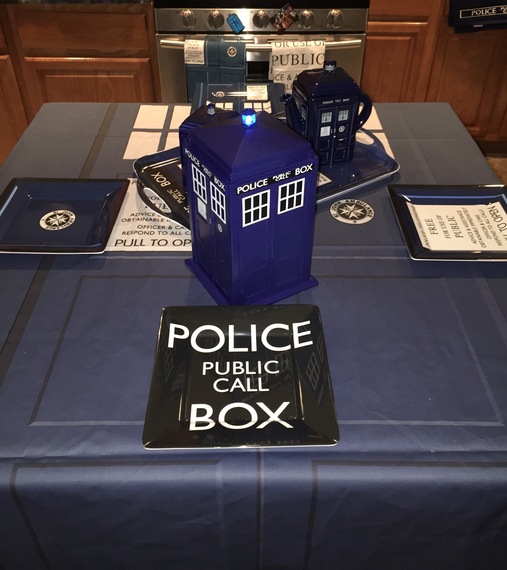 Kitchen Master
One of the truly great parts of all these products dedicated to the show is how great they look even to non-fans. The blue police call box design is minimal and modern, and catches the eye without being gaudy. As such, I give you TARDIS teatime, an assembly of Who items for your eating space. Protect your tabletops with a TARDIS tablecloth made out of a cotton/polyester blend, measuring 54.8" x 73" ($20), and set the table with four Melamine square plates ($25) featuring the classic call box elements. The light-up TARDIS Cookie Jar ($20), which makes VWORPing sounds, will also perfectly hold some Jammy Dodgers. Of course you'll need to serve up some biscuits on a blue TARDIS tea tray ($30), which actually fits quite a bit - including a lightweight ceramic TARDIS teapot. Unlike the time machine, you can pop the top off this box, brew 25 ounces of tea within it, and easily pour it out through a big blue spout (definitely a Cyberman-approved upgrade). In case of spills, you should also order a set of machine washable cotton tea towels, one that looks like the front of the TARDIS while the other is the telephone panel sign ($20).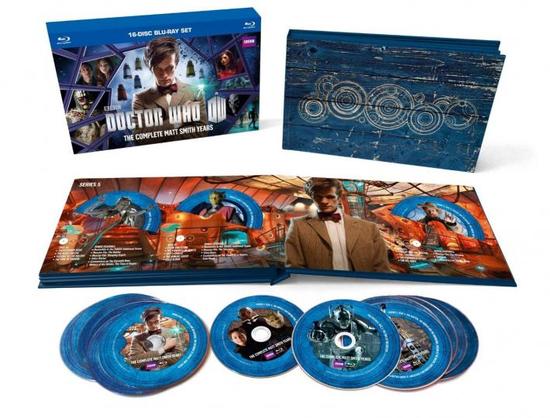 View to a Who
It has been about a year since Matt Smith departed from the series, but the actor's legacy as one of the show's most popular Doctors lives on. To celebrate his time on the TARDIS, BBC released the "Complete Matt Smith Years" Blu-ray collector's set ($134). Presented within a lovely book - designed to look like silver Gallifreyan symbols carved into worn TARDIS-blue wood - the 16-disc collection includes every Matt Smith episode, along with "The Day of the Doctor" 50th Anniversary Special, "The Time of the Doctor" Christmas Special and the "An Adventure In Space And Time" TV movie. It additionally contains a previously unreleased bonus disc chockablock with the "Doctor Who Proms 2013," "The Five(ish) Doctors Reboot," "Doctor Who: The Ultimate Guide," and Smith's two-episode appearance on The Sarah Jane Adventures. The set is a must-have for Smith fans, and an ultimate send-off to the immensely popular Eleventh Doctor. After saying goodbye to 11, say hello to the Twelth Doctor with the complete Season Eight on DVD ($72). Starring Peter "attack eyebrows" Capaldi and Jenna Coleman, the (appropriately)12-episode season set includes behind-the-scenes footage for each installment, a tour of the TARDIS, and a mini-doc following the "Doctor Who World Tour." It also includes a video for The Foxes' version of Queen's "Don't Stop Me Now" as seen on the episode "Mummy on the Orient Express."
While not a Time Lord, the Great Detective Sherlock Holmes is something of a spiritual cousin to the Doctor, and as such has earned a spot on this list. Also executive produced by Steven Moffat (and co-created with Whovian Mark Gatiss), Sherlock stars Benedict Cumberbatch (Smaug/Khan/Dr. Strange) and Martin Freeman (Bilbo Baggins/Arthur Dent) 21st century versions of Holmes and trusty Watson. This limited edition Blu-ray set ($150) collects every episode from the show's exceptional three seasons, and also includes two original art cards and a bonus disc that with "never-before-seen" outtakes, a deleted scene, BBC archive interviews, and audio commentaries. But there is no mystery to the fact that the Sherlock and John mini-busts are the best part of the gift, and would look great on a bookshelf in any home or TARDIS.
Calling all HuffPost superfans!
Sign up for membership to become a founding member and help shape HuffPost's next chapter