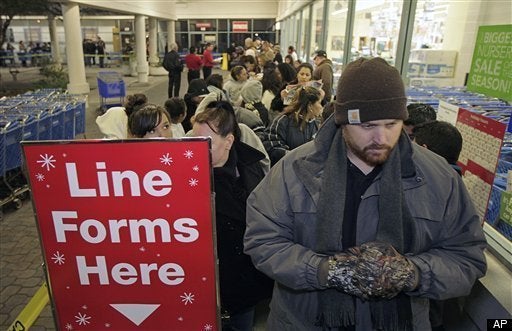 After working at Express Scripts Inc., a pharmacy benefits management firm in Bensalem, Penn., for the past 16 years, 62-year-old Marie Weiss clocked in for the last time this morning.
"Merry Christmas to us," said Weiss, one of 365 workers who lost their jobs when Express Scripts, a third-party administrator of prescription-drug programs, decided to shut down one of its facilities. "I didn't expect this present, but it is what it is."
What upset Weiss the most, she said, was that she was one of the company's first hires at its original plant. In her 16 years there, she said, she helped to build Express Scripts into what it is now, and yet the company never offered her or her longtime colleagues the opportunity to transfer to its newly-built facility when they announced the mass layoffs eight months ago.
"They just said 'you're done.'" she told HuffPost. "The company is being greedy. They want more and more and more. We were the original workers, we made this company what it is, and what will happen to us now?"
An Express Scripts spokesman said the timing of the layoffs was coincidental and that the facility in Bensalem was closed because new technology had made the plant obsolete.
"We're in the business of making the use of prescription drugs safer and more affordable, and in order to do that we have to continue growing with the latest technologies," he said. "I'm not sure what that has to do with greed."
The company decided to open a new facility in St. Louis instead of Bensalem following months of negotiations over proposed wage cuts, he said, that the Service Employees International Union, which represents the facility's workers, wouldn't allow.
"We just reached a global settlement with the union that provides enhanced severance for these employees and extended health-care coverage," he said, noting that the union and the laid-off employees voted overwhelmingly to accept the agreement last week.
Under the agreement, each laid-off worker will receive a lump sum of $10,000, five months of health-care benefits and a week's pay for each year of service up to 10 weeks.
That's better than nothing, but it's not a stable income. Weiss said the layoffs are hitting Bensalem, a suburb northeast of Philadelphia numbering roughly 58,000 as of the 2000 census, especially hard, because Express Scripts had provided a reliable wage to so many of the township's citizens.
"People are just in bad shape, really bad shape," she said. "You've got to watch out for your neighbor now."
Express Scripts plans to lay off an additional 100 Bensalem-based workers in January when it closes another office, and prior to last week's agreement had also threatened to shut a nearby prescription-processing facility that employs over 500 workers barring substantial wage and benefit cuts.
Weiss said she appreciates the generous severance package her union negotiated, but it doesn't change the fact that she will have a difficult time finding new employment, before or after the severance runs out.
"I'm gonna try to find a job, but I'm realistic," she said. "I don't have much hope that they're gonna hire a 62-year-old, even with the skills I have."
Unfortunately, Weiss said, she and her husband can't afford to retire early, which means that they are going to have to seriously rethink their spending during the holiday season.
"There is no Christmas shopping this year, except for the four grandbabies," she said. "It's hard to tell them there's no Santa Claus."
Popular in the Community