As the center of the biggest commercial season in the U.S., it's no surprise that a majority of Americans -- Christian or not -- observe Christmas.
But a new survey shows that while nine in 10 Americans take part in the holiday that theologically commemorates the birth of Jesus, only about half actually see it as a religious celebration, and about three in four believe in the virgin birth.
The Pew Research Center's survey on Christmas observations, released Wednesday, shows a nation where Christmas continues to be incredibly popular, but also that the day is increasingly a non-religious cultural event, especially among younger generations.
Pew, which polled 2,001 American adults about the holiday earlier this month, found that while nearly all Christians celebrate it, only two-thirds view it as a religious day. Meanwhile, 80 percent of non-Christians said they took part in Christmas, though most said they do it as a cultural celebration rather than one of faith.
At 82 percent, evangelical protestants were most likely to see Christmas as a religious holiday, following by white Catholics (66 percent), black Protestants (60 percent) and white mainline protestants (56 percent). About half of Hispanic Catholics said it was a religious holiday.
"Younger adults are less likely than older adults to see Christmas a religious rather than cultural holiday, they're less likely to say they will attend Christmas services and they are less likely to believe in the virgin birth," said Greg Smith, director of U.S. religion surveys at the Pew Research Center's Religion and Public Life Project. "It's consistent with a lot of research that says young people are quite distinctive in the way they approach religion, with young people leading the growth of the religiously unaffiliated."
The survey did not directly tie the increase in religiously unaffiliated Americans, which now make up one-fifth of the population, to changing Christmas observations. It did find that "nones" largely see Christmas as a cultural event. About 87 percent of the unaffiliated -- those who answer "none" on surveys when asked to name their religion -- said they celebrate Christmas, with 68 percent doing it only culturally. About 10 percent said they see it as a religious holiday. Among Christians, younger people were also more likely to see Christmas as a cultural event.
Many Christmas traditions among Americans are rooted in childhood rituals, Pew reported, with nine in 10 Americans saying their planned activities, such as gathering with loved ones and giving gifts, were things they did as kids. But several traditions had faded among those surveyed. Seven in 10 people said they went to Christmas services as children, yet 54 percent said they would go this year. In addition, the number of people whose will send holiday cards or will go caroling is less than those who said they or their families did as children.
Pew found that religious and non-religious Americans largely celebrate the holiday the same. Though those who believe in Christmas as a religious holiday and those believe in the virgin birth are much more likely to go to church services for Christmas, both cultural and religious observers were just as likely to gather with family, exchange gifts and take part in the tradition of Santa Claus visiting their homes at night. About nine in 10 religious observers of Christmas said they believed in the virgin birth, while half of those who celebrate Christmas culturally said the same.
"It all speaks to the ubiquity of Christmas in American society that one form or another of observing it, religiously or culturally, is so popular," said Smith. "Most non-Christians that celebrate say they do it culturally, but even among some non-Christians who celebrate, they say there is a religious element to Christmas."
One-third of the religiously unaffiliated also said they believed in the virgin birth. "Keep in mind that most of the non-Christians we're describing are religious 'nones,'" Smith said. "That doesn't mean they are not religious, but that they are not affiliated with any particular religion."
The Pew survey was released a day after a similar report from the Public Religion Research Institute and Religion News Service on Christmas beliefs, practices and preferences. That survey, which also found that nine in 10 Americans celebrate the holiday, reported that one in four adults see Christmas as a cultural and not religious day, and that just four in 10 say the holiday's narrative is a "theological story to affirm faith in Jesus Christ." About half of that survey's respondents who celebrate Christmas said they believe in the virgin birth.
The Public Religion Research Institute survey also found Americans largely prefer businesses to use the phrase "happy holidays" or "season's greetings" instead of "merry Christmas." Most religious "nones" said they preferred a non-religious greeting during the holidays, while two out of three evangelicals opted for "merry Christmas."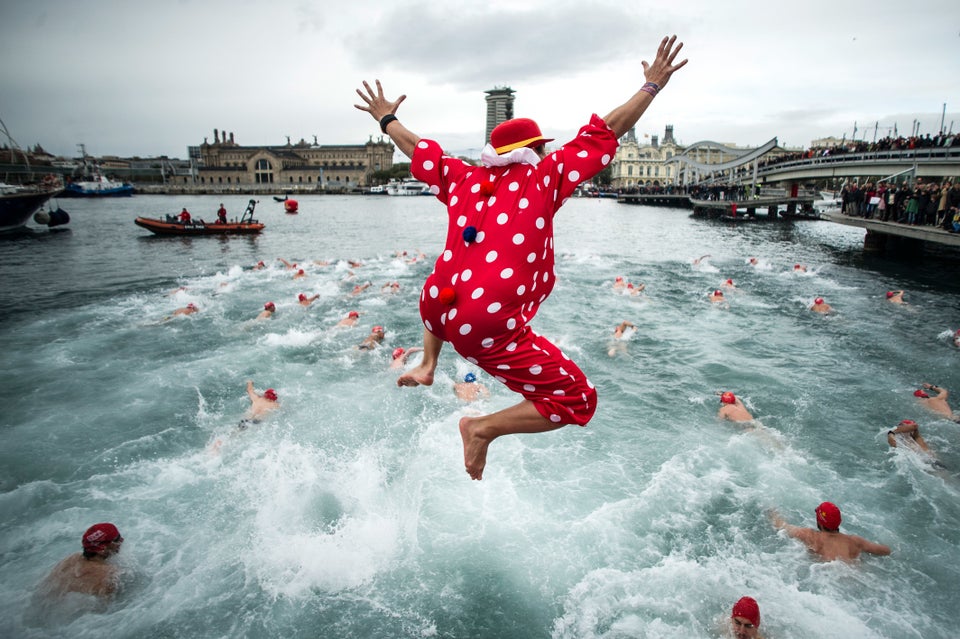 Christmas 2013 Around The World
Popular in the Community