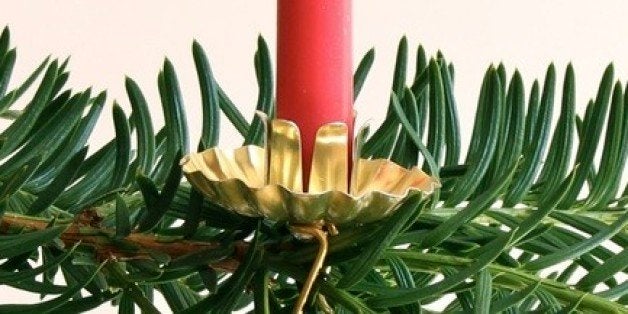 You wouldn't serve airline food and box wine for Christmas dinner if you could offer your guests free-range turkey and Château Lafitte, right?
Frigid. Soulless. Seizure-Inducing. Call them what you want.
At their worst, LED Christmas lights exude every bit of the warmth of a fluorescent-lit morgue. At their best, they're on par with strip club neon lighting. The problem is that the older incandescent Christmas bulbs, which cast a much warmer light, are huge energy hogs.
So let's say you're looking for a way to go stylish, full spectrum and more earth-friendly. There is an alternative.
Try putting candles on your Christmas tree this year.
Adorning Christmas trees with candles is part of our Christmas DNA. Our ancestors were decking out their trees with candles for hundreds of years before electric tree lights came into vogue. This patent from 1901 shows an early pendulum candle holder.
It's a way to connect to the past. It speaks of simpler times. It's also heart-stoppingly beautiful and it will bring out the romantic in you.
Christmas tree candles never really disappeared, but they gradually slipped under the radar as electric tree lights swept the market in the 1920s and '30s.
Since then, we've become a nation of Clark Griswolds, over-illuminating our trees and houses, crazed by LED and incandescent bling.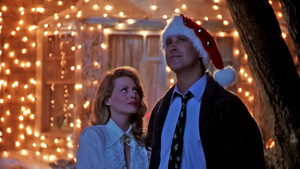 Clark (played by Chevy Chase in the 1989 National Lampoon movie, Christmas Vacation) decks out his tree and house with tens of thousands of Christmas lights, which fail to work at first, but then light up the heavens, causing a city-wide brown-out.

"Is your house on fire, Clark?" "No, Aunt Bethany, those are the Christmas lights," Griswold beams cluelessly.
Christmas Vacation was made before LED lights became so widespread. But whether you're decorating with incandescents or LEDs, when it comes to lighting your tree, gobs of Christmas lights mean gobs of kilowatts. That's why candles are a good alternative.
Though rare, clip-on candle holders (also called candle clips), pendulum candle holders and German Christmas candles are still available from specialty suppliers, and the custom is holding its own.
A mere mention of Christmas tree candles elicits hushed tones and evocative memories among them. It also kindles fierce loyalty -- if you grew up with candles on your Christmas tree, you know what I'm talking about.
Yay for the traditionalists who have kept Christmas candlepower alive! Fortunately, they're being joined by a generation of new adapters. These new converts are inventing a whole new Christmas design vibe, mixing 19th-century candlepower with the 21st-century Christmas tree.
Are Christmas tree candles the new kale?
One thing's for sure: They're starting to get traction.
For Slow Christmas advocates, using real candles and candle holders is a push-back against the overpowering glitz and glam of the season. It's a way to simplify the holiday and free it from the grip of the Christmas-Industrial Complex.
Earth-friendly consumers are drawn to candlepower as a way to get their Christmas tree off the grid and go green. Aesthetes like the elegant, natural look of candles on tree. Vintage design fans love the old-timey feel of the candle holders and the fact that they are based on original patterns and made using traditional methods.
And if Pinterest is any indication, the idea is also picking up traction among Christmas decor spotters and design hackers, who are thinking outside the tree and finding new ways to use candles and Christmas tree candle holders in tablescapes, as design accents, on wreaths and garlands, in window decorations and on the mantle.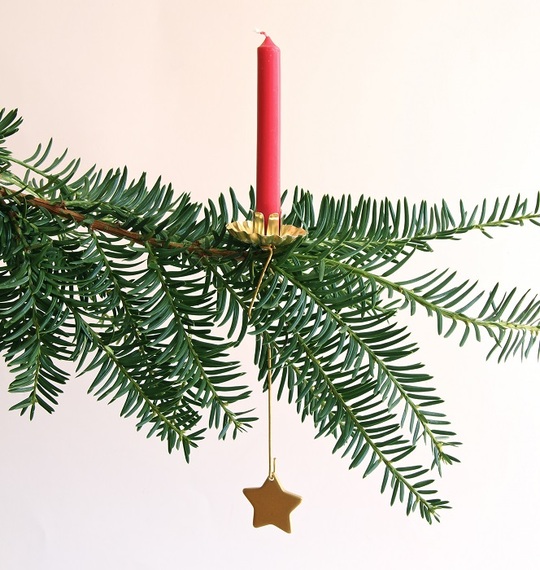 Putting candles on your Christmas tree does not mean that you have a death wish. Some people love the look, but don't light them. Others light the candles and enjoy them throughout the holidays. It's your choice.
If you light your candles, you have to use common sense to avoid setting the tree ablaze. A Christmas tree fire is no joke.
Space the candles properly, keep them away from other decorations and overhanging branches, make sure the candle is vertical, avoid drafts so they don't burn too fast, and stay close by. Some people also keep a bucket of water nearby.
Realize that live candles are not a 24/7 decoration. Light them and experience their spine-tingling beauty periodically during the holidays. Blow them out until the next evening, holiday party or weekend gathering around the tree.
You'll find that the sight of your Christmas tree bathed in natural candlelight will stop you in your tracks and MAKE you slow down. For good reason: You have to focus on the tree. You can't leave the candles burning and run out for a quart of milk or tune in the ball game.
Safety is crucial, but if truth be told, you won't want to let the tree out of your sight: It has a commanding, magical presence. And, something like a seriously good sauna, a Quaker meeting or a quiet walk in the woods at dusk, it hushes the heart and spreads a sense of peace. It's a way to slow down and experience Christmas, not just a way of decorating.
Create your own Christmas buzz and channel your grandparents this year. They were right. Candles on your Christmas tree really ARE awesome.
..................................................................................................................
For authentic German Christmas tree candles, old country clip-on candle holders, and elegant pendulum candle holders, check out Christmas Gifts from Germany.
Are you getting the LED out and switching to candles this year? Did you grow up with candles on your tree or do you remember your grandparents talking about it? Did you invent a new way to decorate with candles and Christmas tree candle holders? We want to hear it all! Tell us about your experiences and memories in the Comments section below.
Tom blogs about taste, design, travel, food and Europe. You can find him on HuffPo and at TreasuresOfEuropeTours.com.