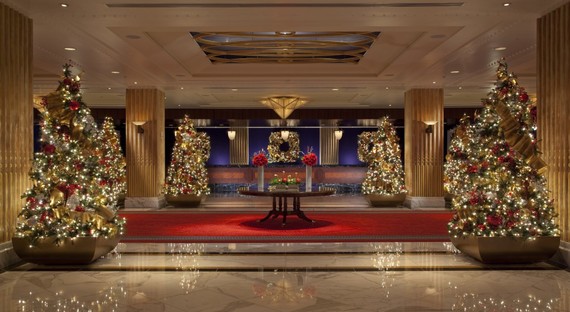 When I find family friendly events and activities that my whole family loves I shout it from the rooftops. Why not share the love, right? After moving to the DC area a few years ago, I was told we must venture out to National Harbor to the Gaylord National and Convention Center at Christmas time. I was new to the area, didn't know my way around at all and was nervous about going anywhere outside the city I was in.
After hearing rave reviews of 'Christmas on the Potomac' and ICE! from my friends over and over, I finally decided that this was the year I would finally head over to National Harbor for the first time. My two children and my dear friend Caitlin and I arrived at the Gaylord Hotel and Convention Center and looked up in awe at the massive building sitting next to the beautiful Potomac River. Upon entering the hotel, we were astounded at how large and beautiful it was. Christmas trees adorned the walkways, staff passed by smiling and over 2 million twinkling lights surrounded us. We arrived at the Pienza restaurant and met up with my dear friend, Sarah of Capital Moms, and her family and headed in to experience the first stop for the evening; Kris Kringles' Holiday Feast.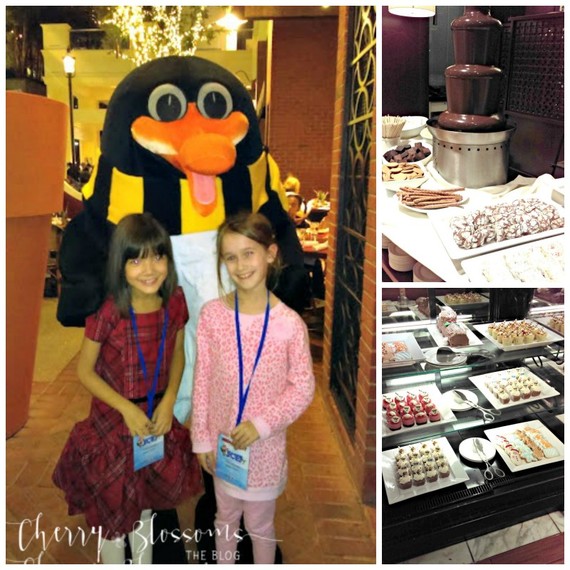 Kris Kringles' Holiday Feast is a feast for the eyes and stomach. It features a large buffet brimmed with delicious soups, seafood, salad, cheese, carving stations and more. I really appreciated the fact that Kris Kringles' Holiday Feast had it's own food section for kids featuring Mac & Cheese, PB & Jelly Sandwiches, Chicken Fingers and Fries. It made it so much easier to sit down and enjoy my plate of food because I knew my kids would actually eat what was on their plate. I didn't have to deal with "I don't want to eat this Mom!" or "I don't like this Mom!" Hallelujah, it's a Christmas miracle! While we all ate our dinner, various characters including Topper the Penguin and Santa's Elf, came around and took photos with families and interacted with children. My 9 year old daughter loved it, my four year old was a bit on the fence (anything bigger than him makes him a bit nervous). After dinner was over we all headed over to the big chocolate fountain and dipped some brownies, pretzel sticks and cookies in it. We also picked up a few seasonal themed petite cakes, pastries and cookies to munch on for dessert as well. All of the food was fresh, delicious and prepared beautifully.
Kris Kringle's Holiday Feast is available for breakfast and dinner on select dates starting November 21.
Reservations are recommended.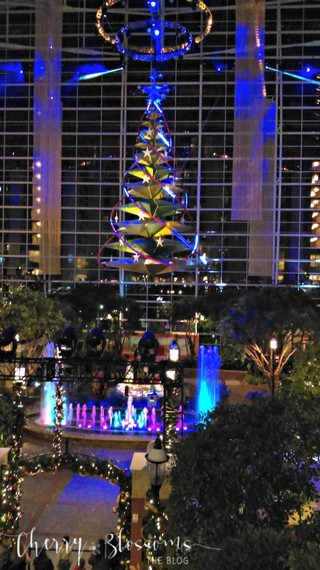 Still on our sugar high, we headed over to the center of the atrium and watched the debut of Gaylord National's new Christmas tree in the 'Sounds and Songs of Christmas' (nightly at 6, 7, 8 and 9 pm). The new tree is nearly 4,000 pounds and is comprised of 50 five-point stars (inspired by Washington, DC Americana and representative of the 50 states of America). The tree topper displays a large star-signifying the Capital-and a small cluster of stars pay homage to the deco liberty coin. During the 'Sounds and Songs of Christmas' the tree which is suspended from the 19-story atrium lights up in beautiful colors along with the water fountain. It is a festive show in which the lights and fountain are choreographed to Holiday music as faux snow falls onto the audience. It is truly a sight to behold!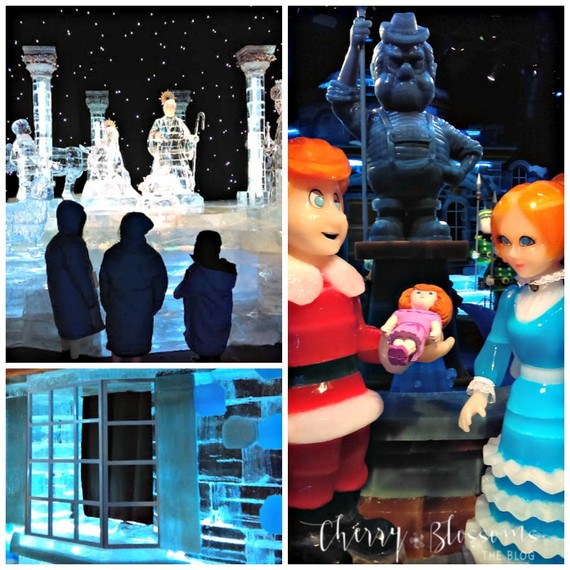 Next up was Gaylord National's ICE! exhibit. Bundled up in our mittens, hats, scarves and coats (AND extra coats provided kindly by Gaylord National) we stepped into the 9 degree, 15,000 square foot interactive indoor attraction created ENTIRELY of ice. Each year, 35 artisans from Harbin, China travel more than 6,000 miles to create Gaylord National's ICE! exhibit! This year's exhibit is themed, 'Santa Claus is Coming to Town' and features all of the characters from the beloved 1970 feature film. The attraction is absolutely astounding and well-worth braving the 9 degrees for. Each character and building is hand carved from ice blocks. I don't know how they get the ice different colors but it is amazing how bright and vivid the colors of the ice are-I was shocked. The ice blocks are also illuminated up by 1,500 specially designed LED tube lights that are placed inside the ice blocks. Towards the middle of the exhibit, children and adults can choose to go down slides made out of ice-and yes, it is as fun as it sounds! My five year old went down at least 20 times and LOVED it.
The exhibit ends with a gorgeous nativity with a beautiful narrative, it was by far my favorite part of the whole exhibit. The light shining through the translucent nativity ice figures made it look almost heavenly. No wonder why ICE! has garnered dozens of awards, including recognition from New York Times, Wall Street Journal, USA Today, Southern Living and Travel + Leisure. It is something you HAVE to see to believe.
After we stepped out of the cold of ICE! and into the warmth of the hotel we were given a cup of delicious Hot Chocolate. As we started walking back towards the atrium, we all spoke about how much we adored Christmas on the Potomac and how we will definitely have to come back and bring my husband. I believe, Christmas on the Potomac will become a Holiday tradition for our family from now on, as it is the perfect way to celebrate the Holiday Season.
Other activities available at 'Christmas on the Potomac' at the Gaylord National Hotel and Convention Center;
-Gingerbread Decorating Corner sponsored by PEEPS®-
Participants can choose to decorate a gingerbread house or family, as well as have the opportunity to pose for photos with the PEEPS Gingerbread Man.
In the resort's 1.5-acre atrium, children can jump aboard the Potomac Express Train and take photos with Santa.
-The Elf on the Shelf® Scavenger Hunt-
Families can test their puzzle-solving prowess during The Elf on the Shelf® Scavenger Hunt, featuring 10 of Santa's scout elves who have landed at Gaylord National Resort. This new interactive event will lead guests on a journey to find the elves, reveal their names and help them get their Christmas magic so they can fly to the North Pole. All families that help the scout elves fulfill their special Christmas mission will receive a prize.
To see the whole list of things you can experience at 'Christmas on the Potomac' click here....
-Special Hotel Packages-
Guests can choose from two overnight packages that offer unlimited admission to ICE! Packages include:
-One night room accommodations
-Tickets to experience ICE! with unlimited, priority admission
Christmas on the Potomac Package
- One night room accommodations
-Tickets to experience ICE! with unlimited, priority admission
-$100 resort credit that can be used towards hotel dining and Relache Spa
-One (1) complimentary souvenir ICE! photo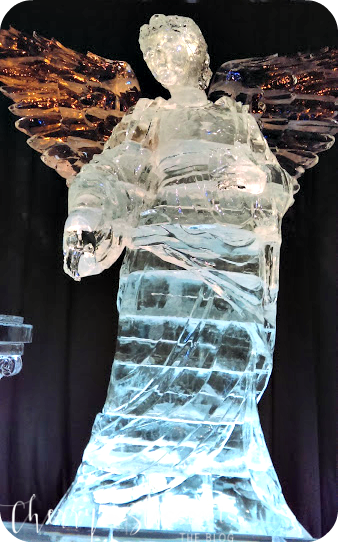 May your days be Merry and Bright this Holiday Season!
Popular in the Community