I fasten my boots, click them into my skis, and pull tight my helmet before maneuvering towards near-empty queues. My sunglasses suddenly dip below the crest of my nose as I plow my course, revealing unexpectedly blinding rays of sun. I reach the Red Lady Ski Lift and check my cumbersome trappings one last time before claiming my mobile perch.
Cool, fresh air surrounds me as I ascend Mount Crested Butte. I scrape remnant snow from my skis and watch skiers glide beneath me, some more skillful than others. A costume-adorned, three year-old boy dominates a miniature snowboard, no doubt a future pro. Rows of pine trees on either side, dramatic outcroppings above, and the village of Crested Butte in the distance.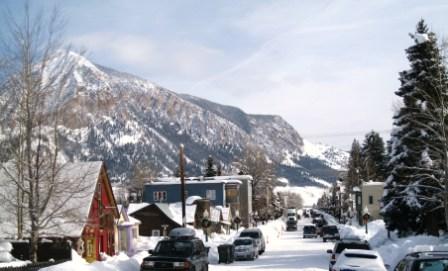 **
Christmas is not ordinarily spent on the slopes, or anywhere besides the comfort of my parents' house, where we customarily open presents before lazing about in holiday-themed pajamas. Physical movement is limited to game-playing and occasional trips to the kitchen, where homemade tamales and eggnog linger throughout the day. A shared yearning for a white Christmas brought us here, to this majestic scenery: glistening snow, perfectly packed atop mountain ridges and valleys, meandering roads and unspoiled cliff edges.
We encounter ideal conditions throughout our five days in Crested Butte: smooth, ice-free terrain; mild temperatures; beautiful views; and hardly any competition for the slopes. Resort staffers consider December 24-26 an off-period, a time when most travelers have departed for home or have yet to arrive for New Year's on the mountain. The individuals who encourage us to hit the holiday slopes are the same ones keeping them running. Amazingly, their spirits remain high, even as they haul customers' heavy boots and skis on Christmas morning. One staffer casually offers, "I celebrated last weekend. It's no big deal." Many others follow our proclamations of gratitude with a simple, "That's what we're here for." A sort of Crested Butte mantra, proof that cheerfulness naturally flows from life on the mountain.
The Red Lady Lift deposits me midway up the mountain, where a handful of green and blue trails allow for tranquil descent. I decide on Houston, the gentlest run on the mountain, named for its flat, Texas-like terrain. Wide trails allow me glide downward and simultaneously soak up shifting vistas, some of the most exquisite in Colorado.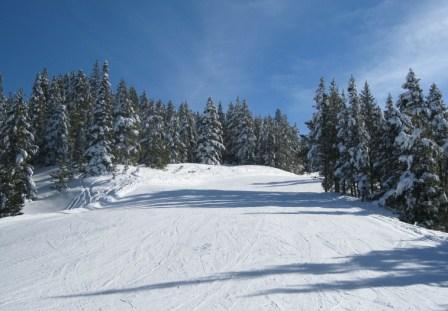 Locals seem to agree on this point, although several ski instructors concede that Telluride offers visual competition. Stunning scenery abounds, on challenging, high-altitude trails and milder routes encircling the base. This is a mountain that caters to beginners and experts alike. Equally appealing is the town of Crested Butte, my personal favorite in Colorado. Less glitzy than Aspen, more subdued than Vail or Breckenridge, with better amenities than quiet Beaver Creek. The town is conveniently located one mile down the road from the base area, easily accessible by free shuttle buses.

Historically devoted to coal and silver mining, Crested Butte endured longer than many of its Colorado counterparts because it served as a supply post. Its modern-day community revived as the ski resort developed, but the town still retains much of its historic charm thanks to strict zoning requirements. Small businesses and residential cottages line Elk Street, the town's picturesque thoroughfare. It was there that we met for dinners and drinks, completed last minute Christmas shopping and attended a Christmas Eve church service. Every trip into town left me fantasizing about a simple life rich with nature.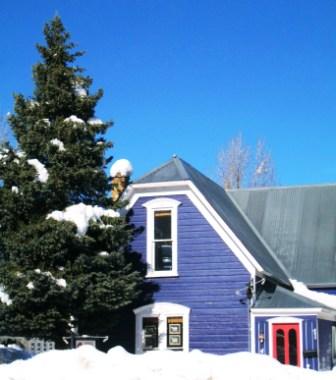 Sleeping, skiing, resting and eating: these were my activities during our Crested Butte vacation. We prepared dinners in our rented condo but also ventured to town for meals, some more noteworthy than others. Enjoy excellent pizza at Brick Oven Pizzeria and Secret Stash, casual American-style lunch at The Last Steep (famed for its spicy Bloody Mary) and Asian cuisine at Ryce Bistro. Soupcon, EastSide Bistro and Le Bosquet offer upscale dining, better suited to nighttime. Veteran vacationer Cynthia Robinson thoroughly enjoys Le Bosquet's twilight hour dinner, "a great deal and a fun time to introduce children to white linen table dining." The best in-town eats are, in my opinion, the least healthy: venture to Slogar for delicious fried chicken and Southern sides.
Good eats are not limited to in-town establishments. Après-skiers typically meet at Butte 66 Roadhouse Bar & Grill for quick, cafeteria-style dining or next door at 9380, the upscale restaurant located in the Elevation Hotel. Dinner is best shared at Django's, a gourmet, tapas-style restaurant located next to the base area's Adventure Center. Grab an Americano at Camp 4 Coffee between meals.
Up the mountain, Uley's Cabin offers skiers a brief respite from hitting the slopes. Gourmet lunches are served daily, and the outdoor ice bar (open 'til 4pm) allows skiers a convenient meeting place. Uley's is also open for dinner, though bookings must be made in advance due to Uley's high demand and elevated location (diners are transported to the cozy cabin via open-air sleighs).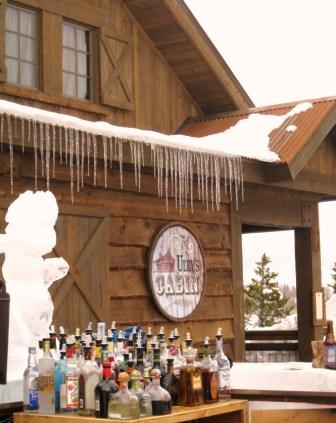 The wildflower capitol of Colorado, Crested Butte is said to be just as spectacular in the spring and summer. I am eager to return during warmer months, when snows have cleared bringing in a new variety of activities: hiking, cycling, bird watching and fly-fishing, to name a few. From May through November fly-fishers converge on the Gunnison River, beginning at the source in nearby Almont, Colorado. Mountain bikers rave about Crested Butte's Trail 401: countless sources consider it "the best singletrack trail" in the country. Hiking enthusiasts can hike to Aspen from Crested Butte, utilizing one of two trails (the shorter, albeit steeper, trail is 9 miles long). Low-key nature enthusiasts can wander through open fields, noting rich wildflower patterns and unusual bird calls.