Merry Christmas! Nothing quite compares to walking the streets of 5th Avenue in Manhattan or the Miracle Mile in Chicago at Christmas time. With a plethora of lights and ornaments adorning the grandiose trees, shopping centers filled with people gift-buying and the fancy celebrations, it's a magical time. So how does a Spanish Christmas compare? To be honest, it's quite similar in many ways, as Spaniards do celebrate by spending holiday meals together, giving presents and lighting up spectacular decorations around the city centers, but many traditions are unique to their culture.
Days of Celebration: Some believe that the Christmas celebration begins on December 8th with the Día de la Inmaculada Concepción (Day of the Immaculate Conception), where stores officially open for the Christmas season, while others believe that it begins on December 22nd with the television broadcast of the acclaimed Spanish lottery El Gordo and continues until January 6th with Los Tres Reyes Magos. Known as Epiphany, it is the celebration of the Three Kings from the Orient who brought presents to Baby Jesus on the day he was born.
Gift Giving: Just like in the U.S., children write letters asking for presents and express how well-behaved they've been this year, but not to Papa Noel (Santa Claus), but to their favorite of the Three Kings. Children usually only receive a few small gifts at Christmas. Most of the gifts are brought by the Three Kings on the eve of January 5th. Children wake up on January 6th excited to open their presents. As with Christmas, it's possible to receive coal if you were bad that year. Many Spanish parents contend with their own traditions and beliefs and have needed to adapt to their children's acceptance of Papa Noel as the historic figure of Christmas. Therefore, slowly parents are giving presents for both Christmas and Three Kings.
Join in the fun: So as a traveler, how can you join in the festivities? One of my favorite things to do is to visit a local church throughout the month of December, and you'll be certain to find a nativity scene called Belén de Navidad, which is a visual depiction of the Bethlehem stable Baby Jesus was born in. In many cities, there are life-size nativity scenes, Belenes Vivientes, with real actors. Many towns have lighting ceremonies so be sure to check. Some are accompanied by school children singing Christmas carols, not only in Spanish but English.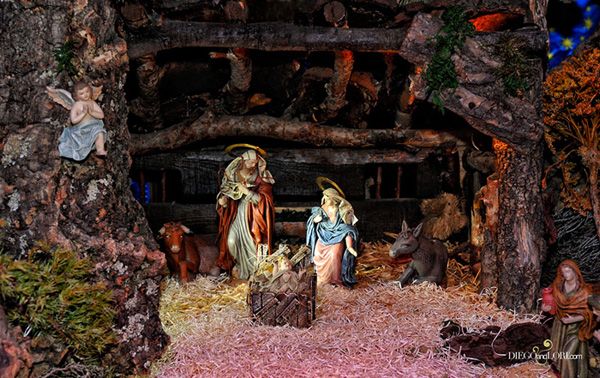 Here is a list of a few more things to do:
Diciembre/December:
Madrid: Walk at night along the Gran Vía to see the special light displays, go to the Christmas market in the Plaza Mayor, ice skate at Retiro Park, have a late night drink at the Mercado de San Antón (open until 12 a.m.) and visit the various nativity scenes at the Royal Palace and Almudena Cathedral. The Teatro Real features various operas. Shop at one of the many shopping centers: Madrid-Xanadú, Príncipe Pío, Plaza-Norte, Las Rozas Village and Dreams Palacio de Hielo (Palace of Ice), where you can also ice skate and go bowling. Also, visit the Prado Museum and Ciudad del Fútbol Español, a museum dedicated to the Spanish National Football Team who won the World Cup 2010 in South Africa.
Barcelona: Walk along Las Ramblas, visit Firia de Santa Llúcia (a traditional Christmas market near the Cathedral since 1786 with almost 300 stalls) or Fira de Nadal a la Sagrada Família (a Christmas market with over 100 stalls), see the Belén at Plaça de Sant Jaume, go ice skating at Plaça Catalunya, go shopping at Passeig de Gracia, watch a concert at Las Fuentes de Montjuïc where various groups perform carols against the magnificent water fountain and light show. Enjoy Handel's Messiah, a classic opera depicting the birth of Jesus, at Basílica de Santa Maria del Mar.
Valencia: Enjoy the spectacular Ciudad de las Artes y las Ciencias complex with IMAX, 3-D movies and the largest aquarium in Europe. The art and science complex will be certain to have many Christmas events including workshops and entertainment. Visit the Catedral de Valencia to see their Belén and many Christmas events. See Giacomo Puccini's La Bohème or Obras de Beethoven at Palau de les Arts. Do last-minute Christmas shopping at Feria de Navidad near the America's Cup Port or the Plaza de la Reina Christmas market.
Zaragoza: Visit the magical Basílica de Nuestra Señora del Pilar, see the large-scale Belén nativity scene outside in the Plaza del Pilar and stop by the Christmas display at the Spanish department store El Corte Inglés.
Seville: Enjoy one of the numerous concerts including Conciertos Navideños at the Cathedral, a Christmas concert with the Real Orquesta Sinfónica de Sevilla and Christmas carolers in the streets.
Granada: Take a holiday yoga retreat by Kaliyoga. If you need to get away from the hustle and bustle, this is a terrific option. I participated in this yoga retreat with holistic therapies a few years ago. Run by two Brits, enjoy a warm family like get-a-way.
December 21: Hogueras de Navidad/Christmas Bonfires
Granada and Jaén: Check out Hogueras de Navidad, which is a fire celebration of the winter solstice. Known as the first day of winter, it is a legend that jumping over fire will protect you from illnesses.
December 22: El Gordo/The Fat One Lottery
Almost 75 percent of the population participates in this 200-year-old grand lottery drawing one week before Christmas. El Gordo usually pays out over $2 to 3 billion USD, but it is divided into over 13,000 prizes. Since tickets are pricey at 200€ each, families, shops and co-workers all pitch-in and share décimos de lotería (tenths of a ticket). On the day of the drawing, everyone watches television hoping to win. As the numbers are drawn, children from the Madrid Elementary School, San Ildefonso, sing the winning numbers. It is truly fascinating to watch. Watch a video here.
December 24: Nochebuena/Christmas Eve
Spaniards usually spend most of the day preparing for their traditional family meal or traveling to their villages. Only a few restaurants will be open so plan ahead. If you're lucky, a local might invite you to their home!
Traditional Feast: In the evening, Spaniards get together with their close families. The meal consists of large prawns, mussels, cheese, consomé (soup), salad and some sort of meat like cordero (lamb) or fish like besugo (sea bream) or lubina (sea bass). For dessert, it's traditional to have mazapán (sugar and almond treats), polvorones (almond cookies), mantecados (crumb cake), a large variety of turrón (delicious nougat bars made of honey, sugar, egg whites, nuts, almonds, pralines, liquor, chocolate) and cava (Spanish sparkling wine). After a bit of wine, they sing Christmas carols with panderetas (tambourines) and zambombas (rustic drums).
Amigo Invisible: Some families celebrate Secret Santa like in the States, but it's called Amigo Invisible (Invisible Friend). Last year, one gift given at our Christmas celebration was a "Tous" teddy-bear necklace made of brick and chain to a loyal customer of the popular Spanish jewelry line. It leads to lots of imagination and laughs!
Midnight Mass: Churches and cathedrals offer a traditional Christmas Midnight Mass, La Misa del Gallo.
Montserrat, Catalonia: High in the mountains, one hour from Barcelona, enjoy this special candlelight midnight mass with one of the oldest boys choir in Europe, Escolania de Montserrat's Boys Choir, at the Santa Maria de Montserrat monastery. Watch a beautiful version of "Silent Night" here and the choir singing a version of "You Raise Me Up" with Sergio Dalma on TV3.
December 25: Día de Navidad/Christmas Day
On Christmas Day, some Spaniards flock to church in the morning and then continue the celebrations with a family lunch of leftovers, giving a few presents to the younger children, eating and drinking. In each city there will be some restaurants and bars open catering to tourists, but most will be closed. In Barcelona at the northern seaport you can enjoy the 100-year-old Copa Nadal swimming competition by Club Natiació Barcelona. Watch a video here.
How to Participate: To personalize your participation in the celebrations:
1. Research beforehand via the Internet: tripadvisor.com, fodors.com, frommers.com, lonelyplanet.com, timeout.com, trippy.com, oyster.com.
2. Visit the tourism office websites of the cities you'll be visiting: Madrid Tourism Office, Barcelona Tourism Office, Valencia Tourism Office, Zaragoza Tourism Office.
3. Read a local paper (some are online and printed in English): El Pais, Olive Press, In Madrid, World Newspapers (a listing of papers from various parts of Spain).
4. Call your hotel concierge in advance to reserve a special restaurant, theater tickets or celebration ahead of time;
5. Buy tickets early online at Ticketmaster's Spanish website where you can search by area.
6. Talk to a Spaniard on the street or a waiter about what events are going on for locals. They love that foreigners take an interest in their culture and festivities.
Feliz Navidad and enjoy your holidays! Look out for my next two blog posts on New Year's Eve and Three Kings in the upcoming weeks of this three part series on spending the holidays in Spain.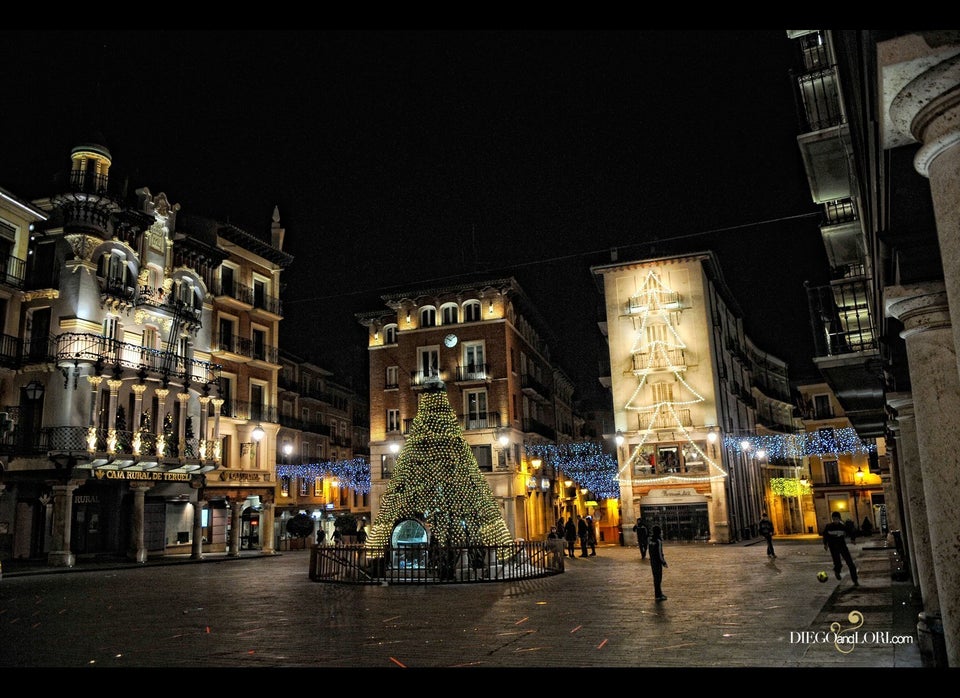 Ho Ho Ho: Feliz Navidad from Spain
Related