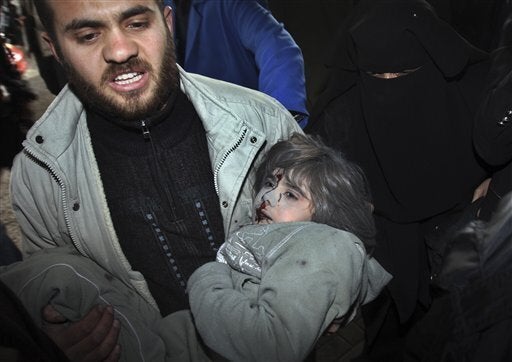 Jerusalem- News quickly spread to the Old City of Jerusalem just minutes after Israeli F-16 bombers launched a series of air strikes on the Gaza Strip, killing and injuring dozens of people. According to Ramatan News Service operating from Gaza more than 155 people were killed and scores of others were injured when Israeli missiles destroyed security compounds run by Hamas in the center of Gaza City. Hamas quickly vowed to carry out revenge attacks on Israel in response to the air strikes.
Moments before the news of the strike hit Jerusalem, the Old City was bustling with Christian pilgrims who came to the Holy Land to celebrate Christmas. Around 1 PM, shopkeepers in the Old City of Jerusalem began closing their storefronts to protest what many Palestinians call "a massacre in Gaza," leaving many foreign tourists bewildered and confused. Many passersby gathered in front of a gift shop a few feet away from the historic Via Dolorosa (Way of Grief) watching the Al Jazeera Channel, which was broadcasting live images of the aftermath of the Israeli airstrike on Gaza.
In the West Bank, Palestinian Authority President Mahmoud Abbas condemned the attacks and called for restraint while crowds gathered in Ramallah denouncing the Israeli strike and demanding unity between Hamas and Fateh. A Hamas representative in Gaza accused Abbas of complacency and collaboration with the "Zionist entity."
Meanwhile, everyone seems to expect a major ground offensive on Gaza unless a miracle prevents it from happening.
Two days earlier the new Latin Patriarch of Jerusalem delivered his first Christmas message to a dwindling Palestinian Christian community; "the Jerusalem Churches suffer from the on-going emigration of the Christians, due to the lack of peace and the deterioration of the political situation. All this makes us anxious for the future of the Christian community, in the Homeland of Christ."
"With pain and deep sadness," the patriarch continued, "we observe civilians being blockaded by the erection of walls and barriers. These contribute to the creation of violence and humiliation, generating grudges and hatred." The patriarch also lamented "the unjust siege that has struck Gaza, and the hundreds of thousands of innocent residents there."
Today, a tense atmosphere in anticipation of more bad news and an air of sadness engulfed East Jerusalem in the aftermath of the Gaza attacks. The spirit of Christmas has all but died.
Note: I'll be reporting from Israel and the Palestinian Territories until January 7. I'm hoping to enter into Gaza once the Israeli military permits me to cross through Eretz Crossing.
Related
Popular in the Community