Unplug for the Holidays and Connect With the Past: 20 Historic Patents Pull Back the Curtains on Christmas Tree Lights Before the Electric Era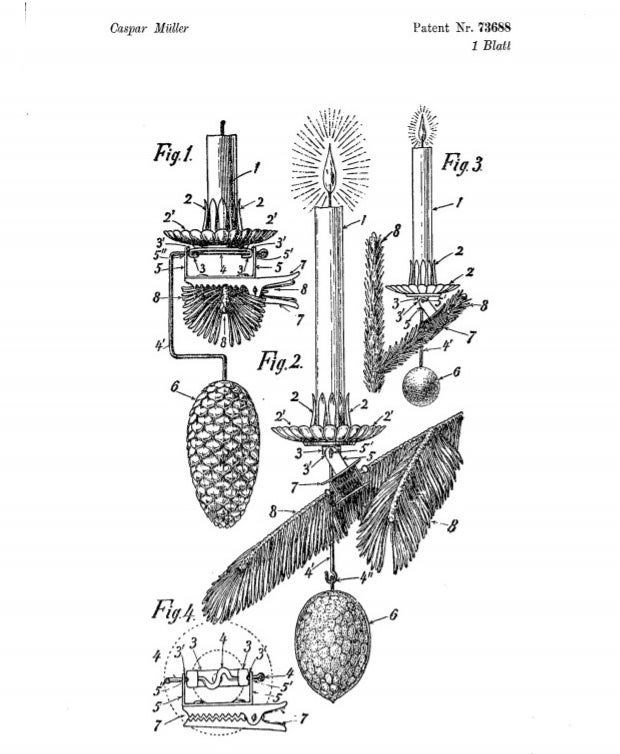 Old-time Christmas tree candle clips and holders... Hanging pendulum Christmas tree candle holders... Christmas tree candles...
Now on a comeback course after nearly becoming extinct, Christmas tree candles were a mainstay of holiday decorating for nearly 400 years. They were the go-to Christmas decoration before electric Christmas tree lights hit the market and put Christmas on the grid.
Our grandparents and generation upon generation of children before them, grew up rocking at the sight of their Christmas trees bathed in natural candlelight and never forgot it.
Celebrating the holidays with candles on the Christmas tree is a part of our Christmas DNA. It's a tradition that's as old as the Christmas tree itself.
Before incandescent Christmas lights grew popular in the 1920s and 1930s, and LED Christmas lights swept the market in the 1990s, Christmas tree candles were not only widespread, they were the only choice.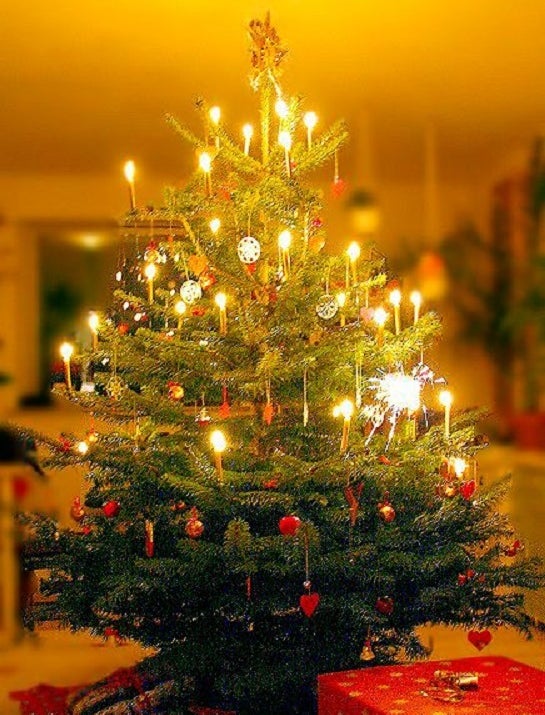 Families decked out their Christmas trees with candles as far back as the 1500s, using melted wax to attach them to the branches. Martin Luther is credited with popularizing the Christmas tree as a Protestant alternative to the Catholic nativity scene in the 16th century.
In time, melted wax gave way to home-made hanging pendulum candle holders. These were safer and easier to use.
Pendulum Christmas tree candle holders were hung on the branch and the candle was balanced in place with a counterweight. In earlier times, these hanging Christmas tree candle holders were be made by hand, fashioned out of wire.
The hanging holders included a spiral, pin or clasp to hold the candle in place and a weight at the end of the stem to keep the candle upright. Often the weight was in the shape of a walnut, orange or star. Animals made of tin or paper mache, glass balls and crystals were also used.
The candle clips always included some combination of a pin or clasp to hold the candle in place; a drip cup; and usually a spring-powered clamp to grip the branch of the tree. Many models also had a ball-in-socket swivel mechanism to adjust the candle.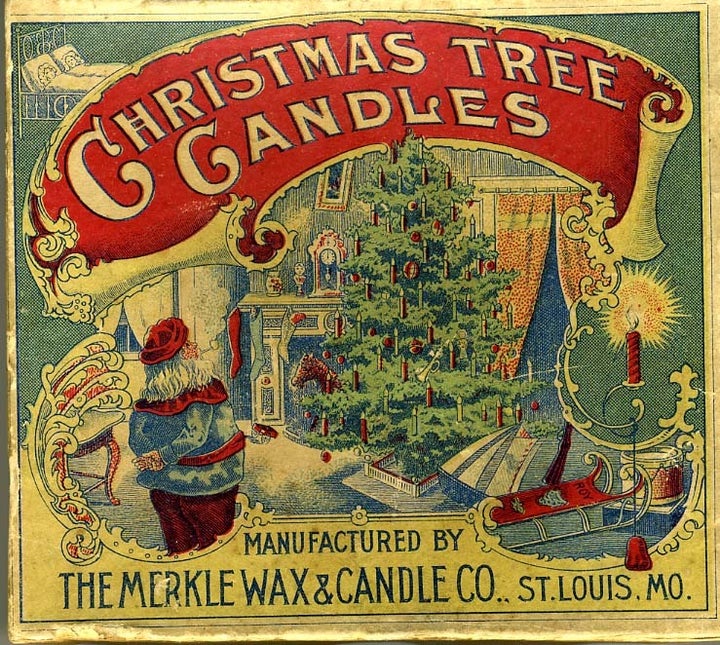 The candles themselves stayed pretty much the same size and shape through the centuries, but the their composition evolved. The earliest candles were made of tallow or beeswax.
When paraffin began to be produced on an industrial scale, it came into widespread use. It was eventually succeeded by stearin, which is still used to make Christmas tree candles today.
What Were They Thinking?
Something about the lowly Christmas tree candle holder fired the imaginations of early Christmas geeks, setting off waves of new design tweaks, especially in the 1890s and first two decades of the 20th century.
Inventors kept coming up with refinements and add-ons. In time, what was essentially a very simple implement began to morph into an engineering wonder. The innovations ranged from ingenious to questionable — even potentially lethal if you ponder some of the patent drawings.
More than a few of the new candle holders were impossibly complicated Rube Goldberg-esque contraptions. Feats of engineering by the inventors, yes. But what were they thinking?
Want your Christmas tree candle holder with an adjustable mirror? Check.
How about a Christmas tree candle holder with a mini-water reservoir to catch melting wax? Double check.
Another technical marvel included an ersatz candle in the shape of a small cylinder. It was filled with gasoline — yes, gasoline — placed in the holder and clipped onto the tree. No word about how that worked out for the inventor.
Other designs included convoluted metal frames with adjustable arms and holders at the end for the candles; holders that would accommodate three candles; holders with built-in fire extinguishers; different kinds of clasps; and various decorative figures on top of the holders or as weights.
Decorating with Christmas tree candles was in its commercial prime for about 50 years, starting in roughly 1870. Edward Johnson introduced electric Christmas tree lights in 1882, but they were expensive and didn't start to get traction until the price came down.
Candles and incandescent Christmas lights coexisted for decades, but the use of candles gradually tapered off through the 1920s, 30s and 40s, when consumers started decking out their trees with incandescent lights by the truckload.
Comeback Course
Inventors were still coming up with new Christmas tree candle holders and the U.S. Patent Office was still awarding patents for them as late as 1945, a sign that there was still a demand. In Germany, patents for candle holders were still being awarded in the 60s.
Although some stalwart families in the U.S. never gave up the practice, decorating with Christmas tree candles has been more common in the Nordic countries, Germany and the U.K., where candles and electric tree lights have existed side by side since the 20s.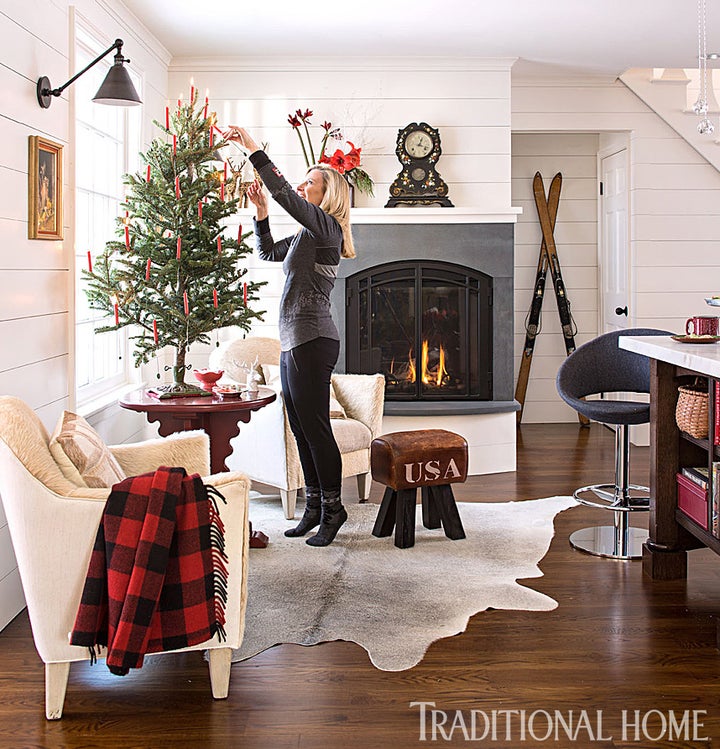 To be sure, LED and incandescent Christmas tree lights have a lock on the market, but the tradition of using candles on Christmas trees is being revived. It's fueled by design scouts and Pinterest pinners who love the look and are creating a whole new Christmas design vibe. It also appeals to Christmas geeks who appreciate the simplicity, want to connect with the past and are smitten with the idea of resurrecting a classic tradition and making it their own.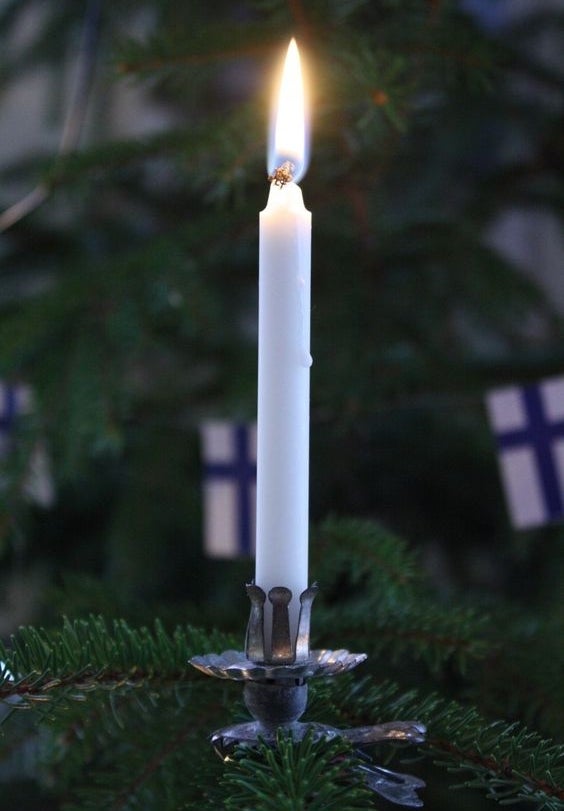 Tracing the Evolution of Christmas Decor and Design Through Historic Patent Filings [Scroll down for images]
Christmas tree candle holder drawings from the U.S. Patent Office and patent bureaus in other countries tell us a lot about the evolution of design and give us a feel for how the lowly Christmas tree candle holder morphed through the years before it was eclipsed by electric Christmas tree lights.
The selection below is excerpted from our online Gallery of Christmas Tree Candle Holder Patents, which is the largest collection available on the web. Check out the gallery and see varieties of Christmas tree candle holders, clips and pendulums that are available today.
Historic Patents for Christmas Tree Candle Holders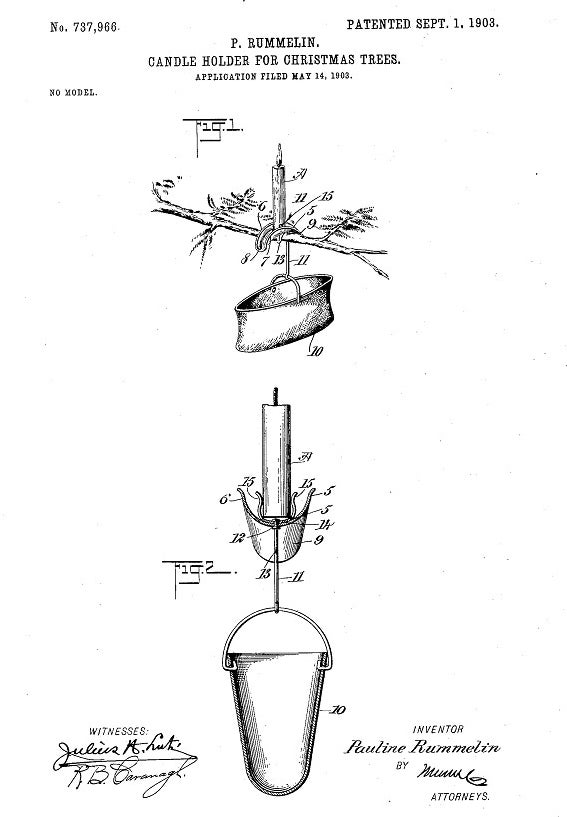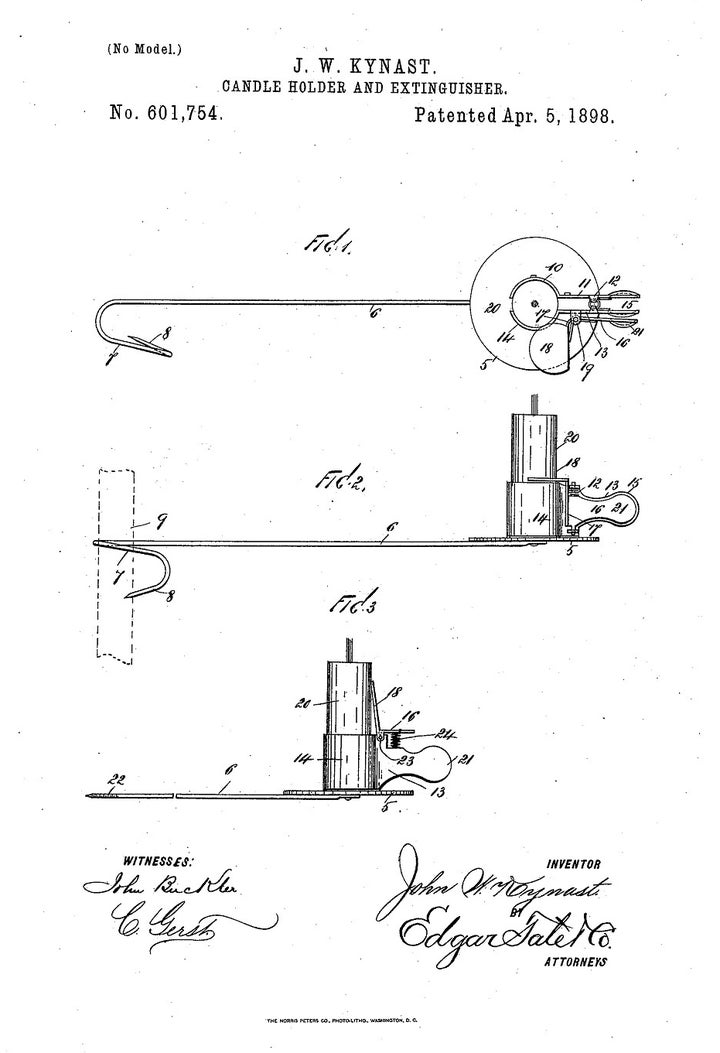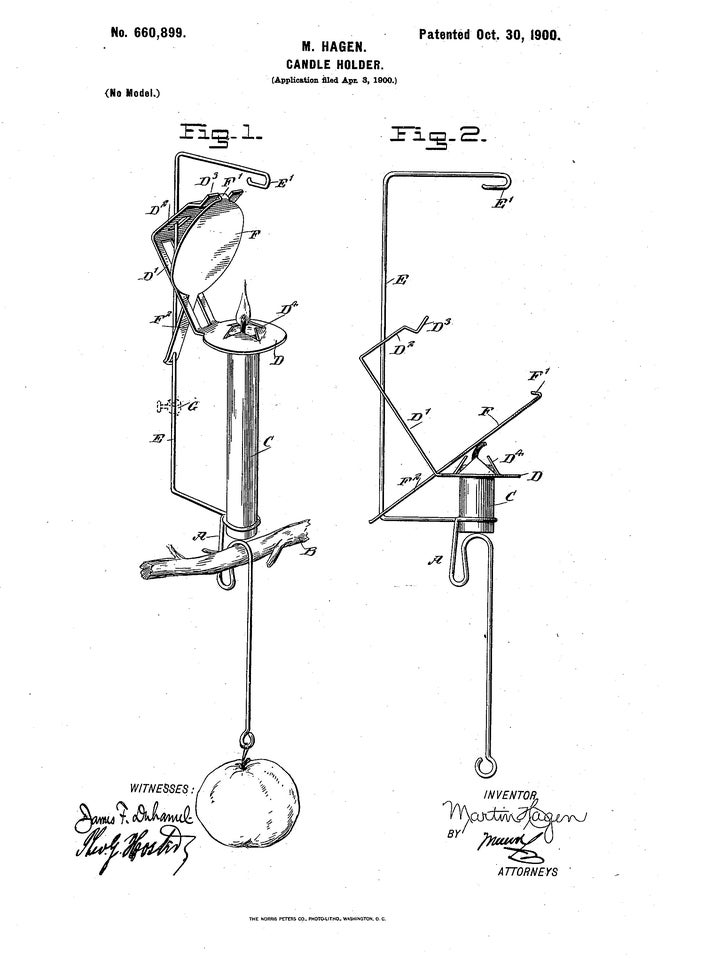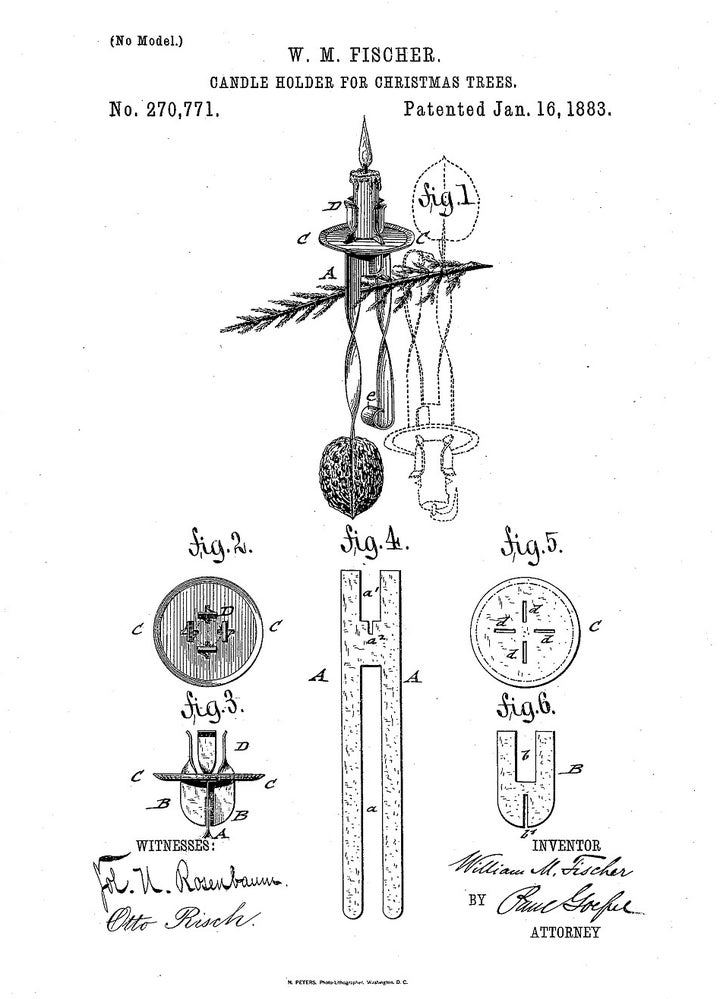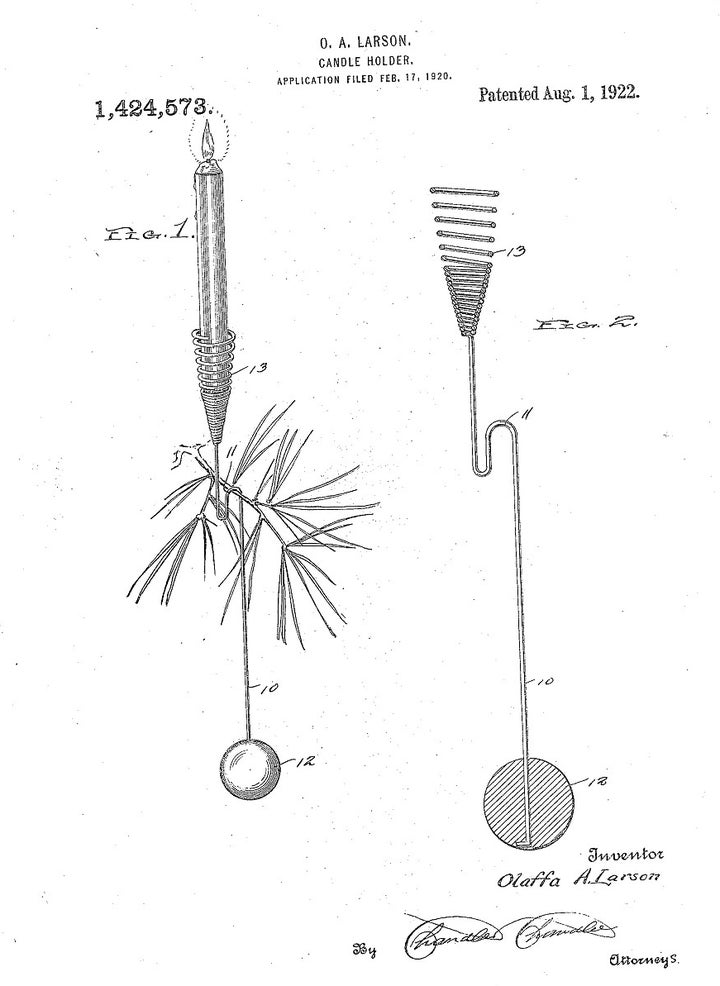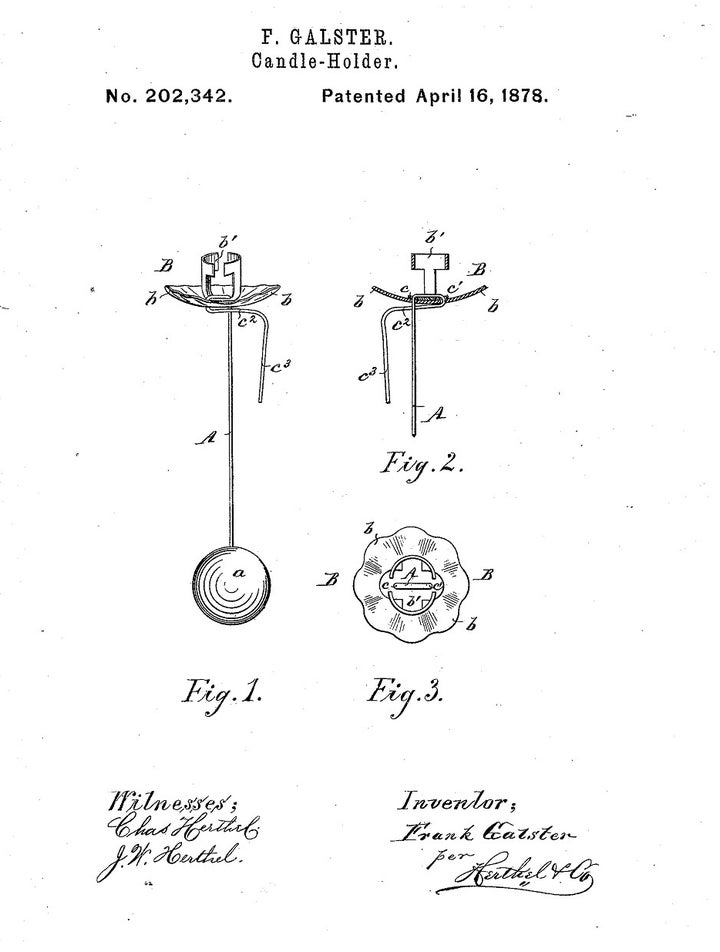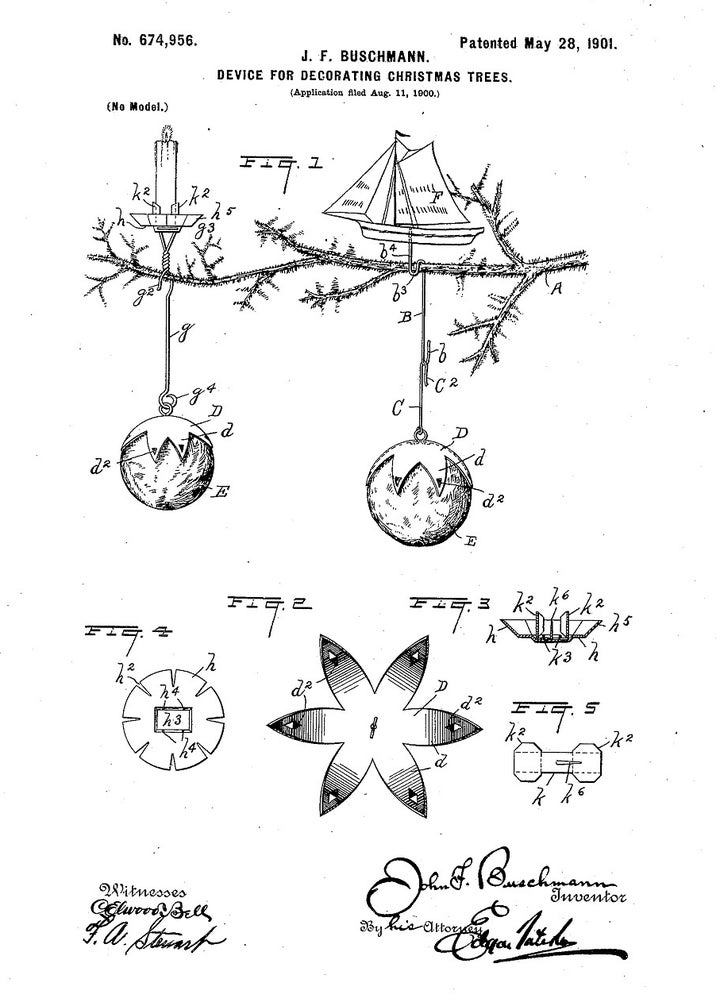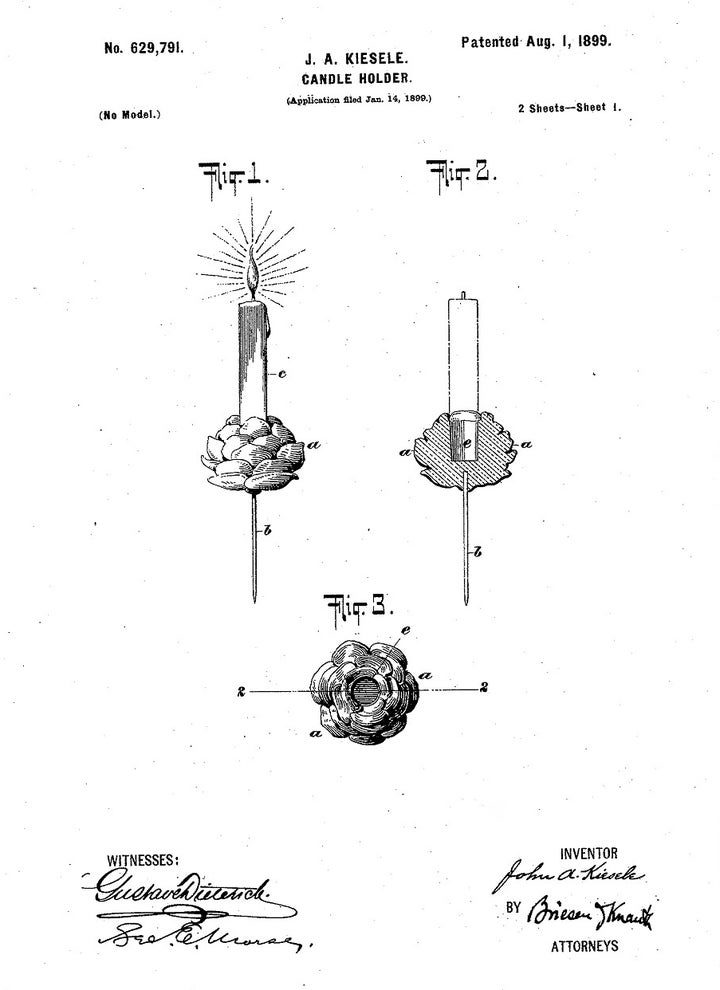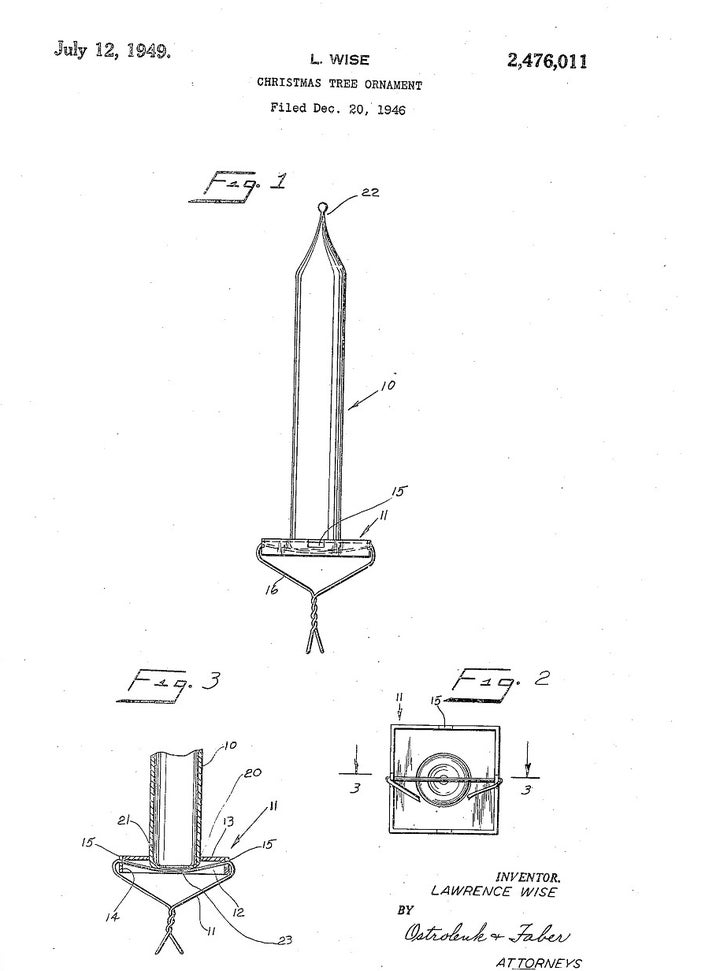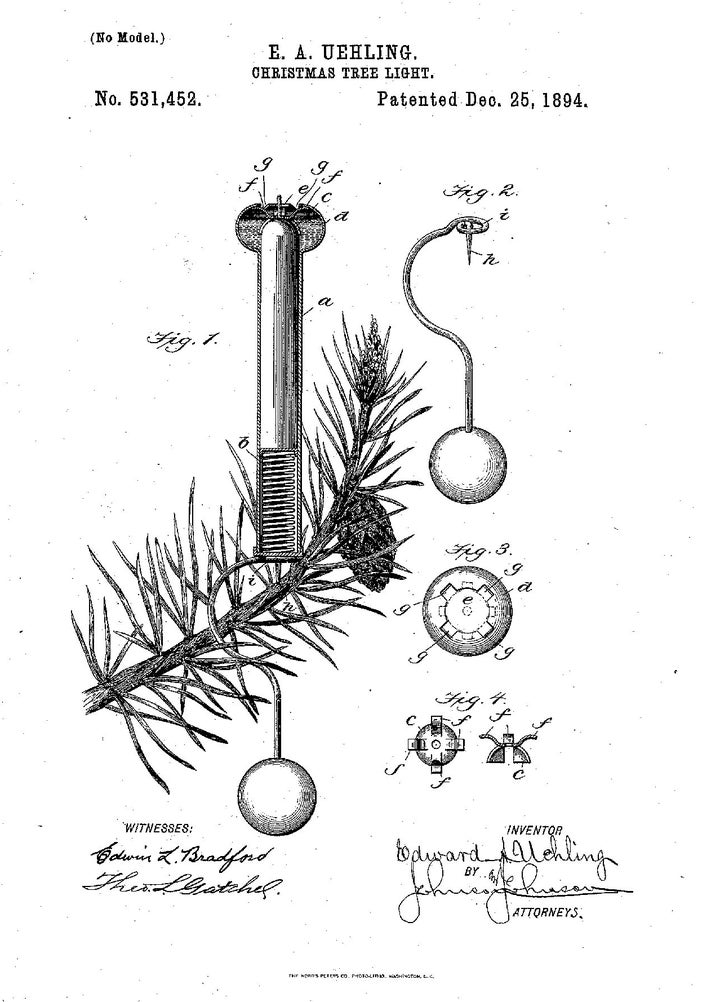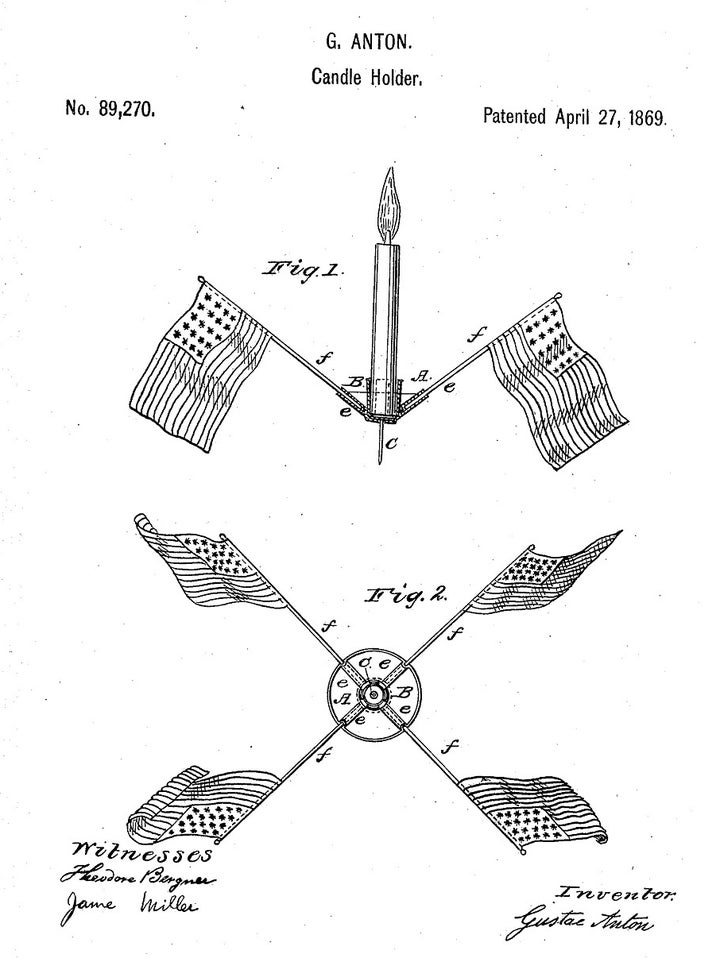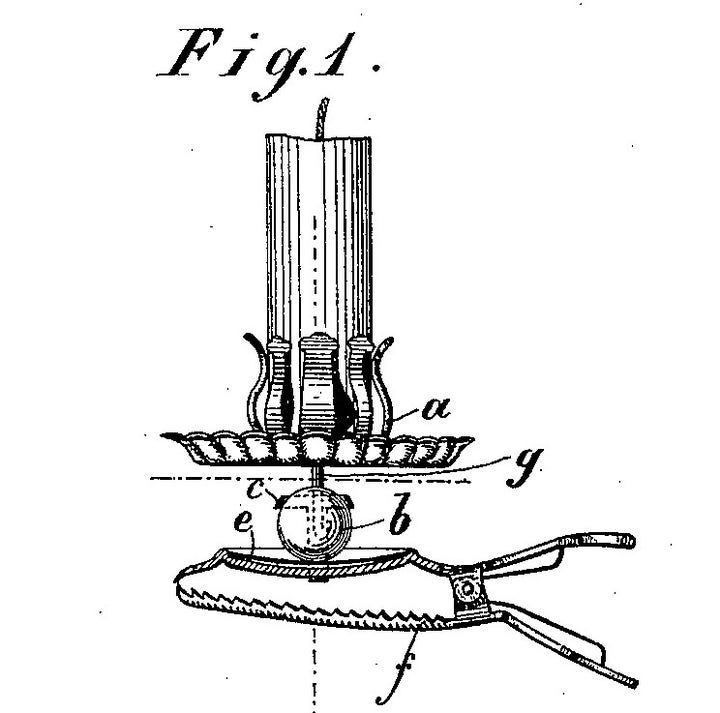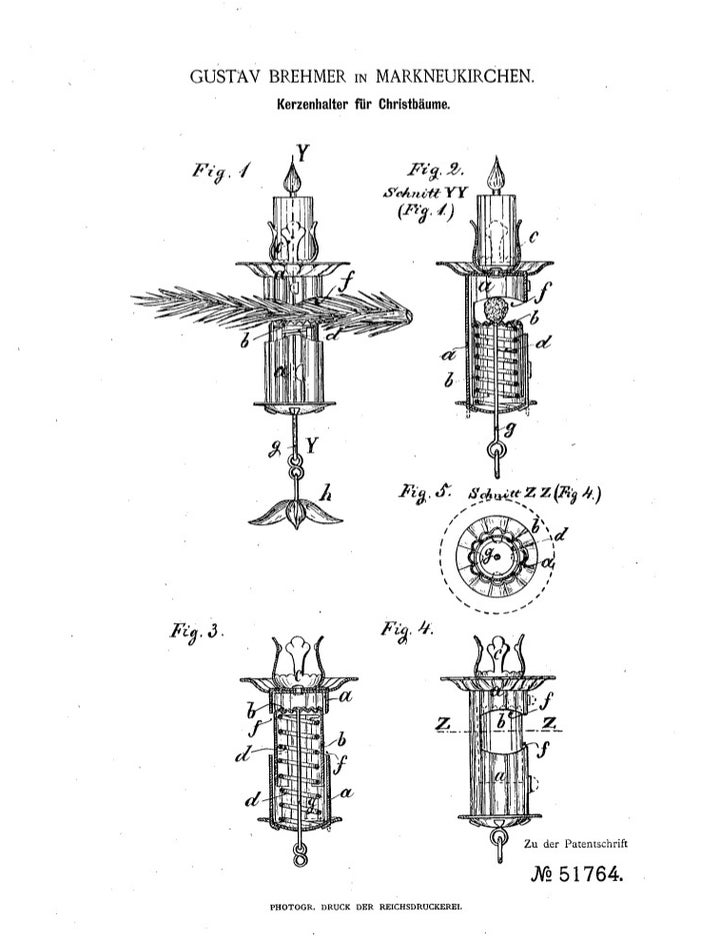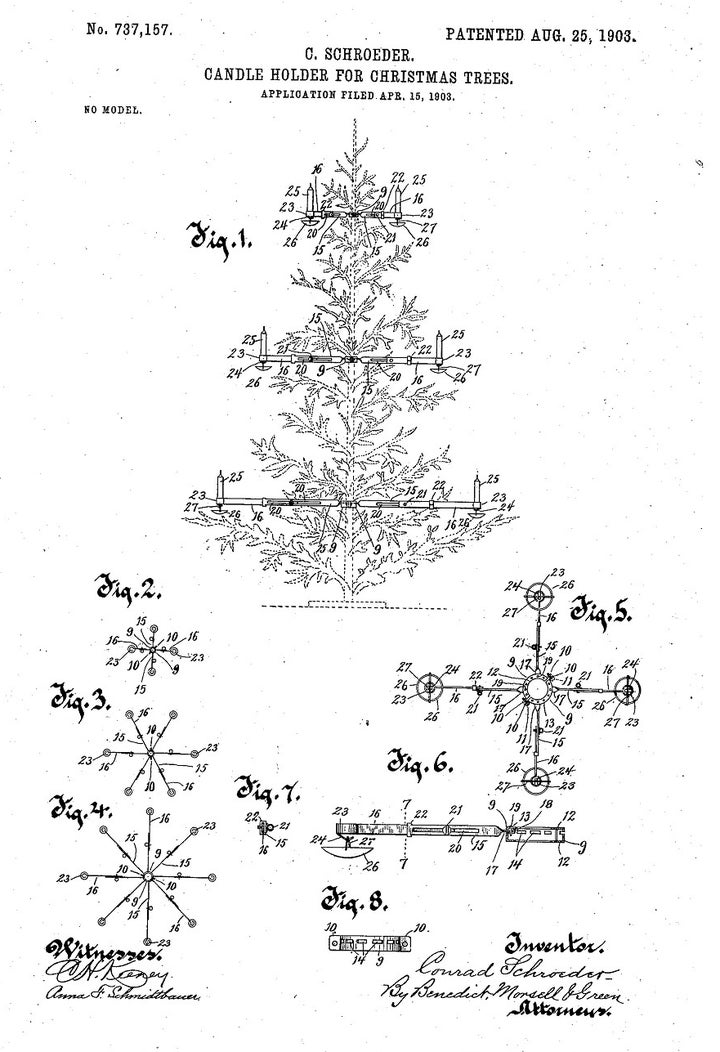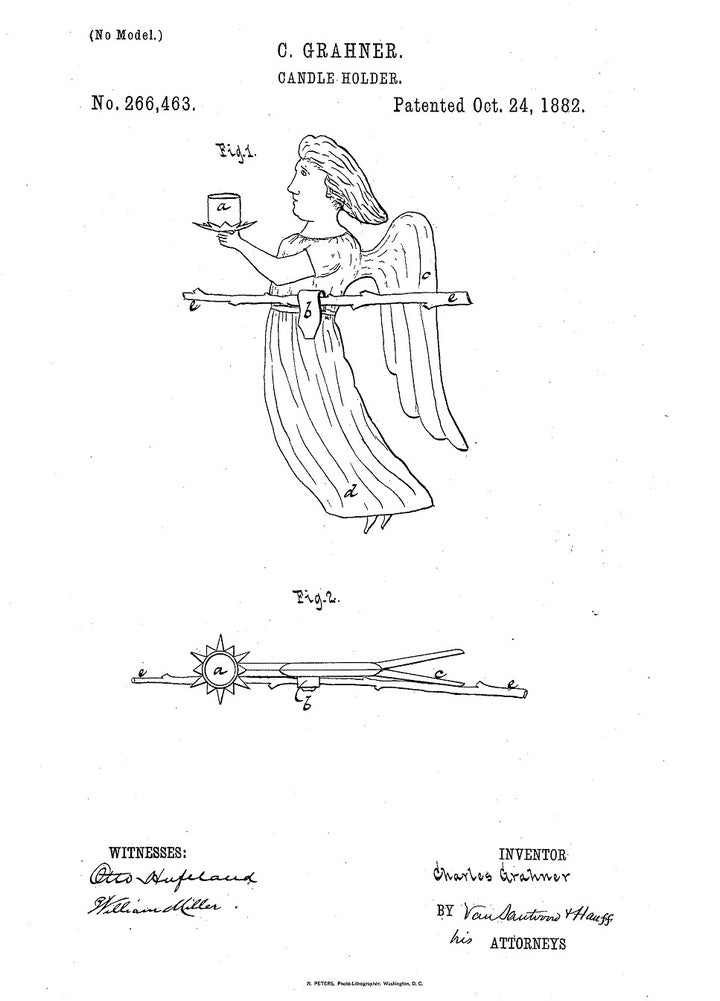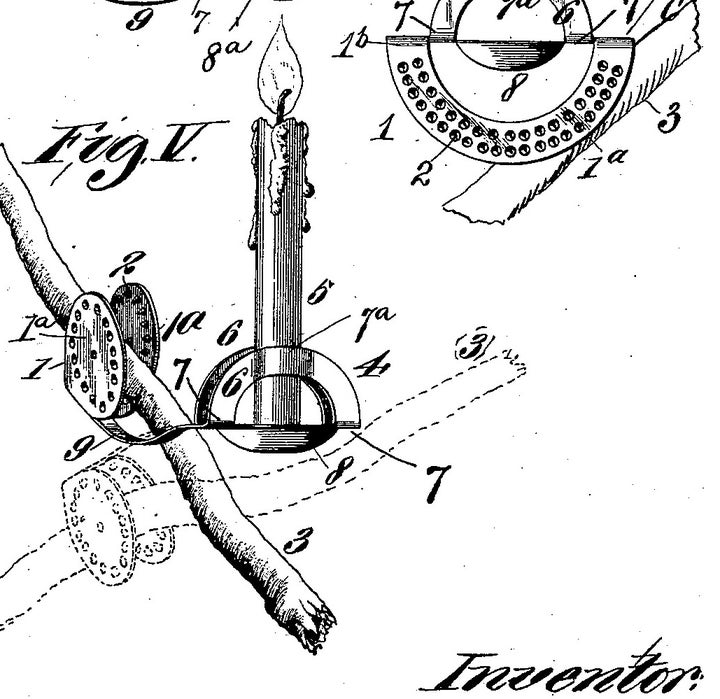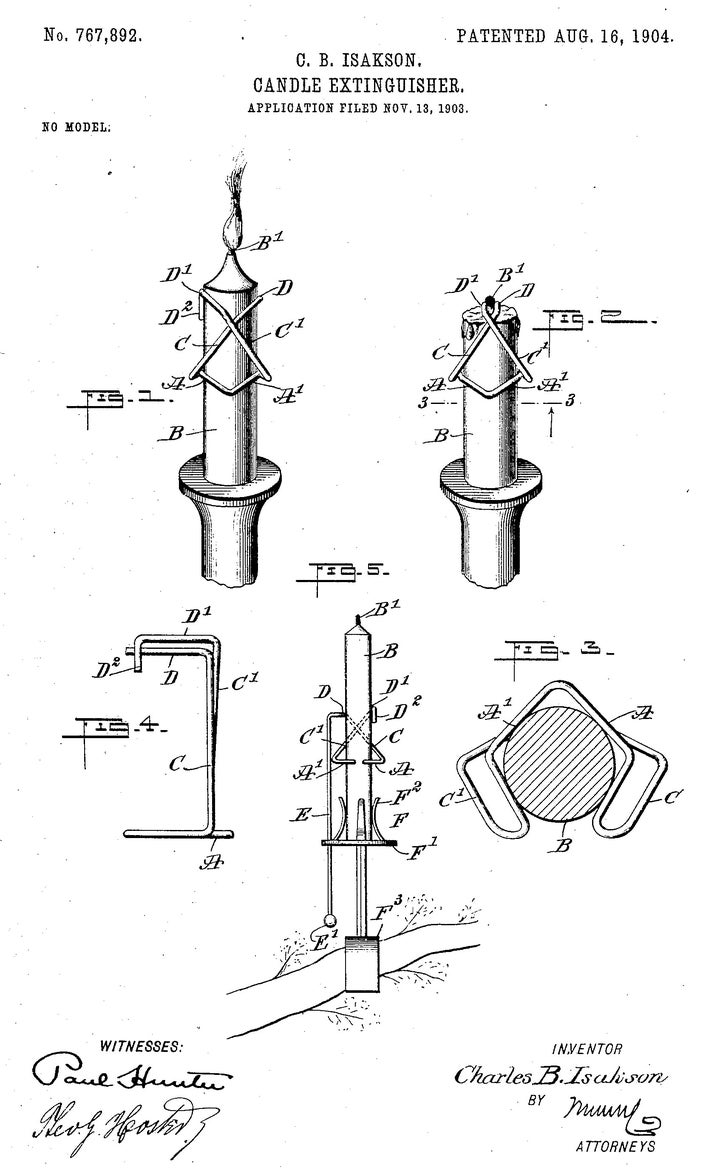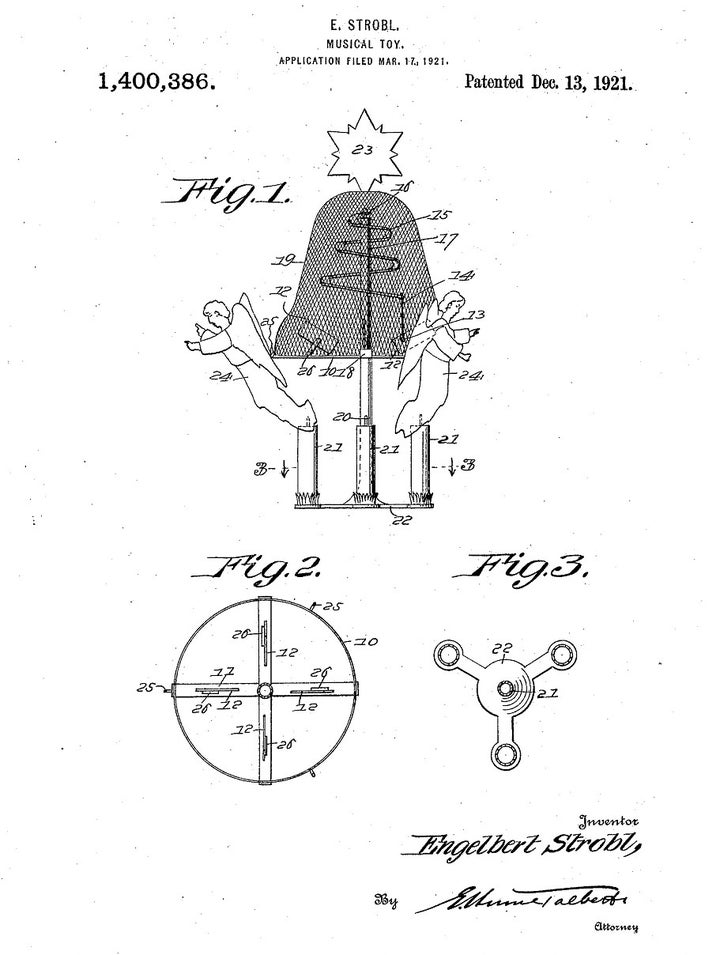 ...........................................................................
The Christmas Tree Shop at ChristmasGiftsFromGermany.com features original Christmas tree candles, German-made clip-on candle holders, candle clips, pendulum candle holders for the Christmas tree, imported candles and other treasures from the old country.
Tom Conrad leads an annual small-group Christmas markets tour to Germany. He blogs about taste, design, travel, food and Europe. You can also find him on CNN and at TreasuresOfEuropeTours.com. Email him at info@christmasgiftsfromgermany.com.
Related
Popular in the Community