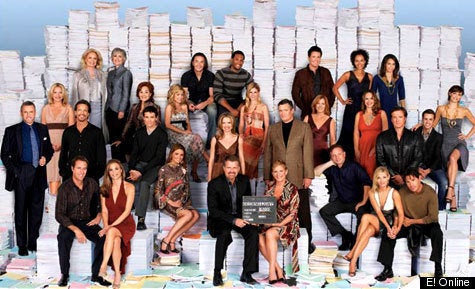 As I was putting up my enormous Christmas tree the other day, I realized it was the first time in 26 years that I was decorating only one tree. Usually about Thanksgiving, soap opera actors and actresses start decorating their trees on the set of their house at the studio and usually there is something dramatic occurring 'round that tree. Love affairs or births or deaths. But this year, I had only my own tree in my own living room and the only drama was that it was as big as Rockefeller Center's tree and that it took up my entire living room. I was going to have to put presents all wrapped under it with no crew doing that for me as they had for 26 years on the set. I was going to have to cook my own dinner for my family and not have the props bring it in to the set.
Maybe I was putting up two trees in one this year. Mine at home needed 1,400 lights, and perhaps that was because I couldn't light my tree on Guiding Light for the first time in 26 years. Because on April Fool's Day, CBS cancelled Guiding Light -- the show which has been an emotional history of our country since 1937.
Guiding Light, the longest running serial in television history, served as an open time capsule of the American scene. The show will reveal for future generations what America loved and feared from the years of the Great Depression to the present. From its inception, Guiding Light has been watched by multiple generations sitting side-by-side to learn from the sins and joys and foibles of every era -- the Korean War, the revolution of the 60's, Silicon Valley, the tragedy of September 11th. This year we not only had a Ponzi scheme but a lesbian couple -- unheard of 10 years ago. If you dipped into 1965 the hippie movement would be noted and in 1943 the war was part of the show. The day-to-day journey through Springfield mirrored what was going on throughout America. Future generations will be able to study the emotional journey of our country by viewing episode 28 or 452 or 10,001 or 15,700.
Though Guiding Light chronicles the American scene, Love was our viewer's favorite topic and the one, we as actors, enjoyed playing the most. And one of my favorite facts was that NONE of the actors or producers or crew were divorced. Why? I think because we all got the drama of our lives out in pretend. We were all married and many of us have been for long time (I have been married for 35 years and many others for 25 on). NO DIVORCE among actors and hair and makeup and wardrobe and stage crew and the production office and edit. We are like a little scientific study. It is unheard of in show business not to have tons of divorces. I think we had so much "pretend" divorce, we didn't need more drama in our real lives. Our characters had so much drama each day and week and year that we were too exhausted by it all to start it at home. We all laughingly worried as the show was ending if divorce would start when our dramas were at home and not at work.
Hence the giant Christmas tree. The tree is like a diva. The tree demands attention. It has taken over the apartment shining brightly and needing constant water infusions. It is the drama of the season this year. I watch it shine from all those lights and put carols on and drink cocoa and if anyone puts a gift for me under it early, I open it up instantly. And I read by it. This is the first year I will quietly read and listen to carols by a tree without a body appearing or my daughter showing up in tears, or her favorite husband returning yet again from the dead as he has twice already. I will miss seeing someone healed at midnight from a dread disease by a bone marrow transplant from someone who shouldn't be able to have the same match but does -- and is therefore of parentage not known before.
I shall miss not recognizing my best friend who, by simply donning a doctor's coat to kill someone with a shot of poison, is not recognized by me. I shall miss watching my soap opera daughter, Beth, as she marries yet another bad man (she has been married at least eight times) and I stand by, warning her like Cassandra at the gates of Troy. And I am paid as little attention to as Cassandra was. I shall miss seeing my granddaughter Lizzie who was in real life nine months pregnant hiding her huge tummy with her pocketbook, as she was not pregnant on the show.
I will miss -- Oh, how I will miss -- the wonderful miracles on Christmas that took place on Guiding Light. I will miss the writers giving us the perfect lines to say while toasting our families and the set shining brightly and the perfectly pressed clothes and perfect hair and makeup and great lighting on our faces. I will miss the Guiding Light Christmas.
Tina Sloan enjoyed a three and a half decades-long career as a soap star playing Lillian Raines on Guiding Light. She is now beginning her new life as an author, playwright, and theatrical actress. Her new book, Changing Shoes, will be published on September 18, 2010.