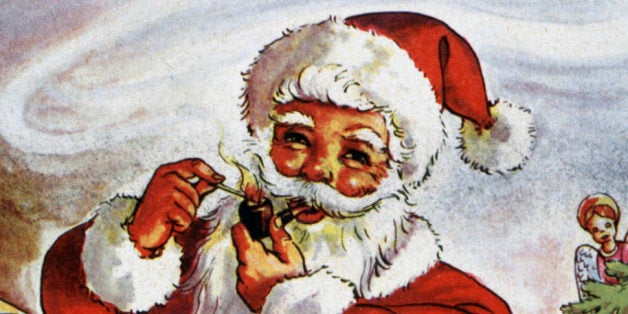 Dent May's new song, "I'll Be Stoned For Christmas," is all about that moment over the holidays when your family starts driving you crazy, so you basically have to meet up with old friends from high school and smoke a bit of weed. As one of May's lines proclaims, "'Tis the season to be high."
"I'll Be Stoned For Christmas" is packaged and presented in May's trademark style of cheerful pop that really wouldn't feel too out of place among the more classic Christmas songs at your holiday parties this year.
The Huffington Post asked May a few questions about the song to see if he had any tips or suggestions about smoking over the holidays:
What sorts of things would you suggest doing while smoking over Christmas?
Well, I don't recommend doing your shopping while high. I've picked up some pretty wacky items while late night eBaying over the years. Weed is creative to me, so maybe you could paint a festive watercolor.
This is a super relatable song, but is there a time or a few times with friends that it's specifically based on?
It's inspired by being in college and coming home for the holidays to party with those from your past. Christmas night in my hometown was always super fun and wild, but there's also this melancholy connected to the holidays for me. I'm not sure if that came across in the song, but maybe it's lurking underneath the surface.
Will you be smoking weed this Christmas?
And here are the full lyrics if you'd like to sing along:
"I'll Be Stoned For Christmas"
I can't wait to go out
On Christmas night
And see all my old high school friends
I just love my hometown
In holiday lights
It's so good to see you how've you been
We load up
Your daddy's car
And we drive to the party
And we're gonna go hard
So fill my cup to the top
Light me up 'til i'm hot
I'll be stoned for Christmas this year
I'll be stoned for Christmas
I'm sorry mama
I have opened all my presents
Sweaters and slacks
So hit me up and tell me what you got
I've been chilling with my parents
They're driving me mad
So I'm trying to get lifted with you now
We roll up your cousin's stash
And go wild at the party
Yeah we're having a blast
So fill my cup to the top
Light me up 'til I'm hot
I'll be stoned for Christmas this year
I'll be stoned for Christmas
I'm sorry papa
There's an angel on my tree top
And a devil in my mind
Have a smoke and pour a big shot
'Tis the season to be high
So fill my cup to the top
Light me up 'til I'm hot
I'll be stoned for Christmas this year
I'll be stoned for Christmas
I'll be stoned for Christmas
I'll be stoned for Christmas
I'll be stoned for Christmas
I'll be stoned for Christmas
I'm sorry mama
BEFORE YOU GO
PHOTO GALLERY
30 Animals Doing Christmas Right