A beloved New York tradition is slated to return this holiday season -- and some of the city's most iconic drag queens are going to be a part of it.
"Christmas with the Crawfords," the hilarious holiday musical comedy, will hit NYC's Abrons Art Center this December. Among the cast for this show is drag legend Joey Arias, starring alongside Sherry Vine, "Project Runway" veteran Chris March and Connie Champagne.
"Christmas with the Crawfords" is based on an actual Christmas Eve live radio broadcast with the Crawford family in the 1940s.
The Huffington Post chatted with three of the show's stars this week about their involvement with the production and what attendees can expect.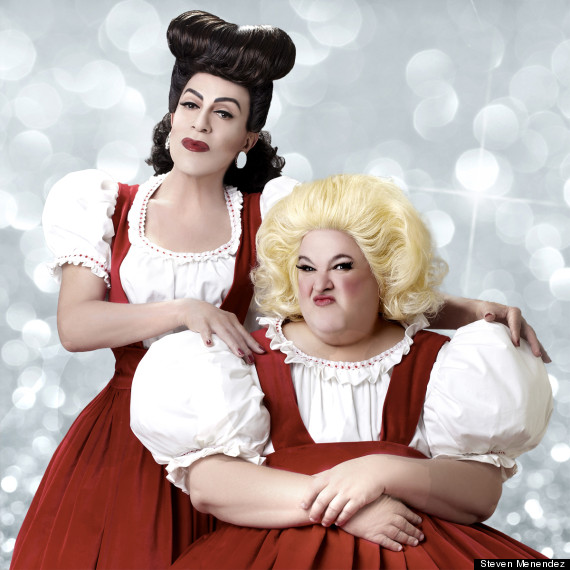 The Huffington Post: Why did you want to do this show? Joey Arias: I wanted to see this show come back to New York after such a long absence -- 12 years -- because everyone needs to smile and laugh right now with everything going on in the world. New York is known for its great theater and pushing the envelope OFF Broadway, and this really does it in a big way. CWTC is also a metaphor in many ways -- although a very twisted one! But when something goes wrong, some good comes out of it. And I love playing the role of Joan Crawford because she believed in herself until the very end. Even though she was out of the loop she always saw herself as THE QUEEN of silver screen -- and more! Believing in myself has been how I've kept going this long so it's perfection!
Chris March: I have done the show seven times now in various places and incarnations, but never as Christina. It's the part I've always wanted to play. I guess I just relate to a vengeful, bitter ten-year-old girl who gets beaten by her insane mother with wire hangers. Hmmm... what does that say about me? Plus, I'm also the costume designer (nominated for a Drama Desk Award for Outstanding Costumes) and this show is an amazing visual treat!
Sherry Vine: I really wanted to do this show ever since I saw it the first time they did it in NYC years ago. I just thought it was a laugh riot and over the top. So, of course, I'm always down for that!
Why is this cast the perfect cast to do it? Joey Arias: The cast is amazing! Donna Drake [director] and Richard Winchester [producer] were recasting because many of the San Francisco cast could not come to New York -- except for Connie Champagne who is legendary for her portrayal of Judy Garland. Chris March is also an original cast member and costume designer -- a beautiful marriage! Sherry Vine is from theater and is living for this… and Flotilla de Barge is perfect as Hattie MacDaniel (Mammy in "Gone With The Wind"). The other new members I'd never met before but they are so on fire with these characters. I stand there looking at them and think how strong they are in their commitment to this production. The casting was perfect! And of course… ME AS JOAN CRAWFORD?! I mean, who else?
Chris March: Every cast is different, and this year we have seasoned New York veterans sharing the stage with some fresh emerging talent. The dynamics are new and exciting, and you never know what's going to happen. And let's face it -- who doesn't want to see Joey Arias play the now legendary villain role of Joan Crawford? Let's just say I'm not the only one dodging the wire hangers!
Sherry Vine: Well, of course, Joey Arias is perfect. Joey is one of those rare performers who isn't scared to try anything. I love being onstage with her. This is the first time I've worked with many of the other performers and they are all fantastic. Chris March is hilarious as Christina, Flotilla is going to bring the house down with her number and everyone is bringing something special to this production.
"Christmas with the Crawfords" will run from Dec. 10-27, 2014 -- head here for tickets and information.
Calling all HuffPost superfans!
Sign up for membership to become a founding member and help shape HuffPost's next chapter
BEFORE YOU GO
PHOTO GALLERY
25 Of The Most Incredible Drag Queen Moments