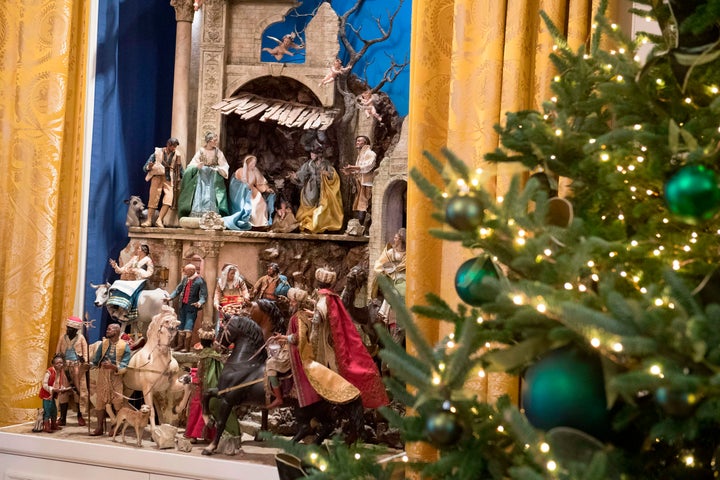 More Americans are embracing the holly, jolly, cultural parts of Christmas and shedding the holy and religious aspects.
While Christmas remains as popular as it has been in past years, a Pew Research Center survey released Tuesday suggests the way Americans celebrate the holiday is slowly shifting toward the secular.
Researchers found that a growing number of U.S. adults believe the religious parts of Christmas are being emphasized less in American society ― and many aren't bothered by the change. In addition, the number of people who believe in key aspects of the Christmas story ― such as the virgin birth and the wise men bringing Jesus gifts ― is declining. Significantly, even a small percentage of self-professed Christians are doubting these biblical narratives.
Pew found that 46 percent of adults surveyed this year said they see Christmas as more of a religious holiday than a cultural holiday, down from 51 percent in 2013. Most Millennials who celebrate Christmas think of it more as a cultural holiday than a religious one (44 percent, compared with 32 percent).
Tom Krattenmaker, who writes about religion in public life and authored Confessions of a Secular Jesus Follower, told HuffPost that the poll findings may reflect the growing number of Americans who are religiously unaffiliated.
"As more Americans drift away from religion in general and Christianity in particular, it stands to reason they would take a more secular approach to the holiday," Krattenmaker said.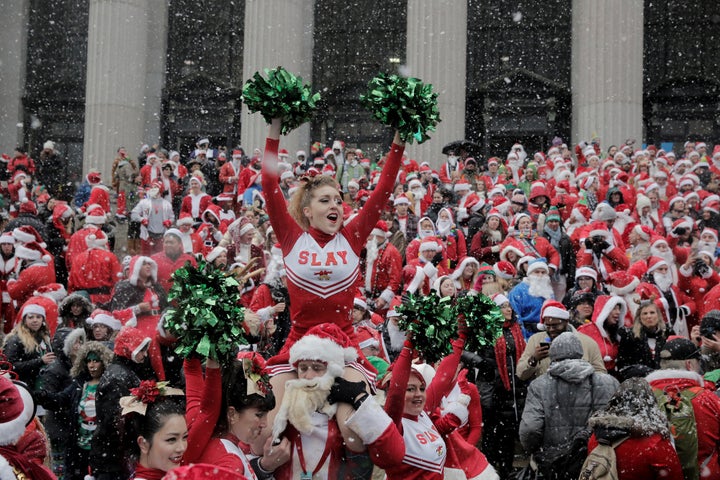 One of the most striking parts of the survey explored how Americans feel about the story of Jesus' birth as it is described in the Bible. Pew found that most Americans still believe in key elements of this biblical narrative ― that Jesus was born to a virgin (66 percent), that he was laid in a manger (75 percent), that wise men, guided by a star, brought Jesus gifts (68 percent), and that an angel announced Jesus' birth to shepherds (67 percent). But the share of people who profess belief in these biblical events is declining. In 2014, 65 percent of Americans believed all four of these elements. This year, 57 percent said the same.
Some of this decline can be explained by the increasing number of Americans who are religiously unaffiliated. But there's also been a small shift within Christianity itself. Researchers found that the number of Christians who believe in all four elements declined from 81 percent in 2014 to 76 percent this year. White mainline Protestants were particularly doubtful about these stories. For example, the number of white mainline Protestants who believed in the virgin birth dipped from 83 percent in 2014 to 71 percent in 2017.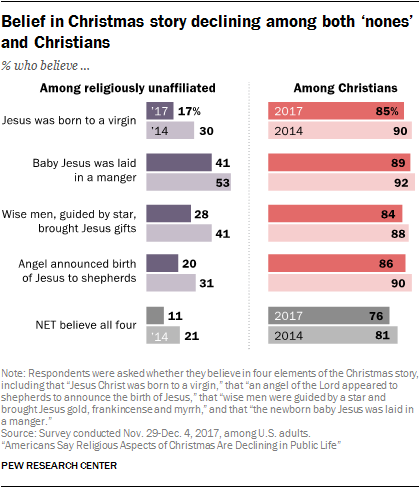 Mike McHargue is a Christian author and podcaster whose work often touches on the topic of doubt within Christianity. McHargue told HuffPost that he finds the shift within Christianity was both inevitable and encouraging. For him, it means that people are stepping away from thinking of the elements of the Christmas story as scientific facts ― which is not how Jesus' followers in the first century would have understood them anyway.
"Both Protestants and atheists share the same basic modernist frame to interpret religious claims," McHargue said. "Though they come to oppositional conclusions, both elevate reason as the primary means of discerning truth. That's a great way to make iPhones and spacecraft, but a weak way of illuminating the experiential part of humanity's consciousness."
Instead of obsessing over details of the Christmas story, McHargue said people should be asking different questions ― why did the gospel writers tell the story in this way, who were they writing for, and what does all of this reveal about humanity's search for meaning in the 21st century?
"In that way, it encourages me that people can let go of such vigorously defended ideas and still identify as Christians," McHargue said. "It means they've found something more powerful in the story of Jesus than a set of facts or a first-century mythology."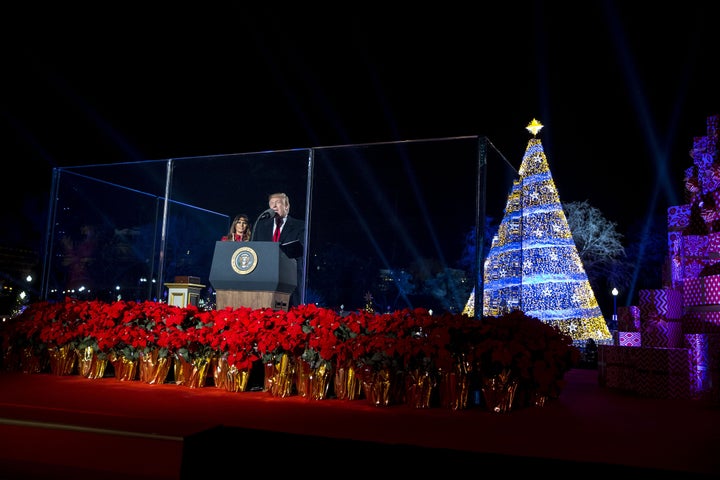 While conservative media outlets ― and President Donald Trump himself ― have focused much energy on fighting what they claim is a "War on Christmas," many Americans don't seem to be worried about this cultural shift. Even though most Americans (56 percent) said the religious aspects of Christmas are emphasized less today than in the past, few (25 percent) are bothered by the change.
More than half of Americans (52 percent) said it "doesn't matter" whether stores greet customers with "Merry Christmas" or "Happy Holidays" during the festive season. And fewer Americans now say Christian displays should be allowed on government property without representation from other religions. In 2014, 44 percent said symbols like nativity scenes should be allowed on government property even if unaccompanied by symbols from other faiths. That declined to 37 percent this year. On the other hand, a growing number of people said no religious displays should be permitted on government property (20 percent in 2014, compared with 26 percent in 2017.)
The holiday remains widely popular. Nine of 10 Americans said they celebrate Christmas, nearly the same as in 2013. Many still plan to gather with friends and family on Christmas Eve or Christmas Day (82 percent). And about half plan to attend church services on Christmas Eve or Christmas Day, a percentage similar to the 2013 responses.
Krattenmaker said he's glad Americans aren't abandoning the holiday.
"Christmas can be fun and meaningful, even if you aren't religious," he said.
The Pew Research Center surveyed 1,503 adults between Nov. 29 and Dec. 4, this year using live telephone interviewers to reach both landlines and cellphones.
Related
Before You Go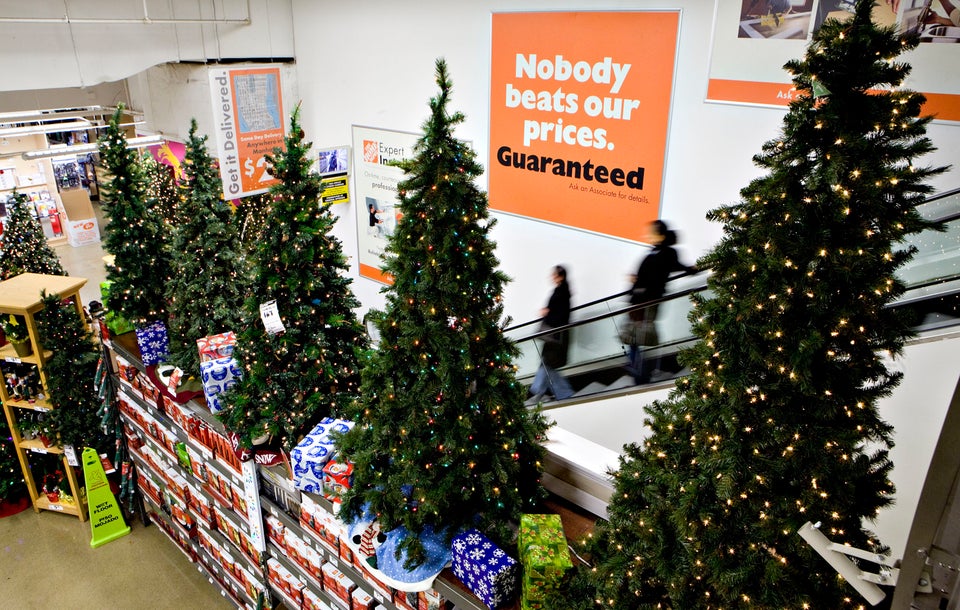 Which Is Better For The Environment: Real Christmas Trees Or Fake Ones?
Popular in the Community