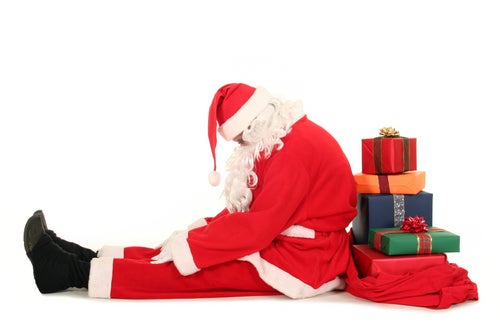 Christmas is a time of mixed feelings for those who are missing someone they love. As we gather with family and friends, the absence of a loved one may be felt even more intensely. Whether it's a parent or partner who has left the family or a loved one who has died, you may be left feeling out of step with the jolliness of the season and the carols. It is especially important at this time to take care of yourself and those around you who have also experienced significant loss or change .
It's important to remember that not everyone is surrounded by large wonderful families. Some of us have problems during the holidays and sometimes are overcome with great sadness when we remember the loved ones who are not with us. And, many people have no one to spend these times with and are besieged by loneliness.
While some people keep busy to distract themselves others prefer to withdraw to their memories and reflections there is no right or wrong way to act or feel. I remember the first Christmas after my mum went to be with the Lord exactly a year after my dad's passing. I had my two little nieces over and was determined that they would have the best Christmas ever. Christmas day arrived and I felt so depressed and could not even get up from my bed because I was suddenly overwhelmed by grief. Fortunately my older sister came over and she later on took over the cooking and entertaining of the kids because I was now a basket case.Generally mothers are the hub of a time like Christmas and their departure can mean the end of some of the activities, I believe the same applies to children who pass away, their parents may find occasions like Christmas difficult because children are at the center of Christmas celebrations.
Here are some pointers that might help you manage your grief feelings over Christmas
1. Do something to remember the person you are missing, play their favourite music, go to a place they loved or do something you used to do together, write them a Christmas card, share memories and stories with others who loved them. If the kids are missing the person involve them and ask how they would like to remember their loved one
2. Accept Help. If you feel like you are not coping reach out to people you trust and say yes to support or company. If you feel under pressure to 'cope' you may find forewarning people that you may cry, be silent, or find things more difficult than usual. You could do this in conversation or through a letter, card or email.
If you hide your feelings nobody will know what your needs are or how you prefer to be comforted. It is OK to try and plan for how you might feel but give yourself permission to act in ways as yet unknown – because you may find things easier or more difficult than anticipated.
3. Give yourself permission to do less, people will understand if you do not bake cookies for everyone or if you miss a few parties.The most important thing is taking care of yourself and those around you.
4. Start new traditions, my parents were staunch Anglicans (Episcopal church equivalent) and attended Christmas mass but I do it differently with my daughter.
5. If a family has been split through divorce or separation, Christmas day may become a logistic struggle for the children who now have two places to be. Make this easier for them by including them in plans ahead of time and making the transition as smooth as possible and do your best to avoid competition over time spent with the children or size or expense of gifts.
6. Let yourself have fun, If you are feeling happy go with it- it does not mean that you are forgetting or forsaking the one who is not there. They would not want you to stop living your life so enjoy the holiday if you can.