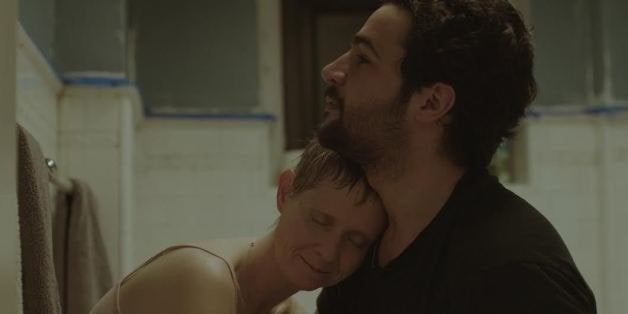 In his short time as a professional actor, Christopher Abbott has become something of a Sundance staple. His first film, the sensational creeper "Martha Marcy May Marlene," premiered at the festival in 2011. The following year, he had "Hello I Must Be Going," and, in 2014, he was there with "The Sleepwalker." Now the former "Girls" actor, who left the HBO series in 2013, is setting out for another Sundance stint with the Kickstarter-funded "James White," written and directed by "Martha Marcy May Marlene" producer Josh Mond.
Cynthia Nixon joins Abbott as the title character's cancer-stricken mother. The film opens with James' father's wake, introducing us to a restless New Yorker who can't find steady work and flakes out constantly, yet has the deepest sense of devotion to his deteriorating parent. Amid sleepless nights, a perfunctory job hunt and a short escape to Mexico, James shares a care schedule for his mother, who, by the end of the film, can hardly walk without support. Both actors deliver superb performances in what could be one of this year's Sundance breakouts. Before departing for the festival, HuffPost Entertainment sat down with Abbott and Nixon at a diner in Manhattan's Theatre District, where Nixon is directing her first play, to talk about their collaboration and what it's like to channel that type of familial intimacy in cramped apartments and busy city streets.
How much do you see own mothers reflected in the film at all?
Abbott: None, other than the fact that it's a mother-son relationship.
Nixon: I see a lot of my mother. I obviously never met Josh's mom, but I think that my mother and Josh's mother had many things in common even down to their aesthetic sensibilities, so I actually wear a lot of my mother's jewelry in the movie. People like Josh and his father and different friends, they really felt like there was a lot of his mother in a number of ways but also aesthetically.
Abbott: Me and my mother have a good relationship. Maybe I didn't answer the question. I have a great relationship with my mother.
There's an impressive intimacy between the two of you, particularly during raw moments when James has to care for his sick mother.
Nixon: Aside from whatever kind of stuff Chris and I have just naturally, I feel like Josh did a really great -- I don't really know exactly how he did it -- but he did a really good job of making everybody comfortable and making everybody feel like we really, I don't know, were in that apartment. For me, almost everything I did was in the apartment, so what was amazing was I was given -- it was nice, I appreciated it -- I was given a bedroom and I felt like I was living in that apartment. Lunchtime would come, people would leave for lunch, I would make my lunch. Do you know what I mean? It really felt like there was something about the way we worked and inhabited that space ...
Abbott: Like there was an intimacy that was allowed to happen.
Nixon: Like a real family feeling. And not like an "I love you, man" kind of family.
Abbott: Yeah, yeah, yeah.
Nixon: Because Josh is surrounded by so many people he grew up with, it really is an extended family. Not just an extended family for three weeks, but for decades.
Abbott: Mátyás Erdély, our DP, even the way he would light stuff and shoot stuff, it never felt invasive. Well, there's the whole beginning thing where the camera is four inches away from my face. That's a whole other thing. But those scenes in the apartment rooms, there was barely a light. He would light so meticulously and perfectly, you felt like you had the whole room to do your thing.
Nixon: That's why Josh rehearsed it, do you know what I mean? There wasn't so much a delineated line between rehearsing and filming. It just all seemed natural.
Chris, in the film, you and your pals take a break from the city and go to Mexico, where you take acid. It's one of the best scenes.
Abbott: Yeah, you know, I just acted. I had no idea what it was like. No, I'm kidding. It was fun. We were in Mexico just running around shooting a movie with a fairly small crew. That stuff was a little more run and gun than the stuff in New York.
Nixon: But also it was the end of the movie, so everybody's really safe with each other, right?
Nixon: So you have permission to do whatever.
Abbott: Yeah, and it was very easy to get permission from, like, the restaurants around there to shoot. They're like, "Yeah, go ahead." Even the way it's shot, too, is very different than all the New York stuff. Mátyás pulled back a lot and you finally start to breathe and open up, and then once you get back to New York on that shot, like right on the subway, it's like boom and you hear the subway train and you're back in this world again.
As New Yorkers yourselves, do you find a similar respite when you leave the city?
Nixon: You know, because I grew up here and never lived anywhere else, and I even have friends I grew up with who say, "Sometimes I need to get out of the city," and I never, never feel that way. I can go places and go, "Wow, this is really beautiful," but I never feel oppressed by the city. I feel like I'm plugging in my electric current and now I'm on. But not in an exhausting way. I'm energized. I'm in my natural habitat.
Abbott: I'm the same, I like it. But I also, not because of the city, but I leave often on the weekends. I go see my sister upstate; that's not to get out of the city, it's just because I want to do those things. I think I naturally balance that stuff out, but I never get bogged down. I like it here.
Cynthia, how did you decide what your character's physical state would look like as her cancer escalates?
Nixon: A lot of it is in the script. The year that we made this, my mom had died of cancer, so I had been there for that. And I've been with some friends who have died and seen that. And I just think, also, I've never gone through anything seriously medical personally, but I have been through childbirth. And I think that what I have both observed about myself in labor and also with friends of mine who were dying is when you're really in a lot of pain, everything is about energy and there's just no energy left over to do anything else, to communicate, to be nice. It takes everything. You just have to focus all the energy you have to get through the moment of pain or to get the thing that you need, like a glass of water or whatever it is. It's more than any of the niceties going away; it's just all about preservation of energy. My mother had a heart attack and she was alone in the apartment, and she was having the heart attack and she called 911 and my mother didn't want them to have to break down a door. My mother, you could call it fastidious, I don't know. She took all the strength she had when the ambulance came to do both things: to buzz and to open her lock, and then she collapsed. And it's that kind of thing: It's like Alec Guinness falling on the thing in "Bridge on the River Kwai" to make the bridge blow up. It's like everything you have put into that one thing that has to happen, whether it's the glass of water or the thing you need to tell the person. There's no extraneous energy to do anything except what absolutely must happen.
Was it difficult living inside this character having just lost your own mother?
Nixon: I think it was cathartic. I wore a lot of her jewelry in it because I feel like my mother's aesthetic style as an Upper West Side, artsy New Yorker and Josh's mother's style had a lot in common. I feel like I've rarely worked so happily with a costume designer as I did with Emma Potter. I'm very pleased with Gail's look.
Chris, your résumé is loaded with great independent films. Have you shied away from studio stuff?
Abbott: [Laughs] No, please! Yeah, I'm trying to stay away. Just want to get away from that studio. No, man. Not at all. I have control over what I have control over, so I can kind of maybe do this indie and not do that indie. I may be in that place, career-wise, but I don't know if that's even true.
What are you most recognized for?
Abbott: Oh, "Girls." Well, it depends what circles I'm in. Still to this day, probably most jobs I've done have been theater, so the little New York theater circles I know really well. I know certain people really well from certain plays.
Do you still watch "Girls"?
Abbott: I haven't seen it this year, no. But it just started.
"Girls" is likened to a younger version of "Sex and the City," mainly because of the foursome thing. Do you watch, Cynthia?
Nixon: I don't have television.
Nixon: I was doing an interview with Allison Williams and so they sent me the first season and I loved it. But I don't have TV, so I haven't watched any more. But I loved it.
Does comparing characters like the ones in "Girls" to Miranda, Charlotte, Samantha and Carrie get tiring?
Nixon: No! No! And actually, since we're talking about cancer, I can't tell you the number of people who have said to me, "Oh, I have cancer, this got me through." Or, "My wife had cancer, this one was one of her great last pleasures." There is something about it. Of course, now we're in a time where you find a TV show you like -- "Sex and the City" is off the air, so of course you can watch it all together -- but I feel like there is really something about that, having a friend when you go through a hard time. You have your real friends, but then your fictional friends are useful, too.
This interview has been edited and condensed.
"James White" premieres Jan. 23 at the Sundance Film Festival in Park City, Utah.
REAL LIFE. REAL NEWS. REAL VOICES.
Help us tell more of the stories that matter from voices that too often remain unheard.
BEFORE YOU GO
PHOTO GALLERY
Sundance 2015 Preview