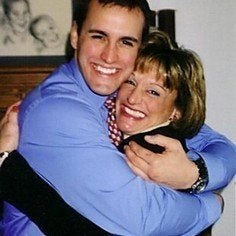 Update: Thursday morning, Joseph Bryski -- who had cosigned the loan of his son Christopher, who died in 2006 -- received a letter from KeyBank stating that the bank decided to forgive his debt, according to an email from Christopher's brother Ryan Bryski to The Huffington Post.
When Christopher Bryski, a Rutgers University undergraduate student, died from a traumatic brain injury in 2006, his family wasn't thinking about his student loans. That is, not until KeyBank, a Cleveland-based institution with nearly $90 billion in assets, asked his parents to assume responsibility for his debt.
Last week Bryski's older brother Ryan launched an online petition in an attempt to pressure KeyBank into forgiving the debt. By Wednesday afternoon, the site had attracted more than 78,000 signatures.
"When Christopher died, my family didn't just lose a loved one -- we inherited debt for an education that will never be used," wrote Ryan Bryski on the petition titled "Key Bank: Stop forcing my family to pay my dead brother's student loans."
Christopher owed KeyBank roughly $50,000 upon his death, Ryan told The Huffington Post. "Since Christopher's death in 2006, we've paid several hundred dollars a month," said Ryan, declining to provide the specific amount owed. The family is now in negotiations with KeyBank.
The federal government cancelled its $5,000 loan to Christopher, according to the Wall Street Journal, in accordance with federal policy. But Christopher's private lender, KeyBank, happens to be one of many private institutions without a clear policy about canceling the student loan debt of a deceased individual.
Four lenders do have death and disability policies for recent loans, Wells Fargo, Sallie Mae, New York Higher Education Services Corp. and Discover Financial (which owns Citi Student Loan Corp.), said Mark Kantrowitz, a financial aid expert and publisher of Fastweb.com. "With these lenders, you send a copy of the death certificate, they verify it, and the loan is discharged. There's usually some paperwork, but it's usually straightforward."
But with most other private lenders, the outcome is less clear. Some lenders review the situation on a case-by-case basis to make individual determinations, Kantrowitz said. Others, like KeyBank, go after the cosigners.
This is what happened to the Bryski family. "Our dad has had to come out of retirement to make the monthly payments" to KeyBank, wrote Ryan in the petition, adding that KeyBank is the only lender, including credit card companies, that has not discharged debt incurred by Christopher.
"Every month we're reminded of my brother's death in the worst way every time dad puts a check in the mail to a heartless bank," Ryan Bryski added.
"Our hearts go out to this family," KeyBank spokeswoman Lynne Woodman told The Huffington Post. "However, by law we can't discuss client matters."
The difficulties of the Bryskis, who have fought with KeyBank to forgive the debt for a number of years, prompted the drafting of the Christopher Bryski Student Loan Protection Act in Congress. The bill would require private lenders to explain to students how their loan would be handled if they should die, though lenders would not be required to forgive the debt. The bill was first introduced in 2010 and has been reintroduced again this year.
Families wondering how to deal with the student debt of a deceased relative should contact the bank -- as opposed to the loan servicer (the third party responsible for the day-to-day management of the loan), Kantrowitz said. "Call your lender and ask to speak to the ombudsman," he said.
Support HuffPost
A No-B.S. Guide To Life
Related
Popular in the Community