Christopher Dorner — the shooting suspect who allegedly killed a police officer on Thursday — mailed a package to Anderson Cooper, CNN revealed on Thursday.
"The package arrived on the first of February and was opened by Cooper's assistant," Blitzer reported. It contained: a hand-labeled DVD with a yellow Post-It note that read, "I never lied," which Blitzer said appeared to be referring to Dorner's 2008 dismissal; a coin wrapped in duct tape, which was inscribed with "Thanks but no thanks, Will Bratton" — the former chief of the Los Angeles police department — and "IMOA" (which Blitzer suggested could stand for "Imagine a More Open America," but which Cooper later pointed out could stand for "1 minute of arc," in reference to the measurement of rifle accuracy). The coin, which Blitzer reported is given by as an LAPD souvenir, was shot through with bullet holes.
Cooper, along with the rest of CNN's editorial staff and management, learned about the package on Thursday. He joined Blitzer on air, and explained, "I did not know of its existence until today."
The CNN host and the network are cooperating with authorities, and have handed over the package and its contents to the LAPD. "Upon learning about it, we alerted Mr. Bratton and law enforcement," Cooper said.
Clarification: This post has been updated to cite CNN host Wolf Blitzer for one interpretation of Dorner's note, and to include another possible interpretation.
PHOTOS: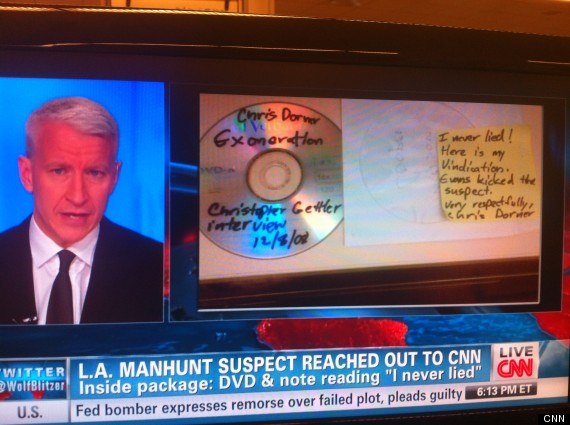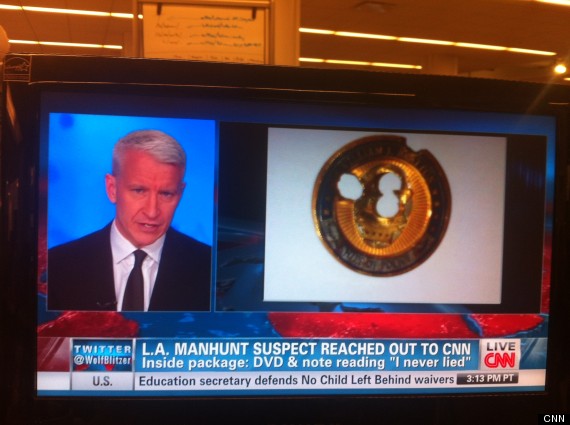 REAL LIFE. REAL NEWS. REAL VOICES.
Help us tell more of the stories that matter from voices that too often remain unheard.
BEFORE YOU GO
PHOTO GALLERY
Manhunt For Christopher Dorner