LOS ANGELES -- Residents of Big Bear, Calif. were evacuated Thursday as police continued to hunt for suspected murderer Christopher Dorner, a former LAPD police officer and Navy reservist.
Dorner, who allegedly shot three police officers (one fatally) Thursday morning, is suspected to be in the mountain community because his truck was found torched on the side of a road.
Big Bear, about 80 miles from Los Angeles, is a popular ski resort area. When police confirmed that the truck belonged to Dorner, resorts shut down, guests were told to stay in their rooms and Big Bear Unified School District campuses went on lockdown, reports NBC LA.
To make matters more complicated, Bear Mountain and Snow Summit ski resorts happened to be offering a military discount on passes to any military members who showed up in uniform that day, notes the Los Angels Times. Dorner was last seen wearing his military fatigues.
Officers are also conducting a door-to-door search to, San Bernardino County Sheriff John McMahon told the Associated Press.
The manhunt, coupled with official warnings that Dorner is armed and dangerous, has Southern California residents on edge.
Neil Minami, neighbor to one of Dorner's supposed targets, noted that the suspect's police and military training make the manhunt all the more dangerous.
"He knows a lot of tactics that could make him very invisible," said Minami to AP in the video above."They're taking him serious. You might call it overreacting, but I think its just when guns are involved and people are getting killed, that's just a normal reaction."
Rosine Sorbom, another neighbor, remarked, "It's a shame that so many people have to be scared for their lives because one man is out to get somebody."
In addition to shooting police officers, Dorner is suspected of murdering Cal State Fullerton basketball coach Monica Quan and her fiance Keith Lawrence in Irvine Sunday. Quan is related to someone that Dorner blames for his dismissal from the LAPD -- something he elaborated on in his online manifesto. Police assigned armed guards to all the officers named in Dorner's "manifesto" once it went public.
Angelenos are reacting to the manhunt on Twitter with a mix of fear and tv/movie references. Check out local reactions to the hunt for Christopher Dorner in the slideshow below.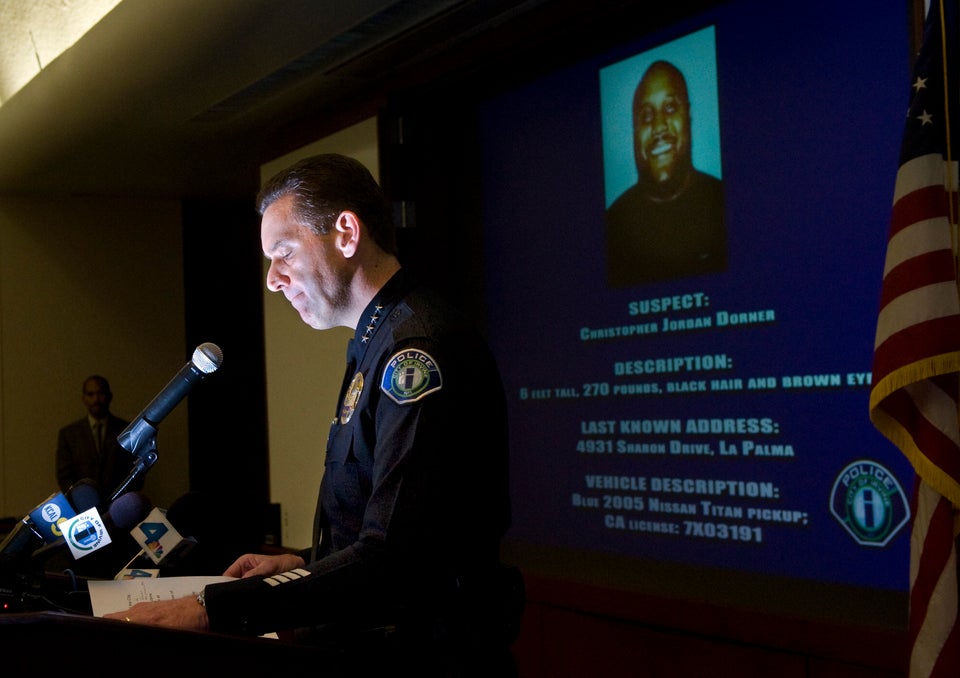 Manhunt For Christopher Dorner