LOS ANGELES -- Suspected murderer Christopher Jordan Dorner makes no mention of his marriage or ex-wife in his sprawling online manifesto, but information is emerging about April Carter, the woman he was married to for less than one month.
Court documents obtained by CBS News show that Dorner and Carter were legally married from April 27 to May 24 in 2007. Carter's brother, however, told CBS that the practical length of the marriage was even shorter -- about "eight hours."
The brief marriage was embarrassing for Carter, said the brother, and she never spoke of it.
But one of Carter's neighbors tells a different story. Oscar Gonzalez, 24, told the Los Angeles Times that he frequently saw Dorner at Carter's home in Long Beach, Calif. up until the end of 2012.
"He seemed like a regular guy. He was doing landscaping here in the front for her. He was heavy-built, always in military-style boots," recalled Gonzalez. "He was here for a while, and then he was just gone." Dorner was a former LAPD officer and Navy reservist.
Dorner, currently the subject of a state-wide manhunt in California because of his suspected involvement in three fatal shootings, wrote about his family and friends extensively in his manifesto, a detailed letter about the circumstances that led to his dismissal from the Los Angeles Police Department in 2008.
"I've lost a relationship with my mother and sister because of the LAPD. I've lost a relationship with close friends because of the LAPD," Dorner writes.
The letter, which also contains promises of waged warfare against LAPD police officers, also serves as Dorner's vow to right the wrongs he perceived -- or die trying.
"Self Preservation is no longer important to me. I do not fear death as I died long ago on 1/2/09," Dorner wrote. "I was told by my mother that sometimes bad things happen to good people. I refuse to accept that."
Chillingly, it also contained threats against the loved ones of LAPD officers, which may have led authorities to believe he is responsible for the shooting deaths of Monica Quan and her fiance, Keith Lawrence, on Sunday. Quan, a basketball coach at Cal State Fullerton, was the daughter of an LAPD captain involved in his dismissal hearing.
I know your significant others routine, your children's best friends and recess. I know Your Sancha's gym hours and routine. I assure you that the casualty rate will be high. Because of that, no one will remember your name. You will merely be a DR# and "that guy" who was KIA/EOW or long term IOD/light duty in the kit room. This is exactly why "station 500″ was created. Unfortunately, orphanages will be making a comeback in the 21st century.
Dorner is also a suspect in the Thursday shooting death of an officer.
Click through the slideshow below to see the scariest parts of Dorner's manifesto: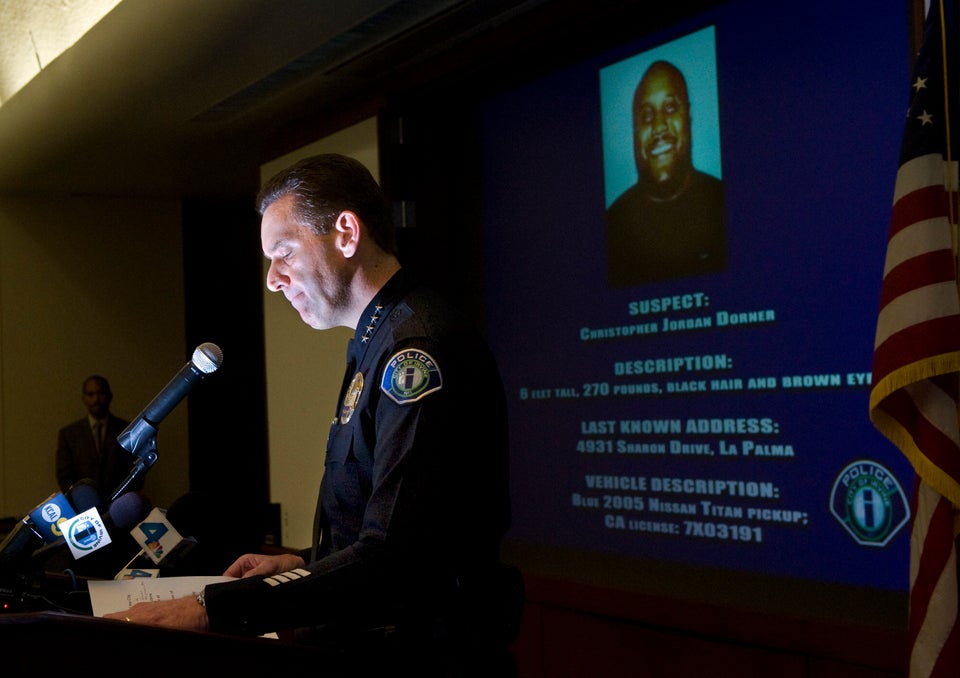 Dorner Manifesto: The Scariest Parts
Related
Popular in the Community