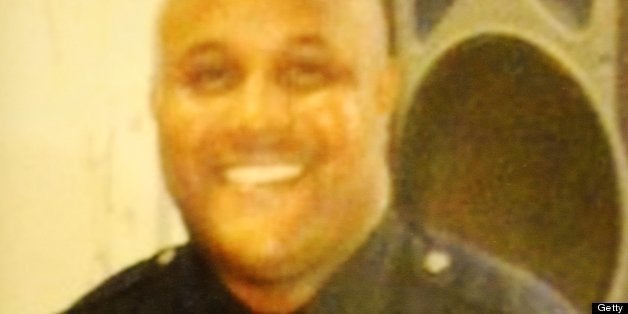 Christopher Dorner, the former Los Angeles police officer who went on a killing rampage he said was motivated to clear his name, was properly fired after using the internal Los Angeles Police Department system to try to stay on the force, police officials said Friday.
In a report to the Police Commission, Police Chief Charlie Beck and Inspector General Alexander Bustamante said the department followed all the correct procedures in removing Dorner from the department in 2009 after he filed a false complaint against a training officer, accusing her of kicking a suspect who had been restrained.
Beck had ordered the review after Dorner's manifesto, a 17-page document called "Last Resort," raised questions over the procedures used in his firing.
Dorner is believed to have committed suicide when he was cornered inside a Big Bear cabin following a killing spree in which he had allegedly murdered the daughter of the attorney who had represented him and her fiance, as well as killing two other police officers and wounding three others.
Gerald Chaleff, special assistant for constitutional policing to Beck, detailed in a 22-page report the problems Dorner experienced at the Police Academy and while on the force up to his dismissal.
"After a review of all the evidence ... and the allegations of Christopher Dorner, it has been determined that terminating him from the department was not only appropriate, it was the only course the department could take based on the facts and the evidence," Chaleff said.
"Dorner repeatedly displayed a tendency to utilize the department's complaint process to further his own personal agenda."
Chaleff said Dorner was originally hired by the LAPD in 2005, but that it took him 13 months to graduate rather than the normal six months due to a variety of factors, including an injury suffered with the negligent discharge of his weapon.
Dorner was fired in 2009 after it was determined he had filed a false complaint against his training officer, saying she had kicked a suspect during an arrest.
Chaleff said Dorner made the complaints 13 days after the arrest and only after he was told he was being given an unsatisfactory rating report.
Also, he said, Dorner passed up several opportunities in that time period to lodge a complaint against the training officer.
"The inconsistencies in Dorner's various explanations as to why there was a delay in his reporting the alleged kicks to a supervisor, and the fact that he offered no reasonable rationale for such delays, cast considerable doubt on the credibility of his allegations," Chaleff said.
"Dorner's statements concerning the delay continued to change throughout his testimony and appeared to be self-serving and in several instances were blatant fabrications."
Once the complaint was made, investigators tried to follow up with the mentally ill suspect who had been arrested, but they were unable to corroborate that he had been kicked.
"The record is clear that Dorner fabricated allegations against his training officer, and later, against his peers and superiors," Chaleff said. "The decision to terminate Dorner was sound and just. Dorner's documented proclivity to concoct allegations and evidence to advance his personal agenda support the conclusion that Dorner was rightfully terminated from the LAPD."
Dorner would also make complaints about the Board of Rights hearing in which his dismissal was upheld. Later investigations also cleared the board of any conflicts.
Chaleff said a second report is being prepared on the department's disciplinary process.
Dorner also filed an appeal over his firing with the Superior Court and it was dismissed.
In his manifesto, Dorner accused the LAPD of continuing to discriminate against officers based on race, ethnicity, gender and sexual orientation and there was retaliation against those who reported problems.
Chaleff said the department has acknowledge past problems, including a code of silence, but that steps have been taken over the past decade to address these problems. Most recently, a federal judge lifted the consent decree over the department noting the gains that had been made in dealing with problem officers.
@Rickorlov on Twitter ___
(c)2013 the Daily News (Los Angeles)
Distributed by MCT Information Services
Related
Before You Go

Support for Alleged Cop Killer
Popular in the Community