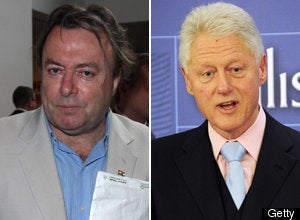 Christopher Hitchens' memoir, Hitch-22, is due out next month, though some of the salacious details have been leaking out early. Namely, Hitchens' explanation of his boarding school sexual encounters with men that continued into his college years at Oxford.
Also at Oxford, the New York Post's Kyle Smith reports, the Vanity Fair and Slate columnist dated a lesbian who had also dated Bill Clinton, there on the Rhodes Scholarship at the same time as Hitchens.
And, Smith reports, in the memoir Hitchens offers this detail about the former President, who famously said he never inhaled marijuana.
"When I was in England I experimented with marijuana a time or two -- and didn't like it -- and didn't inhale and never tried inhaling again," he said while campaigning for the presidency in 1992.
Hitchens confirms that Clinton never inhaled; instead, he writes, he consumed pot brownies:
"He preferred, like many another marijuana enthusiast, to take his dope in the form of large handfuls of cookies and brownies," Hitchens writes.
Related
Popular in the Community