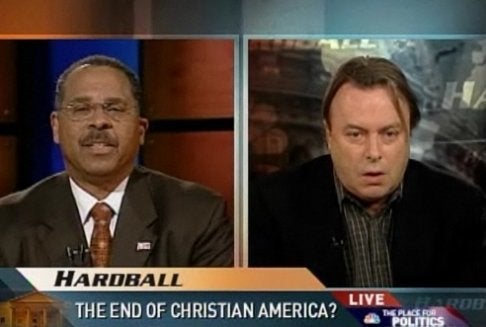 Christopher Hitchens was a guest on Hardball tonight along with Kenneth Blackwell, from the Family Research Council, to discuss Newsweek's recent cover story titled "The End of Christian America." The story highlighted a poll showing that while 62 percent of Americans considered the U.S. a Christian nation, a staggering 68 percent say religion is losing its influence on American life.
Hitchens debated Blackwell about this, with Hitchens declaring a crisis of faith in the country, one that shows a decisive tide is turning against the forces of religion. Blackwell disputed this, arguing that the influence of religion ebbs and flows but won't ever really fade away because we are fundamentally a Christian nation going all the way to the Founding Fathers. Hitchens vehemently fought back against this notion.
As usual with Hitchens, the debate was heated and interesting. Watch it below.
Popular in the Community