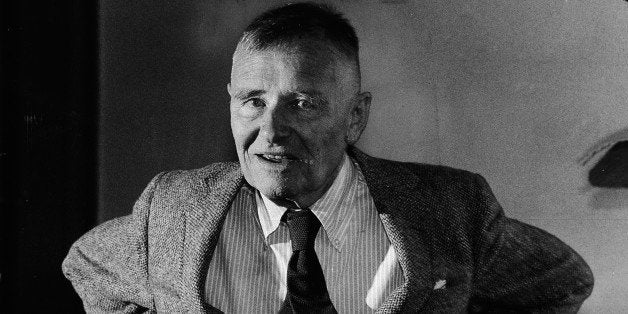 This adventure began over dinner.
Don Bachardy, the artist and partner of the late Christopher Isherwood, was in Sacramento, California for a screening at the Crocker Art Museum of Chris and Don: A Love Story -- the documentary by Tina Mascara and Guido Santi about Don's 33-year relationship with the Anglo-American writer.
In a restaurant after the film, I turned to Don and asked, "Have you ever been to Berlin?"
His answer took me by surprise.
We know what Berlin was like in the early 1930s, when the German capital was the center of personal and artistic freedom for all of Europe, largely because of the keen observations and brilliant writing of one man: Christopher Isherwood. Yet Chris and Don had never visited Berlin together, and Don had never been to the city which launched his partner's career as a giant in 20th century literature.
When I described the vibrant contemporary arts and cultural scene of Berlin, Don smiled and said, "It sounds like fun!"
I called Don a few weeks later at his home in Santa Monica and asked him if he had an interest in traveling, on his and Isherwood's behalf, to the city of Sally Bowles, Christopher Bradshaw, Mr. Norris and the other characters of the musical Cabaret. It took him a few days to decide, and then Isherwood's editor and biographer Katherine Bucknell called me with the news: Let's go.
Next week, Don Bachardy arrives in Berlin.
His visit coincides with the 75th anniversary of the publication of Goodbye to Berlin, Isherwood's novel about Berlin 1930-1933 as Hitler was rising to power, and the 50th anniversary of the publication of A Single Man, his novel about a middle-aged gay literature professor in 1960s California. Goodbye to Berlin provided the material for Cabaret, and A Single Man was made into a 2008 film directed by Tom Ford. German translations of both books are being published by Hoffman and Campe during the visit.
Contemporary Berlin is a vibrant, international city filled with artists, playwrights, dancers, musicians, authors and, increasingly, hundreds of technology entrepreneurs. The unofficial city motto is "Arm Aber Sexy" -- Poor, But Sexy.
"Don is closing a circle with this visit," says Katherine Bucknell. "Isherwood visited Berlin for the last time in 1952, the year before he met Don. Berlin today is much like the city that first drew him away from London, looking for sexual freedom and his ideal partner."
Three communities in Berlin will welcome Don Bachardy and, through him, Christopher Isherwood.
The American ambassador to Berlin, John Emerson, and his wife Kimberly (both from Los Angeles, a sister city to Berlin), are convening the city's political and cultural innovators to meet Don and commemorate Isherwood's legacy.
The City of Berlin is hosting an evening of readings from Goodbye to Berlin and A Single Man and a conversation with Don. Among the talent on stage will be British actor Simon Callow, an old friend of Isherwood and Bachardy.
And the Schwules (Gay) Museum is hosting a reception to introduce Don to Berlin's gay and lesbian community.
"It is exciting that Don is able to return to Berlin in person and celebrate today's open culture on Isherwood's behalf," says Bucknell.
A year ago, it struck me that Berlin should embrace Isherwood and Bachardy. Somehow, Isherwood's achievement -- his writing, the life he shared with Bachardy, Bachardy's own work -- all needed to be reintroduced in a new and personal way to the people of Berlin.
And next week, Berliners are reaching out to Don Bachardy and extending an enthusiastic and genuine "Willkommen."
Popular in the Community