All of the works in Christopher Kent Schumaker's new book My Strangers were made during a time of great duress in the artist's life. It was a time so fraught with emotional peril and the quicksands of loss that the artist was forced into retreat - one might say exile - from everything he thought was settled. Everything he knew about himself and about life was stripped away, along with his health, his marriage, his faith, and his creative inspiration. It was a long way down. The bulk of this bizarre, brilliant, and candidly risky work chronicles this precipitous psychological and physical fall from grace, in almost real time. The period of 1995 to 1996 was spent in studio hibernation in Inglewood before unfolding in way-stations from Mallorca to south of London, and represented destruction and deconstruction, the dismantlement of self and circumstance and its immediate aftermath - a kind of post-mortem performed by the still-living in a series of hotel room mirrors. It is difficult work to look at, in no small part because it was such difficult work to make.


Christopher Kent Schumaker: Witness (1996, Digital Scan from Glass Plate Composite, Type R Print Mounted on Sintra)
Schumaker began to use makeup, body paint, props, and staged scenarios in a series of composite self-portraits and contextual accompaniments with echoes of Cindy Sherman, Egon Schiele, and Frida Kahlo. Through his inventions and juxtapositions, he created implied, serial storylines and shadow narratives. His alter-ego variations have the gestural experimentation of someone trying something on in private, just to see how it feels. Whether the ultimate goal is a completely new identity or the revelation of a true, hidden self is perhaps a difference without distinction, especially when it comes to art, which is of course all about toeing the line between reality and invention. In any case, a series of dark, symbol-rich allegories of a dissolute psyche arose from this two-year sojourn in purgatory.
Then sometime in 1997 something changed. Beginning in Paris and building up to the artist's prodigal return to Inglewood in 1998, the work takes on a sharpness, an intentionality, and an aspirational vision that speaks to resolution, redemption, epiphany, and homecoming. Schumaker is still using his visual strategies, dressing up and examining his immediate surroundings. But a fresh energy infiltrates the practice. In Paris he starts building clear metaphors both inside the images and in their pairings - inside/outside, public/private, sacred/profane. To perform these allegories requires a point of view, a center. In short, a self. He'd been lost, but was starting to feel found. Just as earlier he'd chronicled the descent, he kept track of the ascendance. And something else about the pictures from these latter days - they're kind of funny.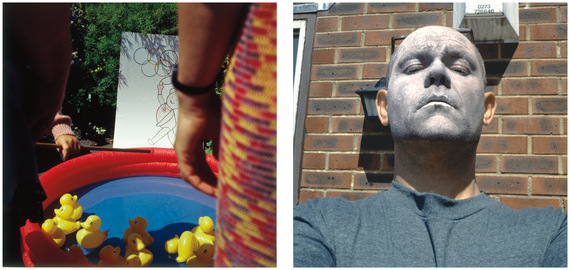 Christopher Kent Schumaker: Carnival (1996, Digital Scan from Glass Plate Composite, Type R Print Mounted on Sintra)
From Death In Paris (The Clown)'s empty stroller left in a lobby, matched with a new look in colorful body paint, the energy is almost celebratory, despite its subject of birth and death. Chris and Mona sees a full sense of humor returning to the artist, as well as the occupancy of a crowded public space. This icon of art history, and her godlike creator, are at the center of centuries of mystery, and she may possibly be a cryptic self-portrait. Other signs of optimism appear - an open window, a clean bathtub, and in One Day, a speeding van and a sketch of a street leading away to the horizon. The final works in the series are outright hilarious with their punkish handwritten t-shirts, a homemade costume of a kitchen king, and the trappings of a stand-up routine, complete with an apple straight out of Eden. Schumaker got to the point of laughing at himself, of accepting his flaws rather than futilely trying to exorcise them. It was pure forgiveness.
Maybe art is more like religion than people realize. Creativity certainly has a devotional, reverential quality. An artist's faith must often be placed in unknowable outcomes. Many say of both art and prayer that the process is more important than the result. And like having faith, making art counts more when it's hard.
Schumaker will exhibit selected prints from MY STRANGERS, as well as sign copies of the book, during the upcoming PHOTO INDEPENDENT art fair, Friday, April 29-Sunday, May 1, at Raleigh Studios in Hollywood. Check the link for ticketing and booth location.
REAL LIFE. REAL NEWS. REAL VOICES.
Help us tell more of the stories that matter from voices that too often remain unheard.