From inexperienced father to scout leader, today's installment in the Huffington Post Gay Voices RaiseAChild.US "Let Love Define Family™" series tells the journey of two men determined to have a family. RaiseAChild.US contributing writer Beth Hallstrom interviewed the Texas couple and shares their story.
With all the twists and turns of a movie of the week plot, the story of how married couple Christopher Carl and Richard Boening of Galveston Island, Texas adopted their daughter, Sophia, is a lesson in perseverance and faith that they hope will only encourage other aspiring parents to foster or adopt.
"There were negative parts of our journey, but they are absolutely not the defining parts of our journey," said Carl. "The last thing I want is to turn people off to the idea. It's important to focus on the highs, not the lows."
Together more than 11 years before marrying last July, Christopher, 43, is a stay-at-home dad, while 41-year old Richard is part of the management team of a social service agency. The men met in Chicago and agreed early on that they both wanted children. They moved to the Houston area to be closer to family -- they live less than a mile from Richard's parents -- and started the adoption process with the county child protective services agency.
On the adoption waiting list for 18 months, their only request was that the child be young enough so they could see him or her off on the first day of kindergarten. That stipulation was easily met when Sophia came home at just four days old.
"It was all very surreal, that first night. We had no experience with babies and our friends with kids had older children. The county called me at work and told me we had a baby. I was eating lunch with my friend and I told her to eat fast because I had to get going," Christopher recalled.
"We had to clear out the guest room for Sophia. They showed up with her around 8 p.m. and left at 9:30. They suggested one of us feed her and one of us change her, then they left and there we were, alone with this tiny baby. But, we were happy because we had our daughter. We had our family," he continued.
Their difficulties began when Sophia was four months old. Her birth mother balked at terminating her parental rights so that the adoption could proceed.
"It was almost like when she found out we wanted to adopt, she started fighting. She was friendly at first but, at some point, it was like she flipped a switch and we could do no right in her eyes."
"The birth mother said her primary objection to us wasn't that we're gay, but that we're white and we wouldn't be able to properly share Sophia's heritage with her. By the termination hearing, she just flung spaghetti on the wall trying to find something that would stick to show that she was an acceptable parent," he said.
"Fortunately, our judge saw that we were at every hearing and that we were willing to put our life on hold for Sophia," he said.
The birth mother's rights were finally terminated when Sophia was 11 months old and her adoption was finalized. She was christened Sophia Katherine in honor of relatives on both sides of her adoptive family.
Today, Sophia, who will be seven years old in July, is an honor student, dances with the Galveston Ballet and is a Girl Scout -- and guess who her troop leader is.
Christopher explained, "I'm the stay-at-home dad, the one with the car pools and play dates. I'm her Girl Scout leader, on the PTO board and I lead the mid-career and family group at our church. My friends tell me I have to stop being such a power parent. And Richard has flourished as a father. I watch him when they cuddle and she just glues herself to him. It's an absolute joy."
And it's the joy that he wants to focus on, especially when counseling others who are considering fostering or adoption.
"When I tell people what we went through -- and we went through a lot -- I say this is what two percent of adoptive parents go through, but it's still a possibility. Then I tell them about some friends in Austin who adopted easily in less than a year and then I tell them their experience will be somewhere in between," he noted. "It made us take a hard look at what we wanted out of life and what we wanted was a family."
RaiseAChild.US is a national organization headquartered in Hollywood, California that encourages the LGBT community and all people equally to build families through fostering and adopting to serve the needs of the 400,000 children in the U.S. foster care system. Since 2011, RaiseAChild.US has run media campaigns and events to educate prospective parents and the public, and has engaged more than 2,700 prospective parents. For information about how you can become a foster or fost/adopt parent, visit www.RaiseAChild.US.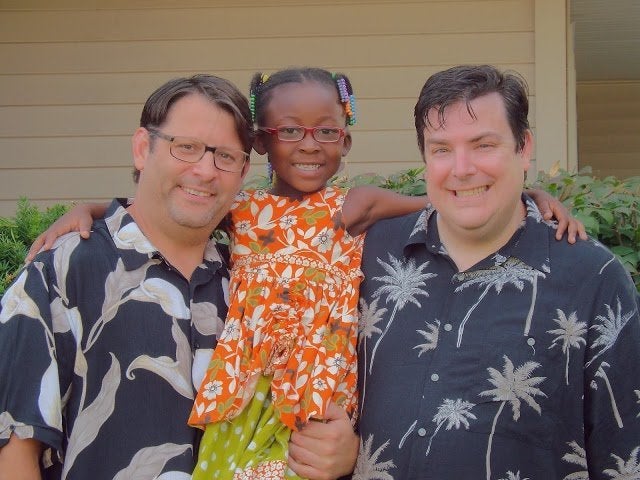 Christopher And Richard's Strom From The Let Love Define Family Series
Popular in the Community