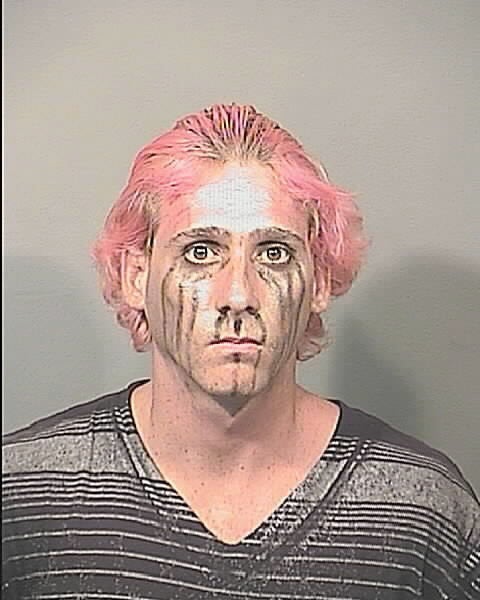 A man wearing Joker-style makeup was arrested outside of a Florida movie theater on Wednesday morning.
Christopher Sides, 21, was allegedly pacing outside the Melbourne theater when a movie patron called police to report he was acting suspiciously, WTSP reports. Sides' hair was dyed bright pink, and he was decked out in makeup resembling that of the Joker from the Batman movie series.
Sides' makeup and hair dye caused extra alarm, CNN reports, in light of the July movie theater shooting that left 12 people dead in Colorado. The shooting suspect, James Holmes, had attended The Dark Knight Rises with orange-dyed hair, and reportedly told police that he was "the Joker."
Police say they did not arrest Sides because of his makeup or behavior. Sides had an unrelated warrant for failure to appear in court on a misdemeanor drug paraphernalia charge, according to the New York Daily News.
He was taken to the Brevard County Jail Complex on $5,500 bond, and is scheduled to go before a judge this afternoon.
"It was a poor judgment call on his part, wearing make-up to a movie theater. But no law was broken, " she told Florida Today. "I understand what happened in Colorado, but just because people wear face paint doesn't make them mass murderers."
She says her son is mentally challenged and has been wearing face paint since he was a child. "His mind doesn't work the same way as ours. He sees everybody as his friend."
Rebecca Sides noted that she does not believe her son was aiming to look like the Joker.
Calling all HuffPost superfans!
Sign up for membership to become a founding member and help shape HuffPost's next chapter