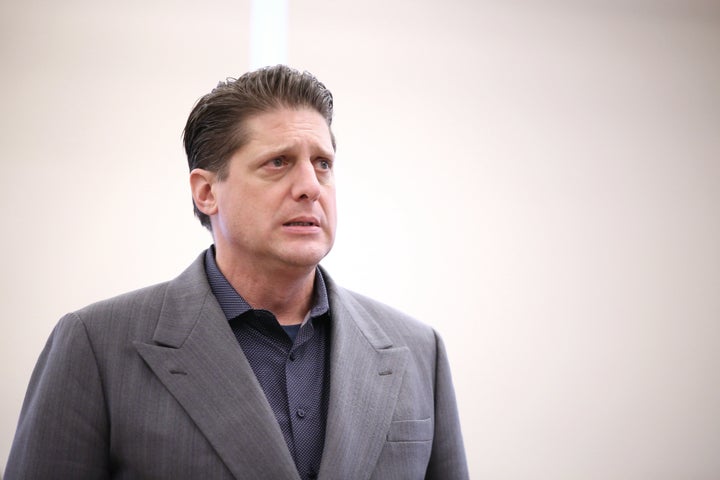 Over more than two decades, Christopher Sieber has been a sought-after actor-singer on Broadway, with starring roles in shows like "Spamalot," "Shrek the Musical" and "Matilda," among other hits. If there's a common denominator to be found among the characters he has brought to life, he said, it's their sense of optimism. 
Sieber's latest role is no exception. The two-time Tony nominee, 49, is currently starring in the St. Louis Municipal Opera Theatre (or the Muny, as it's more commonly known) production of "Annie," as beloved patriarch Daddy Warbucks. The role, he told HuffPost, makes him feel a little bit like a "rock star," and for good reason: The outdoor amphitheater, which celebrates its centennial this summer, seats over 11,000 people. (By comparison, Broadway theaters range in size from 500 to just over 1,900 seats). 
Though the Muny's "Annie" closes Wednesday, Sieber won't be absent from the stage for long. In November he'll return to Broadway in "The Prom," which puts a sunny spin on a modern sociopolitical debate. The musical comedy ― which debuted in Atlanta in 2016 and is directed by Tony Award winner Casey Nicholaw of "The Book of Mormon" ― follows a group of Broadway actors who intervene on behalf of two lesbian teens hoping to attend their senior prom together at an Indiana high school. 
Sieber took time out from "Annie" rehearsals to chat with HuffPost about his latest roles, his advice for young LGBTQ people and why going bald to play Daddy Warbucks is an unexpected job perk. 
You've become sort of a Muny regular over the years. What keeps drawing you back?
I think this is my seventh time — either sixth or seventh. Everyone works so hard, and that enthusiasm is contagious. Everyone's gung-ho because we know we only have 12 days to put up a show, so we all really concentrate hard and work our butts off for 12 days, and then — boom! — we're in front of 11,000 people.
For 100 years, it's been the summer tradition here. If you're from St. Louis, it's like going home. The thing to do during the summer is go see a big, splashy, ridiculously huge production of one of your favorite musicals. In a strange way, it's actually very intimate. You can actually feel the love from the audience, even though there's 11,000 people. They've really pulled out all the stops this year because it's 100 years old. They're really celebrating that fact.
And you're playing Daddy Warbucks in "Annie" for the second time this year. What resonates with you most about the role?
When they first offered it to me, I was like, "Oh, boy, I've aged into that now. I'm playing Daddy Warbucks. Here it comes." Well, the good news is there are a lot of cool roles for older guys. Warbucks has the biggest arc of all, as far as the storyline goes. I don't know if a lot of people realize that. That's what attracted me to the part. He's this straightforward businessman, and he's never really worried about love, he's never really worried about sharing his life with anybody, he's a hard nut to crack. Then all of a sudden, this little girl comes along who basically stands up to him, and she makes him fall in love with her … There's a lot there. (Watch Sieber and his castmates in "Annie" above.) 
Even though "Annie" has been around for over 40 years, it still resonates with people, because they're like, "Oh, yeah, optimism — remember that?" Especially in the current environment we're in right now in our country … it's not so great right now. A couple of our cast members found themselves choking up during rehearsal, because "Annie" really does resonate. So that's what I'm hoping will happen — that people will remember life is not crappy all the time, although it seems like it right now.
What's the best part about having to go bald for a role?
Oh, my God, it's so great! If I could do it all the time, I would. It's so great because you sleep so much better. When you put your head down on the pillow, it's like the pillow's hugging your entire head. And you can shower in, like, two seconds. It's the greatest thing!
Shortly after you wrap "Annie," you're heading back to New York to begin rehearsals for a new musical, "The Prom," opening on Broadway this fall.
It's been the most heavenly thing I've experienced in a long time. Very rarely do you get to be in a show that's yours, in a part that was written for you. I'm thrilled to be a part of it. (Catch a sneak peek at Sieber in "The Prom" in the video above.) 
I play Trent Oliver, who's a nice guy, but he's kind of clueless. He's one of those guys you meet on Broadway who loves talking about himself constantly, uses big, flowery words and is always talking about [having studied at] Juilliard. He's kind of exhausting — endearing but exhausting. 
Given that "The Prom" has been in development for seven years, you initially expected to present the show in a very different political climate from the one we're in now.
When we started working on it, it was during the marriage equality debate. Then all of a sudden, that passed, so we were like, "Did we lose our window to put this out?" But then the election happened. In our political environment now, we're game on, really game on. It's got a fantastic message about equality. I think we're going to kick butt when we hit the theater in New York.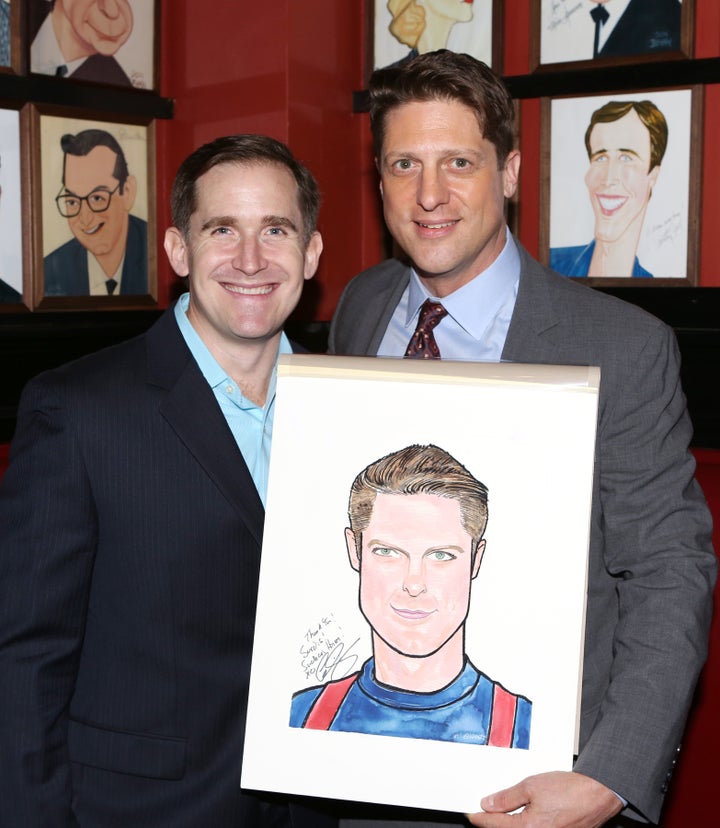 Do you feel any responsibility to represent the LGBTQ community in any specific way through your performances?
I'm happy to do it, of course. If people look up to me, I'm happy to talk them through things, especially the young kids.
I actually had to write something for "The Prom" today with advice for young people, and I said, "Just keep going. It's your journey, not theirs. Let your freak flag fly — go on, let it fly."
You and your husband, Kevin Burrows, have always been very committed to speaking out on behalf of LGBTQ rights. What do you see as the biggest threat to LGBTQ equality right now?
Who knows what's going to happen? Probably something not good. You can't live your life in fear. All you can do is love each other and keep going forward. I will fight until the last breath in my body, especially for my husband, especially for our marriage. I will do everything I can.
All we can do is be like Annie and be optimistic. Maybe we can change the world.