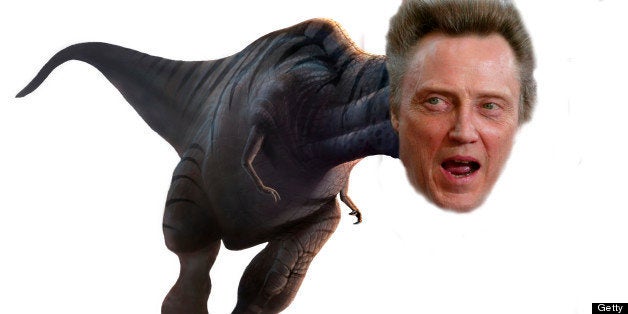 Ethan Cyr, a 16-year-old in New York City, had an innocent dream: to build a Tyrannosaurus Rex with Christopher Walken's head.
Now it appears that dream is on the verge of coming true.
I was inspired to design and build this piece after watching the movie Queen of Versailles. I saw how rich those kids were, and their lack of creation with all that money. I decided if I could get that much money I would make something great. The Walken Rex was originally thought of by a friend of mine, we are not completely sure where he got the idea from, but it seemed like the perfect thing to build.
"I totally understand if this is just too weird and you don't wanna help," Cyr wrote. HONY published a copy of the sketch, saying it was "too weird and awesome not to share."
After 224 people donated money, Cyr skyrocketed past his goal of $750 and raised $2,315 as of Friday afternoon. So far, seven people have donated at least $75, which earns them a cartoon drawing of themselves posing with the Walken Rex.
In an update Cyr posted Thursday, he said any additional money in excess of his original goal will go toward his first art show, in which the Walken Rex piece will feature.
"I am incredibly thankful for all the attention and help that I am receiving," Cyr wrote on the fundraising site.
One person on Reddit, noting the success of the fundraising campaign, wondered rhetorically why one even works for a living? A user named "RainbowHoodieGang," who appears to be Cyr, responded: "Sigh, I am sorry that people see it that way, but I suppose that is true."
Check out a few of the preliminary sketches for the Walken Rex:
PHOTO GALLERY
Ethan Cyr's 'Walken Rex'
Calling all HuffPost superfans!
Sign up for membership to become a founding member and help shape HuffPost's next chapter