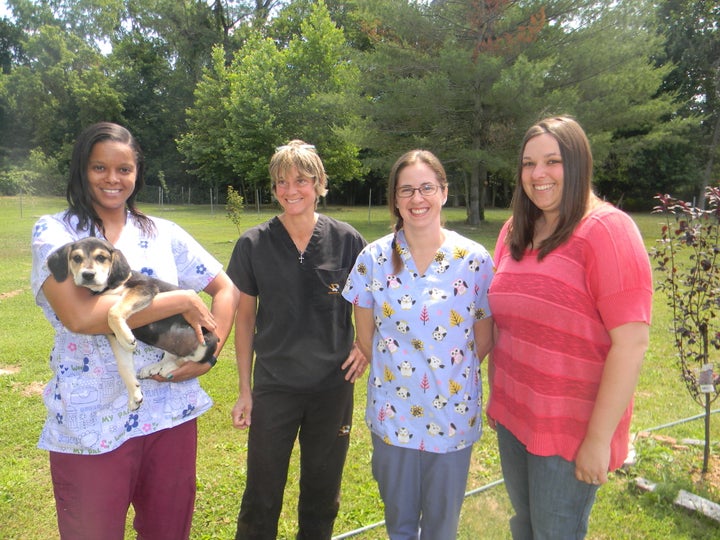 College dorm rooms are generally cramped enough: add a couple dogs, cats and other critters to the mix and most students would barely have room for their bunk beds.
But for Christy Anderson, the cramped (and occasionally odorous) space was a small price to pay to save an animal from euthanasia, knowing she could find it a loving home in a matter of days.
In the 10 years since she started re-homing pets on her own, Anderson's efforts have ballooned into Wright Way Rescue, a unique initiative that bridges the gap between Illinois' rural areas, where pets are abundant, and more urban settings where there's a greater demand for more. On a shoe-string budget comprised of small adoption fees, meager profits from the low-cost veterinary treatments they provide and the occasional donor, Wright Way Rescue takes nearly 4,000 animals off death row each year and places them in loving homes.
Now, the facility itself is in need of a new place to live. Their adoption center, based in Niles, lost its lease after the building's ownership changed hands, and unless a series of fundraising efforts generate the income they need to stay afloat, Wright Way, and its mission, is in danger.
We caught up with Anderson to learn about the work the rescue does, and how Chicagoans can help them continue to do it.
HuffPost Chicago: Most college freshmen are barely organized enough to get their homework done. How did you end up starting this huge project so early?
Christy Anderson: I started it with my college roommate, and we were essentially bored one day and wandered into an animal control shelter in Marion, Ill., because her mom was looking to adopt a dog. They said, "Well, take what you want, because everything on that side is going to not be here tomorrow." And we were just floored at the number of really adoptable animals that were being euthanized at alarming rates out here. I started going to all these different rural animal control facilities and finding it was the same story.
At the time there were no rescue groups going in to claim these animals, so unless the owners came back for them, which was rare, there would be tons of animals euthanized. I started -- one at a time -- taking these animals out and fostering them [until they were adopted]. And yes, it did start in a dorm room, though by the following year I had a house. The next year I leased a kennel property, and it just grew and grew and grew.
HP: Did you ever expect this project would become your full-time job?
CA: You know, I had plans to do other things with my life, but shortly after starting [Wright Way] I found myself with no time to do anything else. It kind of grew from day one, but I definitely did not expect it to grow to the size of the organization it is now.
HP: How many animals have you saved?
CA: This year, our goal is to find homes for 4,000 animals. Every year since we obtained our adoption center the number has gone up by about 500; when we moved in we did about 2,500 placements, then we did 3,000 the next year. The numbers just keep going up and up, even with the economy.
HP: Where do most of the animals you serve come from? Are you dealing mostly with former household pets?
CA: We do accept owner surrenders, but the majority of pets that come to us are from animal shelters and animal control facilities that we have developed relationships with in the rural midwest. These are facilities that are pretty rarely helped by other shelters because of their remote locations. So we've developed a whole network of facilities that desperately need help, and we pull animals on a weekly or monthly basis if they're at risk of being euthanized.
Probably what's different about our shelters, unlike most shelters, is we actually have an intake facility in southern Illinois, and all of our animals come to that three-and-a-half acre facility first. We have a low-cost wellness clinic open to the public as well as other shelters and rescues where we provide services, like inexpensive spaying and neutering, with the hope that we can keep animals out of animal control facilities if money is the only issue as far as lack of care. Animals receive all of their health care at the intake center, go through a quarantine period, and then head to the Chicago area where we try to find them homes.
HP: When you first started saving animals, there were few no-kill shelters in Illinois. What's the landscape like today?
CA: Illinois has a ton of no-kill shelters right now. I was just talking with our Department of Agriculture representative, and there are new ones all the time. The problem is that 10 years ago there were very few no-kill shelters in the southern part of the state, and that is where a good portion of the animals are coming from and where spaying and neutering was not accepted.
[When we started] there were no spay neuter clinics in the 17 southern communities we serve. A lot of people live on farms down here, so they're able to have more animals. In the rural communities there were very few no-kill shelters, and those that did operate didn't have a resource for placing animals because they were in the same commmunities that they were pulling them out of. But when I posted an ad to the Chicago-area Petfinder about one of the first puppies I fostered, it was adopted almost immediately. So we are able to serve a need by reducing the use of euthanasia and providing those who want to adopt with a great animal that may not have happened otherwise.
You can help Wright Way Rescue by donating money, or your time as a volunteer. If you have pets, consider going to Wright Way's care centers for their treatments, and buying pet care products through the shelter. For more information about upcoming events, animals up for adoption and ways to help, visit their website.
Learn more about Wright Way Rescue:
Calling all HuffPost superfans!
Sign up for membership to become a founding member and help shape HuffPost's next chapter
BEFORE YOU GO