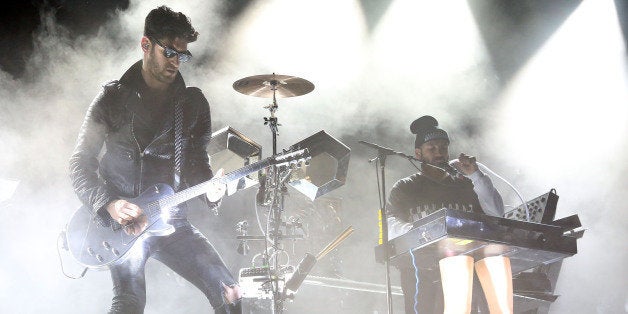 The musical team of David Macklovitch and Patrick Gemayel, aka Dave 1 and P-Thugg, released their newest album, "White Women," on May 12. It is instantly catchy, irresistibly funky and undeniably danceable. It incorporates a hefty portion of the past, but it couldn't possibly sound more like the present. It's also, by the way, excellent.
For Macklovitch, who spoke with HuffPost about the group's latest release, the album is the celebration of a long union. "Chromeo's been around for 10 years now, and it's a big commitment to each other, and not only to each other but to a genre of music that we've fought long and hard to rehabilitate," he said.
The record's cover art, featuring the duo flanking a veiled bride, serves to represent this long musical union. The white bride is the visual manifestation of the album's title. So why "White Women"? Don't read too much into it, says Macklovitch. "It's not to be taken literally at all ... it's playful."
The name comes from the title of the first book by a photographer the group admires, Helmut Newton. When Macklovitch first proposed the title, Gemayel told him it was "asking for trouble." Macklovitch persisted. "I was like no, not if we give it like a cool twist where, you know, we use the title as kind of a, as you know, either a mind-fuck or kind of an attention-grabber, but then we explain the reasoning behind it and also, like on the cover, you know like the white women are the brides and stuff, so it actually, it kind of works, you know, semiotically in different ways, and it allows us to talk about, you know, photography, which we always love and were really influenced by, so it sort of made sense."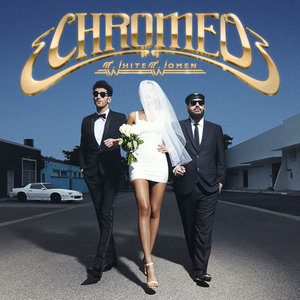 The music of "White Women," at first listen, sounds like it could've been released in the early 1980s at the height of the electro-synth era. It's seeped in disco and also (arguably primarily) funk.
Daft Punk's funky hit "Get Lucky," a collaboration with the legendary guitarist Nile Rodgers, was a "huge moment" for disco, and Macklovitch says the time for the genre's revival is overdue. "I think that there's a serious reparation that American media owes to disco music because disco music's been, has been the subject of a racist bias since the '80s, you know, and like the 'Disco Sucks' movement, I mean this is, there's, you know, it's pretty much known that this was a homophobic and racist [movement]."
The songs of "White Women" self-consciously reference the icons of funk-past. The track "Frequent Flyer" features Macklovitch's mock-airplane pilot welcoming passengers aboard "Flight 777 to Minneapolis," a direct reference to the song "777-9311" by the Minnesota band The Time, and an homage to the Minneapolis Sound pioneered by artists like Prince, Jimmy Jam & Terry Lewis, and Morris Day. In fact, Chromeo announced the release date of "White Women" via a Craigslist Missed Connections ad posted in Minneapolis.
The entire ethos of Chromeo, explains Macklovitch, is informed by pastiche and re-appropriation of the visual and musical past. "Our logo and our imagery looks like Van Halen, or ZZ Top, it looks classic rock," he said, referring to the group's "Tumblr-era" media mishmash.
The cultural recycling at work on the album's cover can be heard on each track. Hit play and you can hear the pop soul of Hall & Oates, or the buttery disco of Chic (which was helmed by the aforementioned Nile Rodgers, whom Macklovitch says Chromeo plans to collaborate with at some point in the future). Chromeo even collaborated with Daryl Hall on his web series "Live From Daryl's House". The group tried to impress Hall with their retro analog synthesizers, but Hall had moved on to modern digital equipment. "We were like, man, all the nerdy stuff that we love, for him it's in the past, but it was still so cool to see him embrace us, and to jam with him, and I learned, we learned tons of stuff, anecdotes, chops, I mean you name it ... the guy's a genius," explained Macklovitch.
Ideally, Macklovitch would love to collaborate with other past musical legends. He specifically mentioned Electric Light Orchestra's Jeff Lynne. "I think he doesn't get the props he deserves either. You know what I mean? And I'm gonna keep name-dropping Jeff Lynne until people realize, you know?"
Don't be fooled by Chromeo's musical pastiche. The lyrics, say Macklovitch, are undeniably modern (and sometimes the subject of critical scorn). "Our lyrics don't coincide at all in sensibility with the music that we make, you know we make soulful, sort of smooth playboy music, but then our lyrics are like angst-ridden, comedic, Larry David, Woody Allen lyrics." He explains, "If I just sang a song like 'Hey baby, let's dance, get on the dance floor' over music that already conveys that, personally I find that super boring. It's literal. It's not, there's nothing interesting there for me."
The group's distinct lyrical style, according to Macklovitch, is "the only way we could make this music interesting, cause otherwise it would be, we would be a Bar Mitzvah band covering 'Celebrate good times, come on.' Like there's nothing modern about that, you know?"
Take this tongue-in-cheek lyric from the addictive "Sexy Socialite": "You're a sexy socialite / I wish you were a socialist / Instead of worrying about your name on the list."
The band even manages a reference to a classic New York hot dog stand in "Frequent Flyer": "Have you ever met a frequent flyer? / Dressed in all white attire / Sipping on a Gray's Papaya / Wanna take you higher."
The group's sense of humor, while keeping their music relevant, does have past influences, namely the cool and sometimes highbrow irony of Steely Dan and the joking playfulness of ZZ Top.
In a broad sense, the main cultural influence on Chromeo was hip-hop. Macklovitch explains the grooves of the '70s and '80s that inform the band's music were only discovered via the "mediation" of that genre. "My parents are like Jewish baby-boomers, so we didn't have Chic at the house, we had Bob Dylan and Joan Baez and Fleetwood Mac and Van Morrison at the house, so, I didn't listen to any of this growing up. My dad never even knew what Prince was," he said. "Basically what really formed me and P was The Beastie Boys, Dr. Dre 'The Chronic', Snoop 'Doggystyle', Warren G 'Regulate', Jamiroquai."
To Macklovitch, the music was a Pandora's Box. He and Gemayel discovered previously unheard songs that the group eventually re-appropriated through the "prism" of hip-hop.
"P and I were just like weird nerds up in Canada, we used those records as a vessel to discover the original stuff, and when we discovered the original stuff it was like we were in on a secret, because when Snoop was playing we could be like, oh but I know what's the original behind that, or when De La Soul, you know, 'Say No Go' was playing, or 'Me, Myself And I', oh but I actually know what the original song is, and we would tell people like, oh Warren G 'Regulate,' oh no but I know, have you heard of Michael McDonald? I bet you don't know who that is."
Despite a deep well of retro re-appropriation in Chromeo's music, Macklovitch considers the band "firmly grounded in music's present" and makes clear that he appreciates contemporary music as much as the music of the past. "I love Skrillex, I love A$AP Rocky, I love Calvin Harris, I don't have a problem with them. I don't think that the fact that music is done on computers makes it less soulful. I don't think that laptop producers are less talented than Berry Gordy was. I actually, I find it more exciting that a kid, that a 15-year-old kid on his laptop can produce Top 40 records."
In fact, the artists of today made important contributions to "White Women." Chromeo collaborated with artists such as Solange and Vampire Weekend's Ezra Koenig. The album also features Toro Y Moi, and Macklovitch recalled being "a big fan of him after basically every single girl that I've dated saying how she had a crush on him, and I was like okay this is, enough, I have to become his friend because I'm jealous."
The guest spots are, according to Macklovitch, part of a deliberate effort "to show that our music aims to create this dialogue between two periods."
It's now 2014, and the time has truly come for Chromeo. It's their moment, as illustrated by the fact that "White Women" debuted at number one on iTunes. "I hope it's the beginning of a moment," says Macklovitch. "I mean like, I think for us, it's just like the beginning of a new phase in our career where we've paid, we've sort of paid our dues in the underground, and now hopefully like our sound, along with like this kind of core audience of fans, of like loyal fans, it can just go to another level."
Despite any previous critical scoffing at the band's seemingly mismatched sly sense of humor combined with earnest hooks and grooves, Macklovitch is certain of one thing: "Critics will come around. I mean, they always do."